Our work over the past thirty years is a small contributing part in the unfurling of an Australian intellectual consciousness in the arts. The challenge we work with in architecture is the appropriate application of new ideas alongside interpretations of what is constant from our traditions and therefore remains relevant today.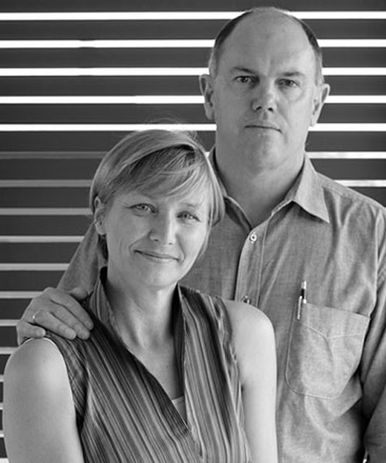 The key in our intent is to identify those issues that guide and affect the design outcome: "the found potential" - as described by Canadian architects John and Patricia Patkau - that can lie within context, site, culture, client brief, climate and even in the building tectonic, budget and program. It is the architect's role to discover and optimize this potential for each circumstance.1
Giancarlo De Carlo observed "that the quality of one's design proposition is directly tied to the depth of one's reading of the context".2 Place is a significant starting point for us.
Haig Beck and Jackie Cooper, editors of UME magazine, write, "For the Clares, architecture has the power to explain or simply to mediate one's place in the world: to locate us where we feel comfortable, where we belong or wish to belong. Architecture can achieve this power once placeless, climatically sealed buildings are opened up and users are drawn into direct engagement with place."3
Another significant starting point for us is sustainability in its various forms. The word sustain has several definitions, one of which is to maintain or nourish physical, emotional or spiritual wellbeing. This role, to sustain, sets architecture apart from the act of building.
Whenever we set out on the design of a new project, it is always with some anxious moments. What are the problems to be solved? What will work best for the client? For the public? These are questions you would all be very familiar with. After analysis, discussion, research, disagreement, agreement and lots of drawing, we become more confident and sure - at least of the ideas and the direction, although the process of procurement and delivery can be another series of anxious moments.
Learning from Gabriel Poole
We met each other in the office of Gabriel Poole at Mooloolaba. The work produced by Poole in the 1970s investigated themes and principles both of modernism and of traditional Queensland architecture. Poole had spent many years in the bush as a jackaroo, and he had developed a good understanding of climate, building materials and methods, and the culture of invention and making do.
His training as an architect in the 1960s was based in the ideals and philosophy of the Bauhaus and modernism. During the time we were working for Poole, his architecture constantly investigated the more open living patterns generated by occupation of the Queensland verandah space, bringing together the qualities of the open plan and the verandah.
Trying to understand the pluralism in Poole's work was one of the factors that lead us to study the architects of the Scandinavian tradition, particularly Alvar Aalto and Gunnar Asplund. The most significant lessons we learnt from visiting their works was how they respect earth and light, how they relate tradition and history, how they use materials and technology, how they acknowledge art as inseparable from life, how they are disciplined by landscape and climate, and how they respond to culture and society. Scandinavian architects have been able to deal with such issues without becoming sentimental or provincial, and their prime motivation has been the quality of habitation.
Queensland architecture
Karen Franck states, "We construct what we know, and these constructions are deeply influenced by our early experiences and by the nature of our underlying relationship to the world".4 Architects in South-East Queensland have identified the elements that were fundamental in the development of the region's specific architecture. Many of these elements are encapsulated in the traditional Queensland house, which brings together economy of materials, response to climate and aesthetic expression.
The traditional Queensland house generally has simple and rational plans; roof forms that shelter, insulate and ventilate; flexible lightweight timber construction - often prefabricated for transportation; verandah spaces to shade and shelter walls; and screens and hoods for weather protection. The verandah quickly became inhabited and, together with the use of filtering screens, it gave expression to the pleasures of outdoor living. To use Michael Benedikt's description, "The dumb and inexplicable features of old and/or vernacular buildings, otherwise so straightforwardly organized, are often precisely those that attract us to inhabit them … offering opportunity rather than giving direction."5
Many principles of traditional architecture remain valid or are capable of interpretation.
The detached house
While twentieth-century architecture will be primarily acknowledged for the modern movement, the individual house will claim a unique place for its contribution to modern architecture and contemporary Western culture.
While some may regard individual architect-designed houses as aberrations or wilful exercises, no one could question that houses have been significant to the development of architecture. In addition to the exploration of programmatic and formal ideas, many positive effects have emerged from exploration of the house type as the setting for life, a place to raise a family, a dwelling or home.
Since the sixteenth century, the design of the individual house has allowed architects to experiment with different approaches to making buildings. Many social, aesthetic and technical changes are founded in the designs of individual houses, and many ideas of the architecture of the twentieth century were originally explored and developed in this building type.
The twentieth century also witnessed significant changes in architectural patronage. Architects found many new masters. In addition to designing factories and office headquarters for international corporations, public and commercial buildings, or housing for the masses, architects also designed bespoke houses for the average citizen.
Even though individual architect-designed houses constitute only a small percentage of actual buildings, they allow architects to explore ideas of dwelling and the role of memory, culture, community and continuity. Architects talking to clients about their houses receive a rare insight into people's various needs and aspirations. This is an exercise where the architect is privileged to communicate with end users about the design of a building.
Lawrence Nield observed that our work is "not just place-making, the relationship with the sun, view and breeze or the acknowledgement of Queensland's fine traditional architecture, it is the tectonic resolution. Most critics [and] magazine watchers … do not fully understand tectonics, the art of construction. Tectonics involves making the construction 'talk' … Each piece of material, each connection, each plane, each piece of roof, each element of shading, has to be thought of in relation to these critical parameters, if they are answered, architecture becomes 'thinking with materials'."6 In the design of our individual houses, we have sought to develop prototypes, which - for reasons of economy - use some degree of prefabrication, as did the traditional Queensland houses.
Multiple housing
Our interest in context, environment and livability, and our experience with the individual house, inevitably led us to medium-density housing and broader issues of urban design and consolidation and the renewal of town centres. Historically, Australia had few models for high-density housing suited to the subtropical climate. We explored prototypes in two medium-density projects in the 1990s: the Rainbow Shores Surfside project and Cotton Tree pilot housing, where we designed low-rise, high-density, passive solutions. Later, in the more temperate climate of Sydney, we applied these principles in the design of the 2009 student housing at the UNSW Kensington Campus. The challenges of student housing are to create supportive environments by balancing community and privacy and enabling social, work and study connections.
Public buildings
Kevin Lynch writes, "The need to recognize and pattern our surroundings is so crucial, and has such long roots in the past … A vivid and integrated physical setting, capable of producing a sharp image, plays a social role as well. It can furnish the raw material for the symbols and collective memories of group communication."7
The connection between public buildings and community identity is strong. Our view is that public buildings have a responsibility to be connected to place and to have enduring significance. The interconnection of public buildings with the fabric of a town has been studied in the design commissions undertaken by architects. As documented in the study of Queensland architects to 1940 by Don Watson and Judith McKay, many architects in Queensland country towns who designed houses were also commissioned to design public buildings during their careers.8 This connection between private and public work provided continuity and an essential link with the culture of the town.
In recent times there has been an emerging desire for cities to attract attention through the exotic and spectacular. As Professor Tom Heneghan comments, "Icon buildings tend to be, almost by definition, self-centred",9 increasing their propensity to disconnect and alienate rather than engage or "make us more at home in the world", to quote fellow Queensland architect (and Gold Medallist) Professor Brit Andresen.10 Heneghan believes that it is possible to redefine the term iconic building "not as an expressionistic iconic object but as an iconic expression of place".11 Lawrence Nield once alerted us to the Italian writer Pavese, who wrote, "The true astonishment comes from recognition, not novelty".12
Concluding remarks
We are deeply pleased to have been selected as Gold Medal recipients for our contribution to Australian architecture and particularly sustainable architecture, which is at the core of our values. An essential part of sustainability in architecture is creating enduring spaces. Our intent, simply, has been to create spaces that sustain human occupation and meaningful relationship to place.
Gunnar Asplund said in 1916 that "it is more important to follow the style of a place than that of a time".13 The character or identity of a place is what is left, what remains or what endures. New technologies and advancements have to be judged for the appropriateness to a place, culture or circumstance, and assimilated in suitable ways.
We have tried to identify the influences and philosophies behind our work and how, over time, these have given rise to a consistent process and attitude that informs each new project: an architecture that is expressive of both attitude and circumstance.
This is an edited version of the 2010 A. S. Hook Address given by Lindsay and Kerry Clare on 26 October at Tusculum, Sydney.
1. John and Patricia Patkau, quoted in Plans, Sections and Elevations: Key buildings of the twentieth century by Richard Weston (London: Laurence King, 2004).
2. Giancarlo De Carlo, quoted in Ghost: building an architectural vision.by Brian MacKay-Lyons (Princeton: Princeton Architectural Press, 2008), 213.
3. Haig Beck and Jackie Cooper, "A Timeless Modernism" in Architectus - Between Order and Opportunity by Haig Beck and Jackie Cooper (California: ORO Editions, 2009), 202.
4. Karen Franck, "A Feminist Approach to Architecture: Acknowledging women's ways of knowing" in Architecture, A Place for Women by Ellen Perry Berkeley, ed., and Matilda McQuaid, ass. ed. (Washington : Smithsonian Institution Press, 1989).
5. Michael Benedikt, For an an Architecture of Reality (New York: Lumen Book, 1987), 52.
6. Lawrence Nield, "In a Special Light" in Architectus - Between Order and Opportunity by Haig Beck and Jackie Cooper (California: ORO Editions, 2009), 68.
7. Kevin Lynch, The Image of the City (Cambridge, Massachusetts: MIT Press, 1960), 4.
8. Don Watson and Judith McKay, A Directory of Queensland Architects to 1940, no. 5, occasional publication (Fryer Memorial Library).
9. Tom Heneghan, "Gallery of Modern Art" in Architectus - Between Order and Opportunity by Haig Beck and Jackie Cooper (ORO Editions, California, 2009 ), 188.
10. Brit Andresen, RAIA 2002 Gold Medal A. S. Hook Address (http://www.architecture.com.au/i-cms?page=1.19.51. 5101.447), 1.
11. Heneghan, op cit.
12. Lawrence Nield, "In a Special Light" in Architectus - Between Order and Opportunity by Haig Beck and Jackie Cooper (ORO Editions, California, 2009 ), 69.
13. Bjorn Linn, "Architecture Ancient and Modern" in Eric Gunnar Asplund edited by Dan Cruickshank, (London: The Architects' Journal, 1988), 13.
Source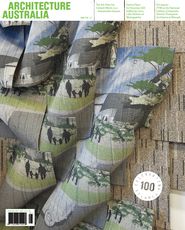 Issue
Architecture Australia, January 2011
Related topics