The Augmented Australia app was launched in Sydney at The Mint on Wednesday 2 April by Brian Zulaikha, Australia's Venice Architecture Biennale committee chair, pavilion commissioner, Janet Holmes à Court AC, and members of the felix._Giles_Anderson+Goad curatorial team.
Available for both Apple and Android mobile devices, the app has been launched ahead of the Venice kickoff in June as a live pilot. Australian Pavilion Commissioner, Janet Holmes à Court, AC, calls Augmented Australia "A groundbreaking exhibition that tells the story of Australia's architectural heritage as never before, through reimagining and hi-tech innovation. It builds an important bridge between architecture and the public."
The physical portal to Augmented Australia in Venice is the temporary Australian pavilion known as the Cloud Space. This will house images of each of the twenty-two projects – eleven historical and eleven contemporary unbuilt Australian projects (from the past 100 years). The images will trigger 1:1 scale virtural tours on a smart phone or tablet accessible through the app. It will also bring to life the new Denton Corker Marshall Pavilion while it's still under construction in Venice, and there will be a number of other real-world scale 3D models GPS-located around the city to explore through the app.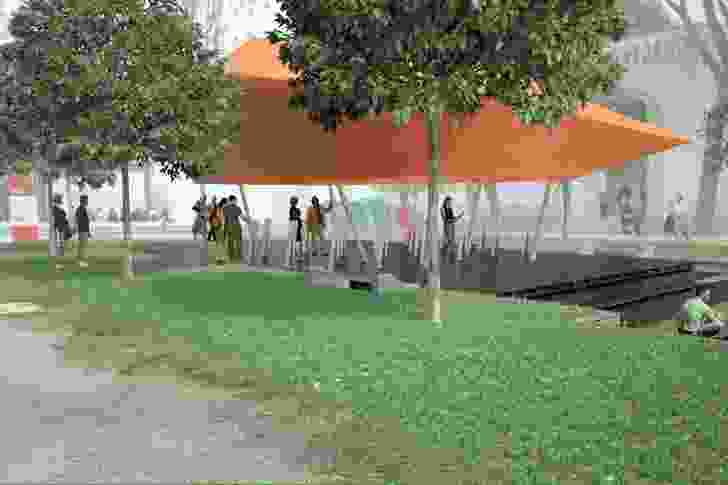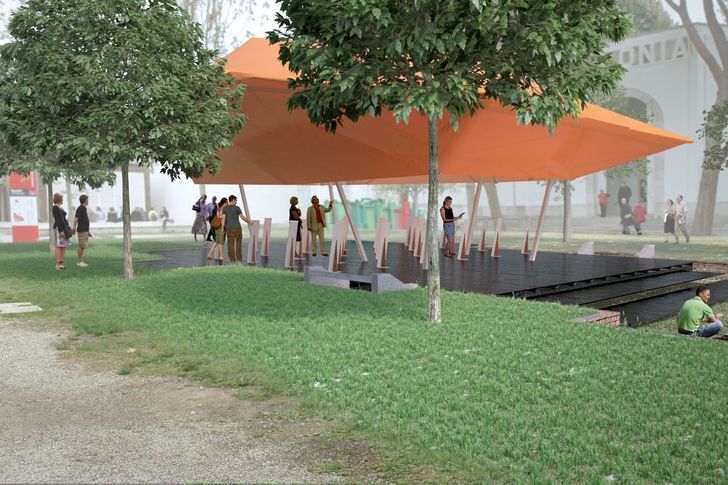 For the Australian live pilot version, two of the twenty-two projects are available for virtual tour through the trigger images in this article – a re-imagined Sydney Opera House by Minifie van Schaik, (Caught Unawares) and a 1952 competition entry by Harry Seidler for the Melbourne Olympic Stadium. There is also a real-world scale digital model of a 1958-designed Pier Nervi cathedral which has been GPS-located in the CBDs of Brisbane, Sydney, Melbourne, Canberra and Perth. A fuller version will also be part of the 2014 Sydney Architecture Festival (1-10 November). It's all part of the inclusive agenda of Australia's Venice exhibition, that for the first time in 25 years will be hosted sans pavilion. Rene Van Meeuwen from the curatorial team (and Perth research-based practice, Felix) says that while the app is still under development and "a bit raw", he's pretty excited by its progress.
Peter Salhani: You've said the Augmented Reality (AR) technology has moved quickly over a short time, even since your team won the bid to curate Australia's 2014 Venice exhibition. So, how much of its potential does this exhibition actually harness?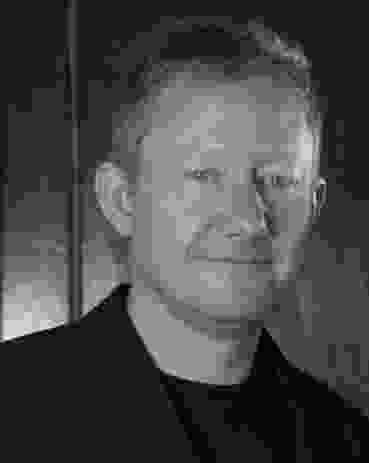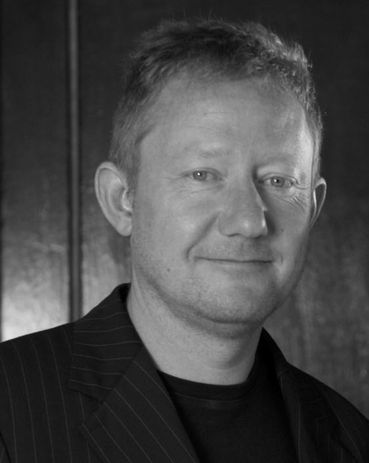 Rene Van Meeuwen: I think we are probably using all aspects of AR capability, minus a tricky interactive element. While the interactive element is really good for 'digital natives' – people who've grown up with smart devices – we felt the exhibition had to be readily accessible to the general public. If we made it too difficult to operate, people would switch off, so in terms of the Venice exhibition, the idea was to keep it relatively simple: point your phone, enjoy the content – which is amazing, by the way.
Later, we will probably start doing things where you can download the model onto your phone, spin it around and manipulate it. So there are those sort of interactions we can start to achieve. We can also start to place buildings in your own scapes: for example, you could take a building and place it on an empty site. You can get the phone to scan a space three dimensionally, and then three-dimensionally place objects into it; we haven't really explored any of that for this exhibition because of the timeline, however…
PS You're bringing the exhibition in some form to the Sydney Architecture Festival later in the year. Will it have changed? What other developments are in store for the exhibition?
RVM: Yes, it's coming to Sydney, but actually it's travelling around the world, so we expect the three-dimensional GPS stuff will change locations as it moves around. Some of the animation might also be enhanced or added to. We've been working on the Unbuilt Australia project, animating projects that nobody has seen before, so we may add in extra content like that.
PS: Where to next with this process for the Felix team?
RVM: We are speaking with TV producers about a documentary series. That's when the platform gets really interesting I think, because that whole idea of traditional TV media, interactive media, and Google Glass will change the way we experience media, in whatever form that is. Thinking about this across disciplines, the platform becomes the essential creation space, and the problems can come from anywhere and just be plugged in. Of course it has applications in many areas, but our end game is architecture – to see what we can do in terms of buildings and people. So we are thinking that (and we are pretty sure we can already do this), that we could create a meeting room in five different geographical locations, but that meeting space is geographically only located once within the app, and when people from a business walk into that geographical location, they all come together – like a Skype-in, but three-dimensional.
PS: So AR has enormous potential across many fields. Have you been involved in any other creative arts applications?
RVM: We are working on a sculpture park for the City of Subiaco (Western Australia). We are developing twelve pieces with twelve artists which will be integrated into the city's arts program. That's a really exciting development. We've also been watching a project around proprioperception – where people who are amputees still experience pain in a limb that no longer exists. There are experiments using Augmented Reality to, in a sense, get their arm back to eliminate the sensation of pain from a phantom limb using Google Glass to supply a kind of digital prosthetic. Pretty amazing stuff.
Operating instructions for Augmented Australia
Download Augmented Australia from the App Store (Apple) or Google Play (Android)
Open the app on your iPhone and select either 'Start 2D Triggers' or 'Start Geo Triggers'.
IF you select 'Start 2D Triggers, simply point your phone at one of the trigger images (either on your computer screen or in print), and a suite of virtual material will automatically appear.
To use 'Start Geo Triggers' you will need to be situated in a central location in the cities of: Brisbane, Sydney, Canberra, Melbourne or Perth. The device will ask to detect your location. Select 'Yes'. A 'radar' icon at the top left hand side of the screen will show the direction of the model by a yellow dot. By moving towards the dot, you can see the full-scale cathedral and "walk through" the building, viewing it from the outside and inside.
For you chance to win a trip for two to the Venice Architecture Biennale and experience Augmented Australia in action at the Vernissage, enter the Kingston Property Constructions competition via the AIA's Venice website.
Read more from our site about the 2014 Venice Architecture Biennale.
Related topics