This issue of Landscape Architecture Australia came together amid extensive commentary on the release of the United Nations report on biodiversity in May. The report's grave findings – that unprecedented numbers of species are now under impending threat of extinction – present an alarming picture of the earth's trajectory, and call for an extremely urgent rethink of opportunities and priorities in how we design with the environments around us. These thoughts are reflected in several articles in this issue.
That landscape architecture can have significant and meaningful impact continues to be explored in our August project selection. Jane Irwin Landscape Architecture's clifftop garden in Sydney focuses on form and materiality in the creation of an intimate space for living. Hansen Partnership's design for a new square in the Victorian town of Kerang catalyses new relationships between the town's residents and its main street. And TCL and UDLA's redevelopment of Perth's Scarborough foreshore reinvigorates and diversifies an iconic urban beach for an expanded demographic of users.
Following on from articles by Ian Woodcock and Craig Guthrie in our May 2016 issue of Landscape Architecture Australia that looked at the public realm potentials of removing level crossings in the context of the Victorian government's plan to remove fifty level crossings by 2024, we present two reviews that offer different perspectives on the built outcome of the Caulfield to Dandenong Level Crossing Removal Project – Aspect Studio's much-anticipated linear park and open space transformation in Melbourne's south-east. In the context of the project's potential to bring together communities previously separated by the ground-level rail line, Beau Beza and Ricky Ray Ricardo present their evaluations.
Our conversation around designing resilient infrastructure for cities continues with the second half of Rosalea Monacella's interview with prominent practitioners including Chris Reed from Boston-based firm Stoss Landscape Urbanism and Lisa Switkin and Richard Kennedy from New York-based James Corner Field Operations (page 57).
The next installment in our "Fieldtrip" series comes from a collaboration between photographer Carolyn Young and woodland ecologist Sue McIntyre. Over a period of ten years, Young has documented native grasslands associated with eucalypt woodlands in New South Wales, seeking to convey changes in plant diversity through evocative imagery (page 66).

Janet Laurence's recent retrospective at Sydney's Museum of Contemporary Art Australia takes on particular significance in light of the UN's biodiversity findings. Laurence, an enduring figure in Australian environmental art has, since the '90s, created installations, sculptures and site-specific interventions that draw attention to the impacts of human activity on our environment. Her work has engaged with the logging of old-growth forests in Tasmania's Styx Valley and ocean acidification and its effects on the Great Barrier Reef. We reflect on Laurence's exhibition on page 74.
The call-to-action embedded in Laurence's practice continues in Claire Martin's round-up of the proceedings at the recent Landscape Australia Conference held in Melbourne (page 78). Of the many discussions the program brought to the fore, one of the most impassioned and enduring was around the personal politics of practice. To those who joined us on the Saturday, we hope you thoroughly enjoyed the day.
Finally, we pay tribute to AILA fellow Ian Oelrichs who is remembered as one of the pioneers of the Australian landscape architecture profession. Catherin Bull reflects on Ian's significant contributions to the organizational evolution of the Australian Institute of Landscape Architects and his role in carving out a place for Australian practice within the broader international design scene. In reflecting on Catherin's words, what seemed particularly resonant in Ian's life was a heightened sense of the importance of community. Increasingly, and particularly in our cities, we feel the need for connection – with nature and also with each other. We hope the articles in this issue offer some thoughts on how we might work to unfold and sustain greater networks, within the profession and related disciplines, and beyond.
– Emily Wong, editor
In this issue:
Queensland urban design awards. Presenting the winners of the 2019 Minister's Award for Urban Design.
The new groove. The redevelopment of Perth's iconic Scarborough foreshore is bringing visitors, new and old, back in troves. Review by Tinka Sack.
Beneath the rail line. The Caulfield to Dandenong Level Crossing Removal Project demonstrates how strong urban design frameworks can contribute to progressive built outcomes. Reviews by Beau Beza and Ricky Ray Ricardo.
Fair share. Cars and pedestrian coexist in this revitalization of a small Victorian town's main street. Review by Julian Bull.
Clifftop garden. Despite its dramatic location, this garden focuses on intimacy and materiality over grand gestures. Review by David Whitworth.
Local agenda. Athens-based landscape architect Thomas Doxiadis on advocating for a local landscape agenda.
Beyond resiliency II. Five leading practitioners continue their conversation on tackling climate change issues through public realm design. Interview by Rosalea Monacella.
Grassy woodlands. The eucalypt woodlands of Australia's south-east were once home to a diversity of species. Essay by Sue McIntyre with photos by Carolyn Young.
Janet Laurence: After Nature. A recent survey of the work of environmental artist Janet Laurence is a salient reminder of the large-scale consequences of human activity. Review by Emily Wong.
Agency and instrumentality. A review of the 2019 Landscape Australia Conference held in Melbourne in May. Article by Claire Martin
Remembering Ian Oelrichs. Ian Oelrichs was pivotal in the development of the Australian profession, nurturing advocacy, organizational development and community. Reflection by Catherin Bull.
Endnote. A tiny sidewalk project in Melbourne's inner north is experimenting with local biodiversity. Words by Mark Gillingham.
Source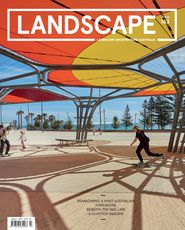 Archive
Published online: 31 Jul 2019
Words: Emily Wong

Issue
Landscape Architecture Australia, August 2019