Each year, Craft Victoria holds the Craft Cubed Festival, a month-long exhibition and celebration of the handmade. For its tenth anniversary, makers and designers were brought together under the theme of "crafting culture." On display at the Bates Smart Gallery was the intricate, gilded work of Australian artist and architect John Gatip.
Combining architecture, art and storytelling, his exhibition, Aureate, features 150 small-scale models that make up seven "islands" for the visitor to explore. Familiar architectural forms are precisely hand-placed to create shimmering cityscapes. John calls the treasure-like forms "crafted objects of value." Intended to play with metaphorical notions of gold, the cityscapes provoke the observer to reflect on the monetary and aesthetic value of the cities we live in.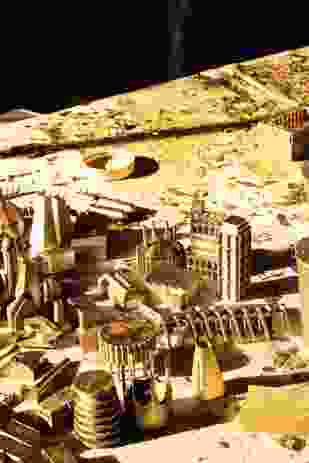 Accompanying the exhibition is a curated library of historical and architectural books. These personal references are important to the themes of John's work and include titles such as Learning from Las Vegas by Robert Venturi, Denise Scott Brown and Steven Izenour, Elements of Architecture by Rem Koolhaas and the Holy Bible. Literature is both a starting point for Aureate and the medium via which John builds upon his sculpted city of Aur. Accompanying the sculptures is a journal-style booklet titled The Accounts of Miraz, which highlights key passages and references that informed the exhibition. John says that inspiration for much of his work also comes from his Christian upbringing, where he discovered the stories of Noah's Ark, The Tower of Babel and The Book of Revelation.
Aureate is layered and revealing. John's creative process mimics and challenges the rapid development of our current construction industry. At first, he uses computer technology to 3D-print silicon moulds. These enable him to repeatedly create architectural elements – a common gable house, an industrial sawtooth roof or a neoclassical arched colonnade. This method of mass production is used in concert with a careful hand-cast technique that gives each piece its own imperfect character. Providing a grand and godlike view of a miniature but familiar scene, Aureate prompts visitors to reflect on the narratives embedded in buildings and cities.
Aureate was held at Bates Smart Gallery in August as part of Craft Victoria's Craft Cubed Festival, 8–23 August 2019.
Source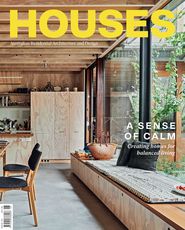 Discussion
Published online: 28 Feb 2020
Words: Alice Francis
Images: Timothy Kaye
Issue
Houses, December 2019
Related topics