Aurora is a 613-hectare masterplanned housing area in Epping North, twenty kilometres to the north of Melbourne's central city. Epping North has seen an increase of 2500 households, approximately 6250 people, since 2006, with close to one thousand of those new households in Aurora. Other masterplanned communities in Epping North are Lyndarum, Summer Hill and Eden Gardens.
My interest in Aurora is around "public life". What design moves engender a safe, healthy and thriving community? How is Aurora faring, seven years down the track, as a model of social sustainability? To understand this I spent some time in the masterplanned community's public domain at various times of the day and week.
I set out to Aurora by car, following the railway line to Epping, then driving another six kilometres along the C729 expressway. At Harvest Home Road I am guided to the sales centre car park by vibrant Aurora billboards: AURORA – My Home. My Choice. My Park. My Game. My Shops. My Day. My School. My Future. The marketeers see value in public life – children in parks, mothers walking along a shopping high street, a dad with a kid on his shoulders, a school teacher with books and a girl on a red bike with a basket.
In the sales centre I beeline to the masterplan in the centre of the room. It's glowing over a confident light box. The masterplan is well-mannered and ticks the right spatial and social-planning boxes. It has an interconnected grid of wide suburban streetscapes and generous parks every four hundred metres or so. Land has been set aside for a public rail connection, two neighbourhood centres with schools, community facilities and retail. The street names are themed around Aurora (relating to sunrise): Gleam Lane, Bright Avenue, Sundial Parade, Camouflage Drive and Fertile Street. What's in a name?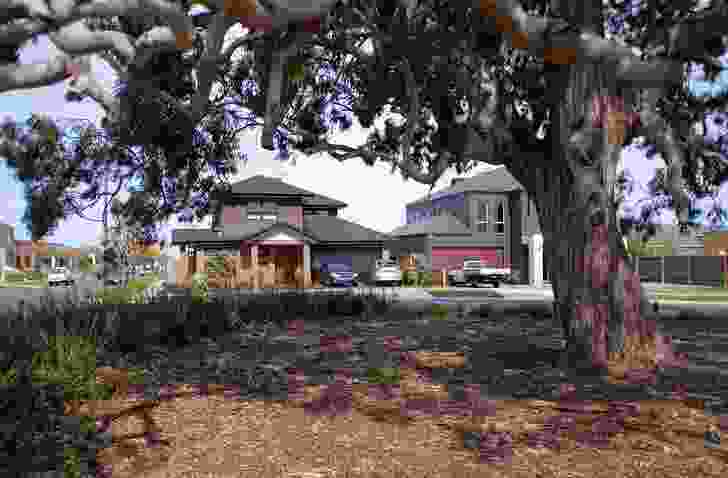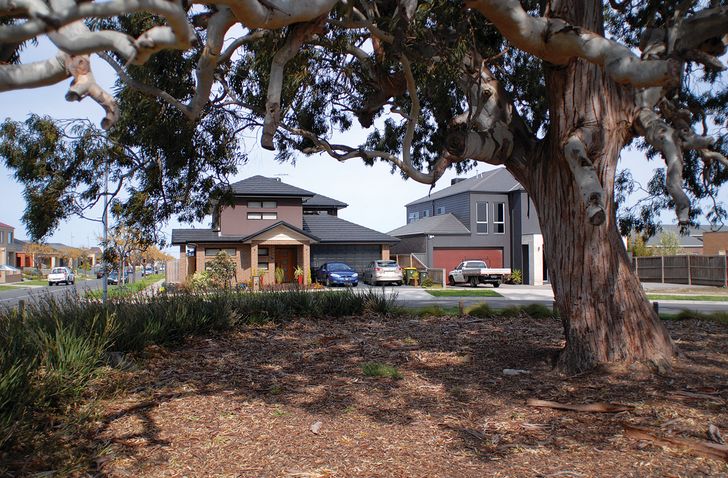 Creeds Farm Living and Learning Centre is Aurora's interim local centre and includes a Catholic primary school, a private childcare centre, a community hub, a community garden and a convenience store with a cafe. It's fledgling, but there are signs of life. The vegetable garden has healthy produce. A mother and pram go by. People in cars pull up to grab milk, bread and takeaway coffee. On one of my visits there's an information session for first-time voters in Australia taking place and on another visit "respite activity for people with disability living at home with their family" is being held.
Plenty of formal design moves have been made to drive up the quality of the streets and public space environment. Streets have been morphed and composed to frame majestic river red gums. The City of Whittlesea's policy to preserve these gnarly giants has been respected by the landscape masterplanner, who has showcased their grain and form to heartbreaking effect.
For the most part, Aurora's design standards for private dwellings and gardens have been judiciously followed. I see street after street of homes with "consistent textures and tones" and low-maintenance garden designs. The Aurora website explains that the design standards are a guarantee: By ensuring your new home complements Aurora's community, streetscapes and your neighbour's home, you will also help promote sustainable development, and importantly, protect your investment.
Could it be that residents of Aurora believe that their homes (and the value of their number-one asset) will be diminished if they break the mould? The "signs of life," the conversation starters and personal expression that we look for in our neighbours' gardens and homes, are thin in Aurora. Given that almost 45 percent of Epping North's residents are born outside of Australia, a wealth of multicultural diversity must lie behind each introverted front door.
There have been moves to calm, or even remove, cars in Aurora. This is no mean feat, with average car ownership at three vehicles per household and a railway station six kilometres away. For example, there are a handful of rear lanes that present rows of double-garage doors, leaving front gardens free of driveways. How does this impact on public life? Are front doors reserved for special visitors? Are there any chance meetings when people leave their homes by car through the back door?
Convenient public parks are plentiful and offer more than low-cost grass turf and benches. There are bespoke playspaces, elaborate shade structures, free barbecue areas, water fountains, fitness stations, rain gardens, and multi-sport courts and fields. Like Williams Landing in Point Cook, Victoria, the design and monetary investments in parks and streets is substantial.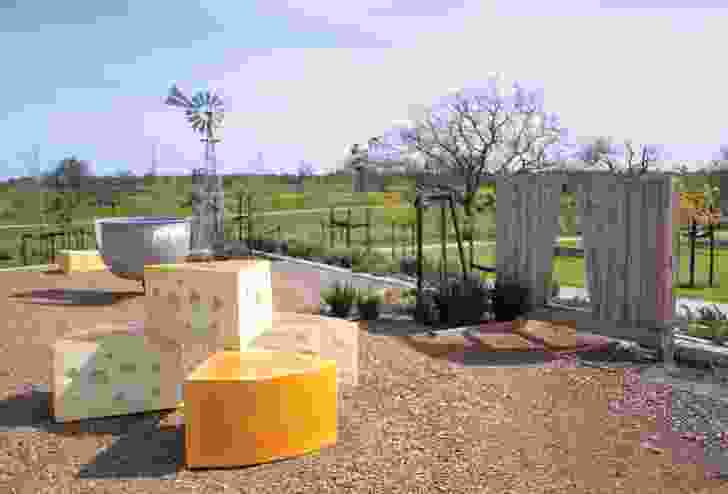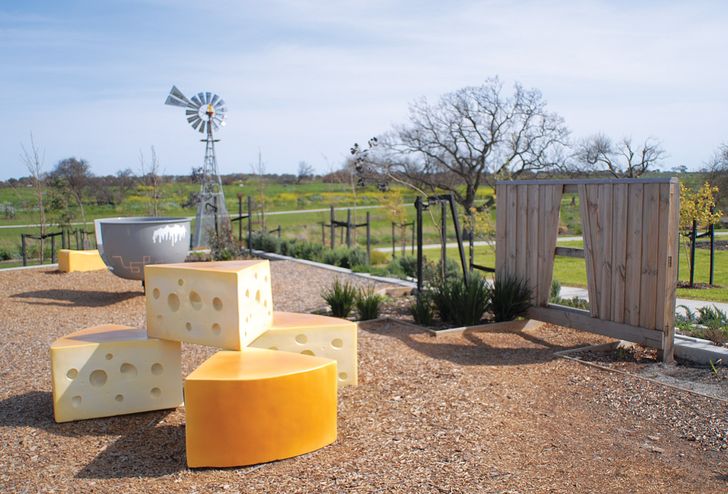 I spend some time at Lehman's Farm, the site of a former dairy farmhouse. The designers have taken their cues from post-settlement heritage, displaying remnant footings, orchards and pop-style interpretive sculptures (butter and cheese, kelpie dog, gum boots and a slide of pouring milk).
On one occasion, three ladies with headscarfs are perched on picnic benches around the warmth of the free gas barbecues, and a bike is parked at the neat cycle racks. A boy entertains himself on the swing. On another occasion, I speak with Layla and her young niece, Iraqi refugees who rent a house with extended family. Layla points towards the park and houses and tells me emphatically that Australia is beautiful and safe, with people with morals but not too many people. She confirms to me what I already know.
What I want to explain to Layla is that it is unlikely many people will ever gather in the parks and streets of Aurora, despite how beautiful the public design ambitions may be. There's simply too much open space that signals a need for "occupation" and too many standards that diminish expression and conversation in the streets. I think of other Victorian housing communities that have ten to twelve dwellings per hectare, for instance both Edna Walling's Bickleigh Vale village in Mooroolbark and Ellis Stone's Elliston estate in Rosanna celebrate quintessentially local environments that embrace natural systems and informal neighbourly niceties.
Back in the sales centre, the well-mannered sales staff let me know they've received two deposits for their new release, Lot 21. They tell me Lot 21 is selling well because it's next to land reserved for open space (a place of aboriginal significance). Peace and quiet will be guaranteed.
Source
Project
Published online: 11 Jun 2014
Words: Helen Day
Images: Nicholas Hansen
Issue
Landscape Architecture Australia, November 2013
Related topics