Treat the country like a church… build beautiful things
Andrew Broffman reflects on AusIndoArch: Tropfix, a recent conference held in Darwin exploring fascinating, challenging and creative approaches to architecture in the tropics.
"We share the same moon."
This plain but poetic observation by Indonesian architect Eko Prawoto might well have described the natural affinities and collaborative possibilities between Australia and Indonesia on display at the AusIndoArch: Tropfix conference held in Darwin on 6–7 November 2014.
Creative directors Andrea Nield and Yohana Raharjo seamlessly assembled an inspired group of national and international architects and artists, researchers and writers, teachers and travellers, cultural observers, urban designers, activists, healers and makers to share experiences and ideas about architecture and cities in tropical places.
A series of themes framed the conference proceedings, with each topic providing a logical building block for subsequent sessions. Palimpsest opened the event, tracing the cumulative layers of tropical history and culture that unite the two countries. Larrakia Nation elder Bilawara Lee's passionate reassertion of an Indigenous built environment tradition was well paired with Indonesian professor Baharuddin Hamzah's description of seventeenth-century cultural exchanges between Bugis and Makassan traders and Indigenous Australians. Heritage architect Michael Wells's tour through what remains of Darwin's nineteenth-century built fabric illustrated the persistent but often unsuccessful attempts by Europeans to settle the Top End.
The conference closed on the theme Out There, a review of media and the future of architectural collaboration on both sides and across the Arafura Sea. Imelda Akmal of Archinesia "bookgazine" described how Indonesian architects are using social media in innovative ways to discuss not only architecture but also the manner in which the built environment influences and is influenced by politics, agriculture, commerce and Indonesian village life. Cameron Bruhn of Architecture Media outlined the history of architectural print media in Australia and the possibilities of new virtual spaces for promoting architecture across geographic boundaries.
Between the traces of history and the echoes of new media was a range of provocative conference topics that framed fascinating, challenging and creative approaches to architecture in the tropics.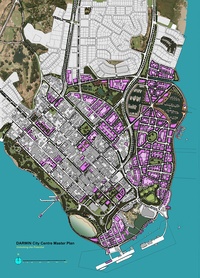 Northern Territory Government Architect Lawrence Nield opened the Urban theme with a meditation on streets as the "songlines" of cities, with a plea against the "toxic" nature of much urban development in which cars dominate and buildings fail to engage the streetscape. Mahditia Paramita from the Housing Resource Centre Indonesia presented a fascinatingly detailed analysis of a riverfront kampong (village) development in Yogyakarta, while Steve Thorne of Design Urban used the "space syntax" model to describe Darwin's patterns of pedestrian connectivity and the importance of "buildings as communicators of inside and outside."
In Fabric, Adi Purnomo from Mamostudio in Indonesia shared his vision of Jakarta as a "sponge city." His focus on water catchment strategies for housing offered creative ways to address increasing industrialization and the disappearance of what was once fertile land. Purnomo's visionary approaches included housing designed as agricultural terraces, allowing land that would otherwise have been lost to development to be cultivated.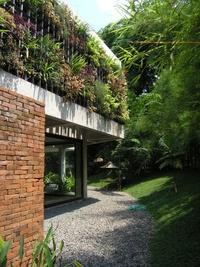 Ninotschka Titchkosky from BVN Architecture framed her practice's large-scale urban works in terms of more conventional, smaller-scale typologies. In her examination of BVN's 480 Queen Street project in Brisbane, Titchkosky persuasively argued that an urban project's size – particularly in tropical areas where boundaries between inside and out can more easily be dissolved – does not mean that the qualities of the "town square," the "outdoor room" and the "street" cannot be realized.
The second day opened with the session entitled Responsible, which included architect Yogi Ferdinand of SHAU Architecture and Urbanism, who displayed his work on the Muara Angke masterplan and housing projects in Jakarta. SHAU used detailed mapping techniques to understand the intersections of geography, economy and human behaviour so as to inform a built response to the challenge of revitalizing an economically disadvantaged fishing village.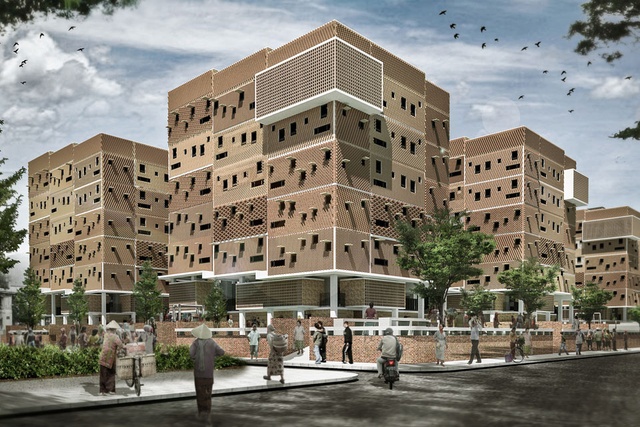 Carol Marra from Marra and Yeh Architects, a firm with offices in Sydney and Malaysia, outlined what she called an architectural "agenda" – a series of dualities that help frame her architectural practice: aspiration and appropriateness; community and privacy; technology and tradition; general and particular. With inventive intellectual rigour, Marra placed a number of her firm's projects within this framework, helping to inform the architectural work and its response to place, climate and culture.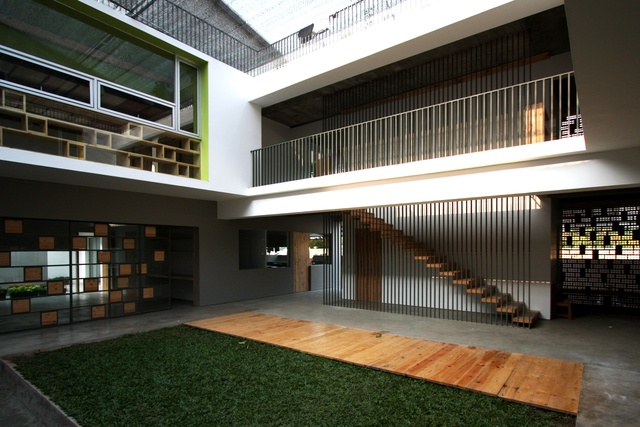 Wendy Djuhara of Djuhara + Djuhara Architects lead the Collaborative session. Her studio's kindergarten project in Bintaro, Indonesia was particularly notable: unashamedly modernist in form but with an innovative use of local materials, Djuhara + Djuhara have creatively transformed a domestic space into a successful community building with a definitive urban presence.
In the same session, architect Tania Dennis and her client Tom Lewis's relaxed and unscripted conversation about the architect–client relationship offered an amusing and powerful demonstration of a strong collaborative bond. Lewis spoke with the skills of an experienced storyteller, praising the architect's ability to respond to culture and place. "If you treat the country like a church," he advised, "you build beautiful things on it." Dennis, whose work includes what she described as "cheeky, vibrant, fun, cool and adaptable" pavilions at Djilpin Arts in Beswick, modestly deflected Lewis's praise, instead pointing to the resonance of country and the strength of culture as the basis of good architecture.
Patrick Coulombel of Emergency Architects in France spoke to the Resilient theme with a survey of emergency responses to earthquakes and tsunamis in Pakistan and Sri Lanka. Coulombel ardently described the nature of emergency work, the protocols of response and the rapid delivery of housing and infrastructure in difficult circumstances – a reminder of the messiness and the human face of emergency architecture.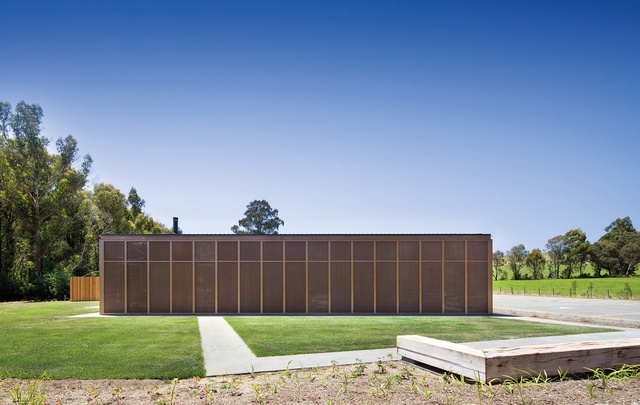 Moving deftly between scales, Ninotschka Titchkosky again addressed the conference, closing the Resilient session with a presentation of her work on the Narbethong Community Hall in Victoria, a project that grew out of the 2009 Black Saturday bushfires. Though not a tropical project, this work offered an Australian complement to the international work of Emergency Architects. A strikingly simple external geometry belies the building's affective interior, referencing the local timber industry through an imaginative use of materials. The work beautifully demonstrated the possibilities of architecture as a means of healing a community affected by natural disaster.
Richard Leplastrier, with warm and dramatic effect, "performed" the tropical weather patterns of trade winds and ocean currents and their influence on human habitation in the Indonesian archipelago and across the Top End of Australia. He generously offered his beautiful sketchbook analysis of a Balinese house. As he turned each page, the scale of his drawings changed from distant mountain to composed dwelling to detailed hearth – rendering the connection between domiciliary practice and landscape compellingly clear.
Leplastrier's homage to the Australian Institute of Architects' 2014 Gold Medallists Adrian Welke and Phil Harris on the previous day was a delight. "These two represent all it takes to be an architect: humility, modesty, humour, compassion, love, strength, frailty." The Gold Medal talk by the Troppo co-founders at Darwin's Christ Church Cathedral – an appropriately exultant space for this honour – was a perfect end (complete with green can refreshments) to the afternoon's proceedings.
A bilingual, multicultural and refreshingly gender-balanced conference, AusIndoArch: Tropfix follows last year's successful Spirit of Place meeting in Cairns. The Australian Institute of Architects continues to inspire with its regional program, celebrating local issues and architectural challenges that are relevant to all practices: urban, regional and remote. On the evidence of an engaged audience, an eclectic group of speakers, lashings of good food and stimulating conversations, we can expect a full and bright moon at the next regional event.