A symbol of post-disaster recovery and cultural exchange, Japan's robust Australia House by Andrew Burns shows simplicity is a complex affair.
Australia House is a disarmingly simple and strikingly enigmatic building. A piece of built Australian cultural diplomacy nestling in a hidden valley in northern Japan, it offers an example of the incongruous yet vital encounters enabled by globalization. A confident assertion by its architect of the virtues of "unaffected logic" in architecture, the work is in fact at its most engaging when seen as a complex document of the references and connections that pervade the contemporary sense of place.
These tangled geographies can be felt in the larger project of which Australia House is part, the Echigo-Tsumari Art Field. This is an extraordinary initiative that aims to bring contemporary art and architecture to a picturesque but declining corner of rural Japan centred on Tokamachi city in Niigata Prefecture, about 250 kilometres north-east of Tokyo. The Art Field has been staging an international art triennial since 2000, with hundreds of artworks scattered across an 860-square-kilometre swathe of rural territory. The Echigo-Tsumari region has become an outdoor museum, full of diverse artistic responses to local sites, memories and patterns of life. Terraced paddies sprout land art alongside rice plants, abandoned schools take on new life as homes for installations and art events, and thatched-roof Edo-period farmhouses become atmospheric frames for meticulously curated experiences.
Meanwhile, contemporary architectural projects by the likes of MVRDV, Tezuka Architects and Hiroshi Hara have been progressively placed around the region. While the initiative provides a boost to the local economy through cultural tourism, the broader ambition is to use art to suffuse the environment with meanings that are resonant for both locals and visitors, and to pioneer a model of sustainable regional development in which culture is positioned at the core of both local government development priorities and everyday consciousness.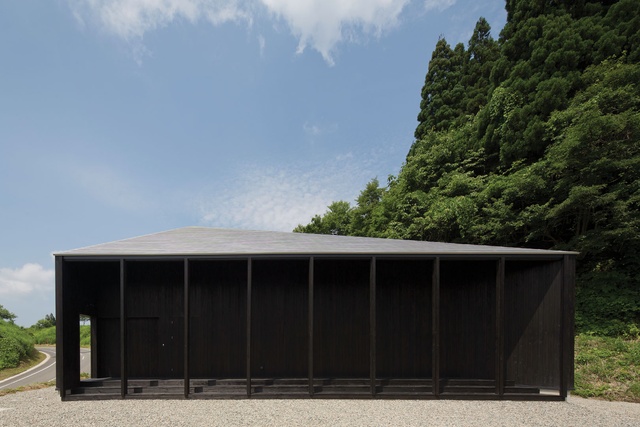 Australia has participated in the Echigo-Tsumari Art Triennale since the inaugural festival of 2000, but the permanent base known as Australia House wasn't built until the fourth event in 2009. It was conceived as a space in which Australian artists could live, create and display artworks during the summer months while in close contact with the local Urada village community. The frame was a traditional minka farmhouse dating from the late Edo period, complete with thatched roof, smoke-blackened timbers, tatami mats and shoji screens – a tangible remnant of a world shaped by rituals and the rhythms of nature, and an emblem of a lost sense of locality.
On March 12, 2011, a powerful aftershock of the Great East Japan Earthquake struck the region. Australia House was one of the casualties, collapsing under the combined stress of the strong shaking induced by the quake and the heavy snow load borne by the roof. The Art Field, the Australian Embassy and Urada village agreed to rebuild Australia House, raising the funds, finding a new site, staging an international architectural competition (with Tadao Ando and former Sydney University professor of architecture Tom Heneghan as jurors) and completing the project all in fifteen months, in time for the opening of the fifth cycle of the festival in July 2012.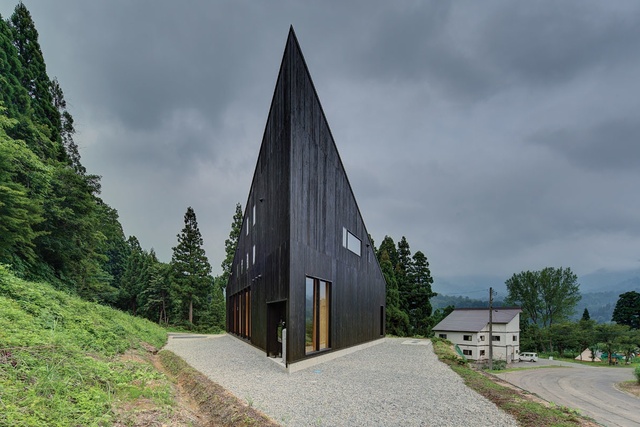 The competition brief called for a compact structure with a floor area not exceeding 130 square metres, and which would accommodate up to six artists, provide space for the creation and display of artworks, and serve as a base for joint projects between Australia and Japan. As a symbol of post-disaster recovery and international cultural exchange, the architectural response needed to "be designed to reflect disaster prevention and environmental considerations," "represent the cultures of both Australia and Japan," and "itself be a piece of art." Despite the small scale and tight constraints, the competition garnered significant attention in both Japan and Australia, attracting 154 entries.
The winning entry was awarded to a young Sydney-based sole practitioner, Andrew Burns. Burns's scheme follows a compact, intelligent parti based on triangular geometries in both plan and section. The plan, an isosceles triangle, responds with authority to the site, which is bounded on one side by the main road which drops away in a descending curve, and on the other by a rising embankment. In a conscious reference to the Australian vernacular, the primary entry facade features a full-width verandah, while the section exploits the steep snow-shedding roof to accommodate living and working spaces on the upper level. This also yields a dramatic vertical exhibition space around a full-height stripped tree trunk, referencing the Japanese daikokubashira – the "great black pillar" extending from floor to roof in traditional timber construction. External apertures precisely tune views, access and the environmental envelope, while the material palette offers a consistent finish of cedar boards inside and out – a restrained and attractive response.
It is a measure of the robustness of the concept that although the competition scheme was significantly altered during design development – the frontage was rotated by forty-five degrees in order to respond to concerns about snow shedding and cost – the design was able to maintain key spatial relationships and its overall character while improving its principal address to the valley view.
The three gallery spaces on the lower level make up the core display and public spaces of the project. Artists working in this building will find much in the menu of spaces – "Long," "Tall" and "Wide" – to work with, but the individual personality and limited flexibility of the rooms will also generate tensions that they may find themselves working against. The Wide Gallery, the largest, is a triangular space with an exterior wall of large glazed sliding doors through which the verdant embankment can be seen. Already equipped with its own microcosmic natural spectacle, the room has been given a further charge with the installation of a permanent artwork by the Sydney artist Brook Andrew, with whom Burns developed a productive collaboration. This vivid, energetic piece, entitled mountain home – dhirrayn ngurang, combines a poem in Japanese written in pink neon, a strongly graphical wall pattern inspired by the artist's Aboriginal heritage, and a massive mirrored wall on hinges that superimposes reflections of exterior and interior, effectively merging the local and the distant, the optical and the conceptual, memory and presence.
Burns is an avowed minimalist – he apprenticed at Neeson Murcutt and cites Donald Judd and (not surprisingly) Tadao Ando as inspirations. Yet the architecture is most eloquent when it reveals tension rather than stillness, when it speaks in multiple languages, when its brooding abstraction rubs against its vernacular sources and when constructional directness encounters geometric precision.
Although suffused with official aspirations for cultural exchange, and designed with a conscious regard for the symbolism of local built vernaculars, there are moments when the architecture of Australia House evades such framing, becoming neither local nor global, neither "Australian" nor "Japanese." In these moments, it achieves more profound and elusive goals, showing that simplicity is a complex affair, and that a sense of the local today always involves distant elsewheres.