Developer Lendlease has announced plans for Australia's first commercial timber office building at Barangaroo in Sydney.
Designed by Tzannes, the seven-storey International House Sydney will be made from cross laminated timber (CLT) and glue laminated timber.
CLT has a lower carbon footprint than other building materials and the production process produces zero waste. The timbers used are also sourced from certified sustainably managed forests.
"The architecture of International House Sydney reflects a new form of beauty. Beyond shape and surface, it is 'deep design', renewing architecture's role to serve the greater social purpose of lowering carbon emissions," said Tzannes director Alec Tzannes.
The design makes extensive use of structural engineered timber and recycled hardwood timber throughout the building, and includes a colonnade form that is representative of a forest of trees.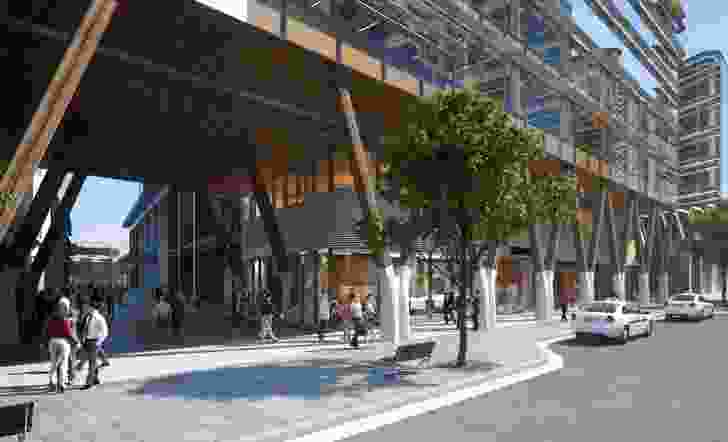 The building will front directly onto Exchange Square, one of the entry points to the precinct, and will have an expected 33,000 visitors daily coming from Wynyard Walk. Tzannes said the building defines the southeastern connection of Barangaroo on Sussex Street to the urban fabric beyond.
"Looking from the bridges leading to Barangaroo, through the clean glass skin, the multi-storey timber structure forms the character of the architecture, the same character that from inside creates an interior environment reminiscent of the spaces often found in Sydney's historic timber or cast iron and brick buildings from the era when warehouse buildings were crucial to Australia's maritime economy."
CLT technology development first started in Switzerland in the 1990s. Last year Lendlease announced its plans to open a factory to manufacture pre-fabricated building components, including CLT, which is due to open in 2016. Earlier this year New Zealand-based CLT company XLam revealed it would be opening a CLT factory in the Albury, Wodonga region, due to be completed in 2017.
International House Sydney will be Lendlease's third CLT building in Australia, the others being Forte Apartments and public building Library at The Dock, designed by Clare Design (design architect) with Hayball (architect of record), in Melbourne.
"We are well on our way to creating Australia's first large scale carbon neutral community and we are extremely proud to be delivering this exciting building," Andrew Wilson, managing director of Barangaroo South said.
International House Sydney is due to be completed in 2017.
Related topics