Australian architect wins competition to design library in Milan
An academic at University of Technology Sydney (UTS) is part of an architectural team selected to design a new public library for the Lorenteggio district on the outskirts of Milan in Italy.
UTS senior lecturer Urtzi Grau joins architects Jocelyn Foimovich, Stefano Rolla and Laura Signorella on the team that won a design competition for the library, which is being funded by both the Milanese municipality and the European Union. The design won over more than 200 other entries.
Grau is an architect and founder of Fake Industries Architectural Agonism (FKAA), together with partner Cristina Goberna Pesudo. Grau also directs the Master of Research program at the UTS School of Architecture.

The design references the post-war, modernist design and construction of the neighbourhood. The judges lauded the "the strong recognition with which [the design] interprets the historical identity of the district in a contemporary way."
The library will feature a range of social spaces and multifunctional rooms. The walls on the ground floor will open up in summer to expose the interior of the library to the surrounding park. 
Grau said that the design responds to the requirements of the project brief. "The brief for the project included social spaces, it included multifunctional rooms that would allow for activities that aren't usually associated with a library, like job classes, concerts, kids' activities – it's an expanded version of a library that I think is also quite contemporary."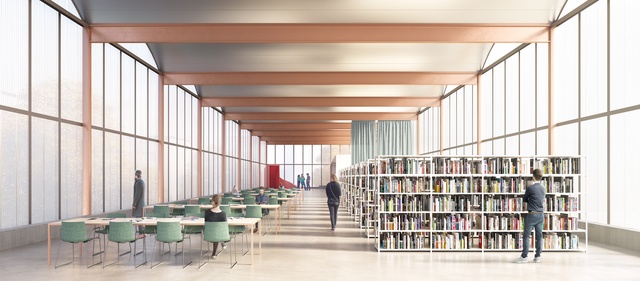 The building will leave "almost no footprint" in terms of energy consumption as a result of a range of sustainability features, including a solar array on the roof.
Grau said that he hopes the library will mark a shift in investment away from a concentration on city centres.
"We're coming out of a period in time [when] we look at city centres as the only place where things should be happening," Grau said. 
"Suburbs on the periphery are still part of the city. Therefore, they have rights to the city that's equal to all other places. This sort of revitalization project is about recognizing those rights and the rights of the citizens, and mitigating the difference in investment, transformation and value. 
Grau was, with FKAA, a finalist in the Guggenheim Helsinki competition.
The library is due to open in 2021.