Australian architecture practices Jim Fitzpatrick Architects and Conrad Gargett have designed a glazed conference facility in the Papua New Guinean capital of Port Moresby. The building will host international meetings for the 2018 Asia-Pacific Economic Cooperation (APEC) forum in November.
The building is located on a peninsula that extends into Walter Bay.
Design architect and design director Jim Fitzpatrick Architects was commissioned by PNG prime minister Peter O'Neill to design a building for APEC in October 2016. Conrad Gargett was commissioned for the documentation and delivery of the building.
To symbolize international trade negotiations, Jim Fitzpatrick Architects drew on the trading tradition of the Motu-Koita culture to inform the design of the building, named APEC Haus. This is most clearly seen in the building's form, which references the crab claw shape of the lakatoi, the Motu-Koita's distinctive double-hulled boat.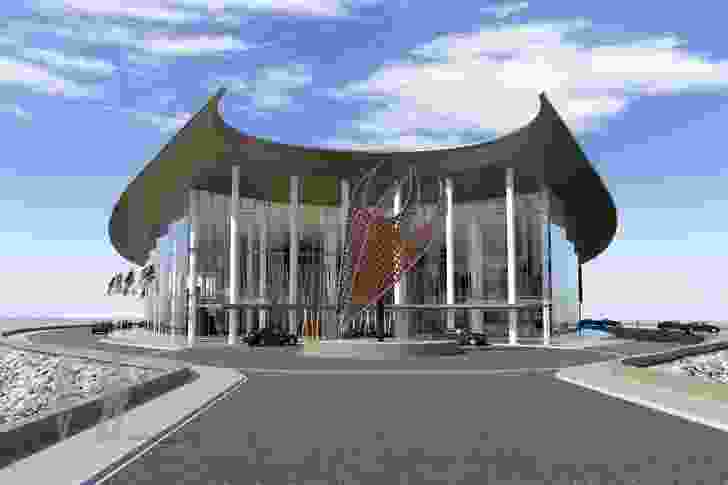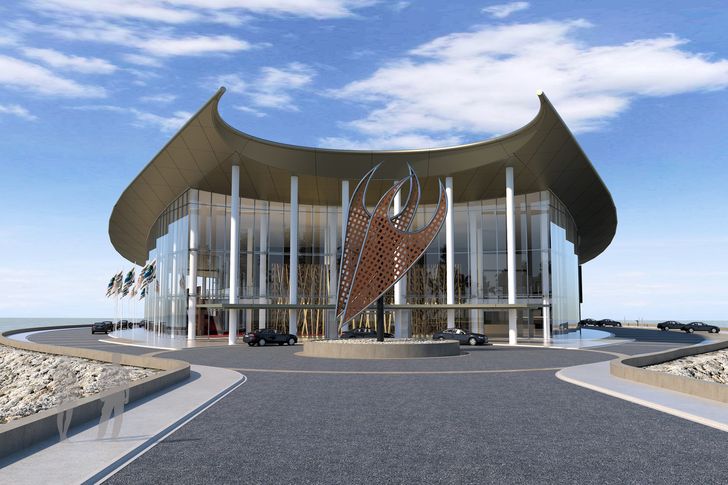 Jim Fitzpatrick Architects were also responsible for the design of the sculpture, in collaboration with Lump Studio, which looms 12 metres over the central entrance plaza. A depiction of two of the distinctive sails from the lakatoi, the copper and stainless steel sculpture is intended to represent readiness for "a prosperous journey of trade."
The referencing of local design traditions continues inside, with a 21-metre-wide wooden feature wall in the lobby engraved with a stepped tattoo design taken from traditional designs.
Jim Fitzpatrick Architects were also involved in designing and commissioning artworks that clad the outer walls of the building, as well as custom furniture pieces and displays for nationally significant artworks and historical artefacts.
The building is intended to become a conference, museum and exhibition facility after the APEC summit.