When a fitout and a logo are both designed by the same firm, where is the line drawn between interior architecture and graphic design? In the new national headquarters of the Australian College of Massage (ACM), South Melbourne, interdisciplinary practice Red Design Group started with the logo. After fifteen years, ACM wanted to move, grow and refresh its identity. The existing logo was an abstract organic shape that could be seen as representing hands, or a pair of human bodies. Red graphic designer Sarah Hotchin tweaked the shape slightly and changed its colours from blue and yellow to shades of green, expanding its symbolism to embrace nature.
"Everything came from the brand," explains Emma Schaeche, interior designer at Red. The revised identity for ACM was based around the feel of being in a relaxing massage environment – ACM students receive a Diploma of Remedial Massage after a year of study, and the mostly-female graduates generally seek employment in day spas. To use Schaeche's expression, ACM is a "boutique offering" as distinct from its competitors which are more generalist institutions like TAFEs.
Red Design Group is led by a managing principal with a background in business marketing, the science behind retail sales and branding strategies. At Red, graphic designers work alongside interior designers, architects and visual merchandizers. "If we get to create a brand, that sets the tone for the rest of the design," says Schaeche. They began by sourcing a huge library of hand-drawn images of flora and human anatomical studies. "We thought they were really in tune with each other, the human body and nature, so we entwined them," say Schaeche and Hotchin. The choice of illustrations over photography was a deliberate one, creating a point of difference to competitors who, in this field, tend to use photographs of relaxed-looking people with big smiles. "But those photographs always age," explains Hotchin.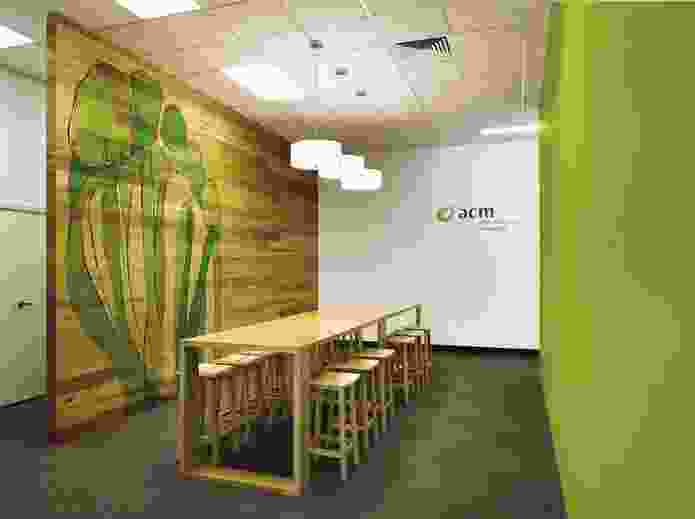 So, from a logo and a marketing brochure that "reads" like a relaxed massage, to an educational space that feels like one? "The colours we chose were replicated throughout the space. It blurs the distinction between graphics and interior design," says Schaeche. The entry reception has a spotted gum timber floor that wraps up one wall, to create a warm and inviting feel. The wall behind the reception desk displays the logo surrounded by illustrations of leaves. Statements sourced from ACM's educational ideals are applied to the walls, in various shades of green type. From the waiting area, sight lines lead to another ACM logo on the far wall.
The existing space was an open-plan office, uninspiring apart from an unusually tall ceiling. New walls were introduced, demarcating office space, the two large teaching rooms, and a break-out area with a kitchenette and communal dining table in timber. The existing carpet was removed and replaced with grey recyclable carpet tiles from Interfaceflor. Neutral colours dominate, plus the signature green. "Emotionally, green is time-going-fast, but calming as well," explains Schaeche.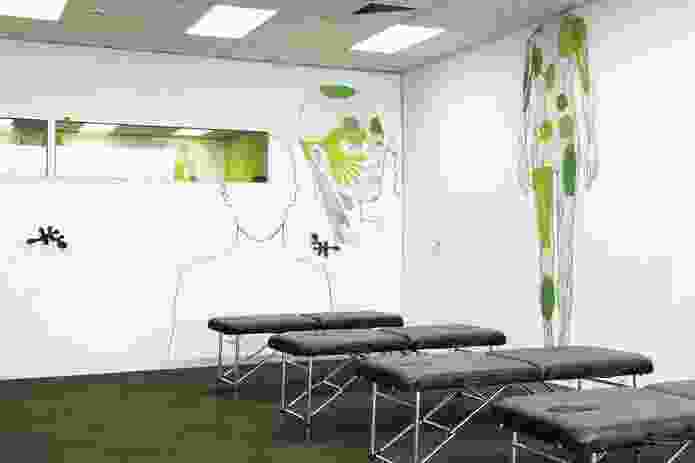 Much of the furniture is from Interstudio, including organic coat hooks that mirror the anatomical graphics on the walls. The coat hooks and their placement were pivotal parts of the teaching program at ACM. "They pride themselves on how they do the draping, so you feel comfortable," explains Schaeche. The students learn in pairs, each massaging the other in turn. The distance between disrobing and the massage table needed to be as short as possible.
Initially specifying block-out blinds to the street, the designers are happy with the cheaper alternative of opaque vinyl. "It creates a light-box effect on the inside," says Schaeche. And, as elsewhere, the vinyl carries marketing messages, this time addressing the street. Light filters from the front training room into the one behind via a clerestory window high up in the partition.
Is this interior architecture with applied graphics, or a three-dimensional brochure? Two other training facilities have been constructed in Sydney and Brisbane using the same formula, the same colours, the same library of illustrations. Surprisingly, the building was ahead of the printed word – when I visited, they didn't have their new brochures printed yet. I fancied the idea of flipping through the new brochure while walking through the new space. But then, I suppose I didn't need to.
Products and materials
Walls
Windows

Digitally printed vinyl graphics to shopfront and partitions.
Flooring

Interfaceflor carpet tile is Solid Foundation; Boral Silkwood timber flooring with Blackbutt finish.
Lighting

Feature lighting by Switch Lights.
Furniture

Reception desk Diamond Gloss laminate by Laminex; Waiting chairs and table by Temperature Design; Break-out area solid American oak communal timber table and stools by Interstudio; Flosion ottomans by Interstudio with Svenska KJ upholstery; In training rooms; Hob Nob chair upholstered in Woven Image and Instyle Contract Textiles vinyls; Chairbiz tables; Massage tables by client in Instyle vinyl; Clothing hooks are Camouflage by Interstudio; Interactive whiteboard by Soundcorp.
Kitchen
Bathroom

Caroma fixtures; Classic Ceramics floor and wall tiles.
Source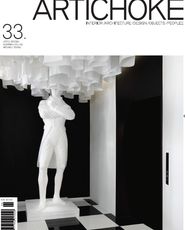 Issue
Artichoke, December 2010
Related topics