"Avoid alliteration. Always." wrote Frank L. Visco in a droll satirical take on Strunk and White's The Elements of Style.[i] The title of the recent Australian Institute of Architects conference in Sydney, "Praxis: Process. Propositions. Production." falls defiantly foul of this rhetorical pitfall. The curators, Ken Maher and Helen Lochhead, instead chose a title that provided a comprehensive frame for seven international and ten local architects and guest landscape and planning practitioners to present their work. The conference theme had me thinking cynically of other alliterative add-ons. Platitudes? Predictability? Fortunately, the conference itself steered generally away from that territory and delivered a dense program of contemporary architecture across scales and regions, with some memorable and controversial presentations.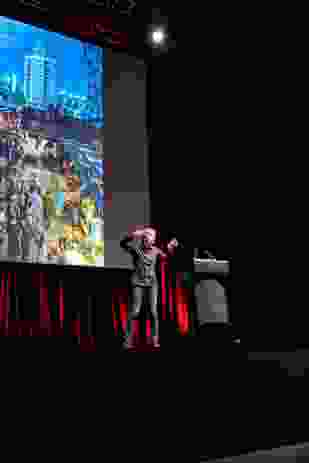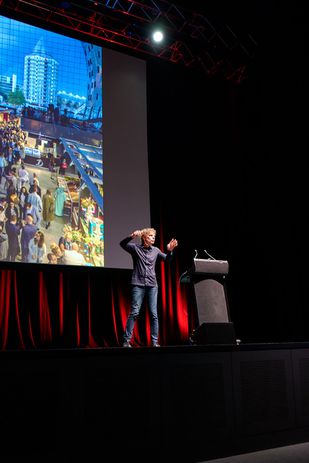 There is never likely to be consensus among a group of more than one thousand architects, but two speakers stood out for the sheer vigour of their presentations: Winy Maas of MVRDV launched the conference with a high-octane presentation of data, images and built work that made clear the extension of the architectural scale of his work since his previous visit as a fledgling enfant terrible. Maas may not be un enfant any longer, but he still revels in provocation and if the built work did not always align environmentally with the thrust of his remarkable research and publication output, there is no denying the inventiveness and ambition of his approach. The screen-printed Glass Farm house at Schijndel, the riotous residential-commercial inner skin of the Rotterdam Markthall and the dental precision of the Amsterdam Chanel headquarters (made from glass bricks that take an hour and a half each to install) seem to contradict MVRDV's global datascapes for creating a happily sustainable world. Yet perhaps these impressive investigations of craft and materiality, arguably absent from MVRDV's early works, are testament to the seductions that happen between proposition and production, when the compulsion to simply make something beautiful and startling overrides all.
With no less energy but in a dramatic contextual contrast, Rahul Mehrotra of Indian practice RMA Architects spoke to his portfolio of work in the developing world. Though it was his second appearance at a national conference (as it was for Vo Trong Nghia, Anupama Kundoo and at least three of the local architects), Mehrotra operates with such extraordinary intellect, productivity and empathy across diverse scales that he has amassed a lifetime of architectural accomplishments in the 16 years since he spoke previously. Speaking to the idea of research and publications as a way to refine propositions, Mehrotra covered everything from the conservation of the Taj Mahal to the effect of "impatient capital" on the way our cities are formed. The most affecting content in his torrential talk, however, was that of the humblest built projects. Alongside technologically sophisticated corporate works in Hyderabad and Basel, RMA's series of communal public toilets as part of an evolving NGO project to stop open defecation in Mumbai, and the Hathigaon (elephant village) in Jaipur, which accommodates elephants and their mahouts (caretakers), demonstrated the potential for architecture to improve the dignity of life across scales and cultures. Kundoo's subsequent session on the social significance of building craft was a synergistic segue, (though now familiar territory to Australian audiences). These presentations of work from the subcontinent gave a cumulative nudge to the default white middle class conscience of Australian architecture.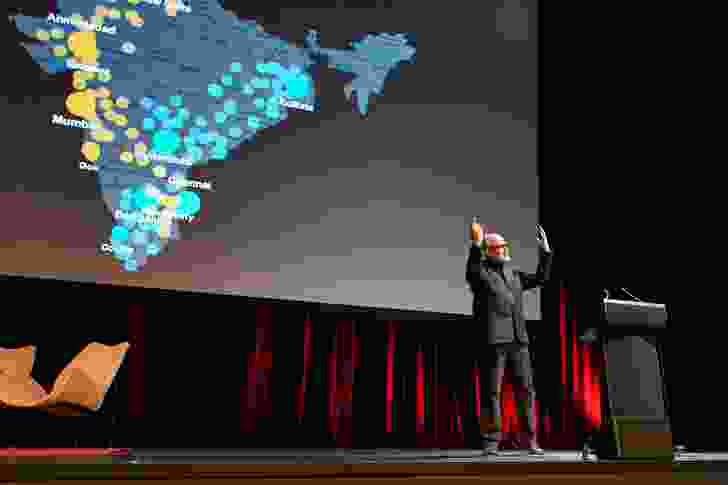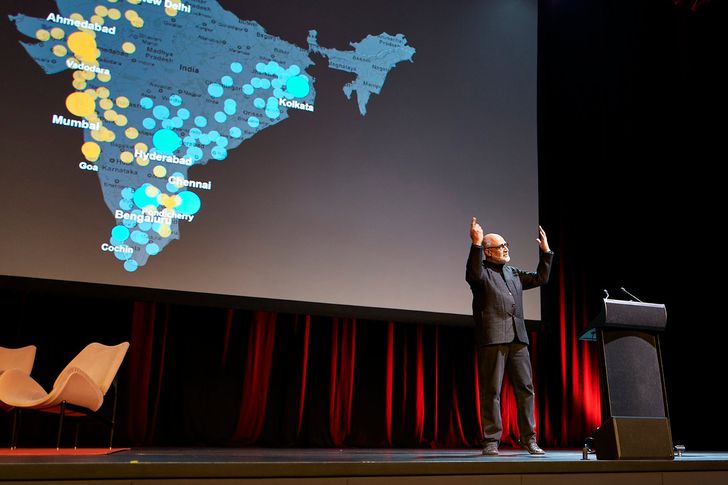 Other sessions were more contentious. Eva Castro of Plasma Studio drew few admirers with her massively scaled landscape urbanism projects in China and Turkey, though the questions her work poses about mega developments and instant city environments are valid ones. More surprising was the polarized opinion around Glen Murcutt's "fireside chat." For some it was avuncular, fond and inspirational. For others it was received as a curmudgeonly rant. Nor were these extremes of response predictable along generational divides, or trite debates about analogue versus digital thinking. What gives? Murcutt has always spoken with fervour and passion, and he has earned, perhaps more than any other architect in Australia, the authority to speak directly of his values and principled practice. His recent collaboration with Hakan Elevlifor a mosque in Melbourne's Newport is a late, optimistic blossoming in a career that deserves deep respect and admiration, irrespective of fashion, technological change or the economic rationalism of what Neil Durbach called "zombie modernism." The final speakers of the conference, Sheila O'Donnell and John Tuomey of Irish practice O'Donnell and Tuomey, gave tacit blessing to the place-based humanity of Murcutt's work with their own portfolio of regionally poetic works. Speaking with the sentence-completing manner of husband-and-wife design partnerships, their gentle journey through "here and there" attended to all the alliterative Praxis themes, fittingly concluding with the politicized fate of their incomplete Budapest Central European University campus. It was a sobering return to the increasingly polarized world we now find ourselves in.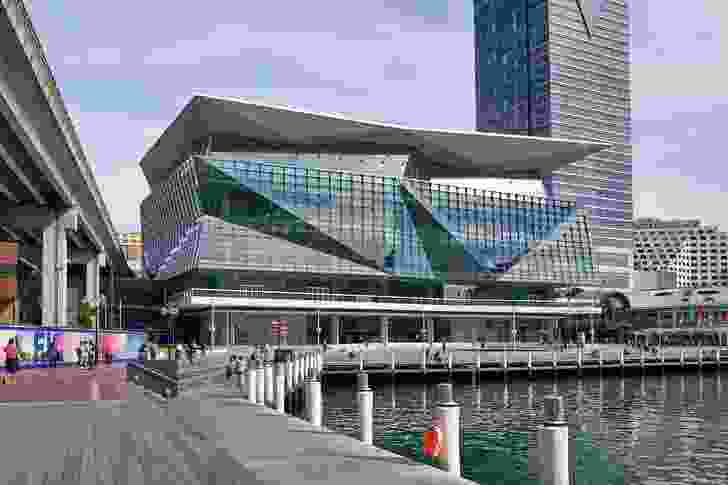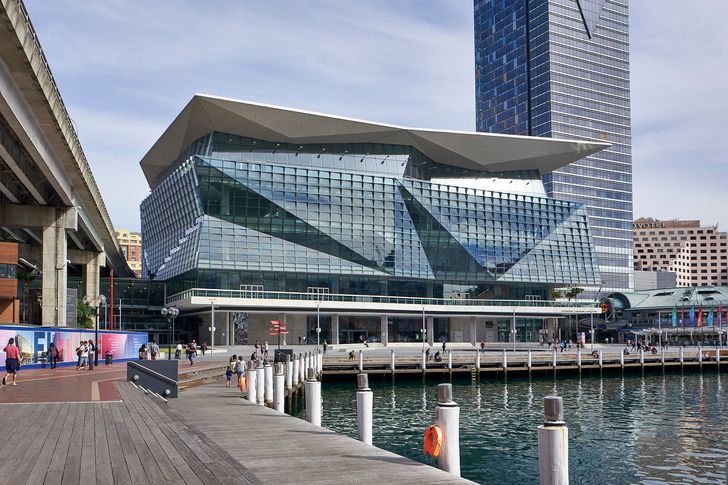 A summary of the conference could be delivered in another batch of alliterative adjectives: "critical, conscientious, considered, collaborative." If there is one thing that seemed absent, however, it was "curation." The casual juxtaposition of approaches, scales and regions was a marked contrast to highly focused conferences like 2014's "Making" in Perth and 2015's "Risk" in Melbourne. The 2017 national conference was a little like architectural channel surfing, from Grand Designs to The Block to Foreign Correspondent. That said, it put the obligation back on the audience to draw the threads together and discussion between sessions was vigorous and reflective. Maher and Lochhead delivered a solid program and are to be commended on their agility. Some shifts to format are worth evaluating, relating to the short and sharp sessions of local speakers, and the absence of parallel streams and impromptu on-stage interlocutors. The absence of a conference "show bag" must be worth at least a four-star Green Star rating, let alone sartorial bonus. The 2018 conference, however, is to be at Broadbeach on the Gold Coast, so we may all be wishing for a complimentary beach bag for our sarongs and togs. Called "The Edge," its directors are yet to be announced.
[i] Frank L. Visco, "How to Write Good," Writers' Digest, June 1986 and W. Strunk Jr. and E. B. White, The Elements of Style, fourth edition (New York: Penguin, 2000).
Related topics