Glenn Murcutt, the sole Australian recipient of the Pritzker Architecture Prize, has been selected design the 2019 MPavilion in Melbourne.
Naomi Milgrom, founder and benefactor of the Naomi Milgrom Foundation, said that Murcutt has "been at the forefront of contemporary architecture for decades with groundbreaking designs that are sensitive to landscape and cross-cultural collaboration.
"Quintessentially Australian and ahead of his time, Glenn's thoughtfulness about people, place making and the environment continues to inspire us all."
Murcutt, whose body of work is based entirely in Australia, is among the country's most internationally prominent architects. Aside from the Pritzker, which he received in 2002, Murcutt has won a number of other high-profile awards, including the Gold Medal from the Royal Australian Institute of Architects (1992), the Alvar Aalto Medal (1992), and the American Institute of Architects Gold Medal (2009). He was appointed an Officer of the Order of Australia in 1996. In 2016, he was appointed chair of the Pritzker Prize jury.
"MPavilion is an interesting and assiduous project, and I'm honoured to be commissioned," he said.
Among his most significant recent projects is the Australian Islamic Centre in the Melbourne suburb of Newport, designed in collaboration with Elevli Plus Architects. Murcutt described the project, which was funded primarily by the local Muslim community, as "an extraordinary enlightenment" in a speech given at the 2016 Pritzker Laureates Conference in New York.
Other current projects include the planned Australian Opal Centre, designed with Wendy Lewin. The partially subterranean museum in outback New South Wales is sited on an off-grid site without council services that includes an underground "Gondwanan garden" featuring plants with long fossil histories.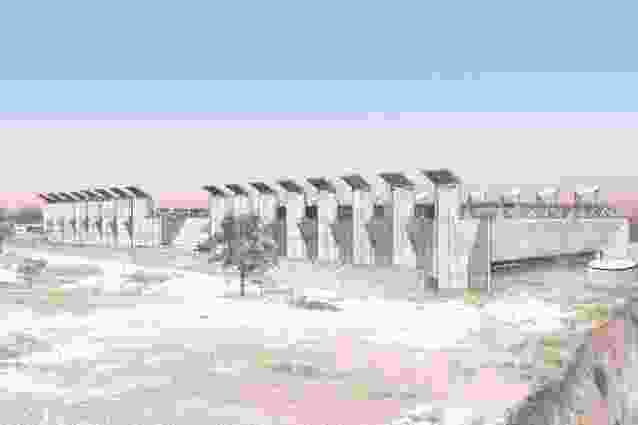 The announcement comes after the most recent pavilion, designed by Barcelonan architect Carme Pinós of Estudio Carme Pinós, which closed on 17 February.
Murcutt is the second Australian architect to design an MPavilion, following Sean Godsell's 2014 design.
Originally a four-year program, the annual MPavilion commissions have been extended to 2021/22. Previous MPavilions have been designed by Rem Koolhaas and David Gianotten of OMA, Bijoy Jain of Studio Mumbai and Amanda Levete of Amanda Levete Architects.
Related topics