The Melbourne School of Design by John Wardle Architects and NADAAA is among four projects shortlisted for the second Moriyama RAIC International Prize.
The prize was established in 2014 by celebrated Canadian architect Raymond Moriyama with the Royal Architectural Institute of Canada (RAIC) and the RAIC Foundation. It honours a single work of architecture that embodies values of respect, equality, inclusiveness and social justice.
"The Prize is aimed at encouraging architects to be service-oriented rather than just focusing on producing something that looks good in magazines," said Moriyama. "It's to serve the community and humanity."
The prize is open to architects worldwide. The inaugural winner in 2014 was Chinese architect Li Xiaodong, whose Liyuan Library project was judged to be a "modest, yet powerful building, which makes architecture from a deep understanding of people, culture, context, site, materiality, and light."
This year submissions were received from 17 countries across four continents. The winner stands to receive a CAD$100,000 ($99,520) cash prize and a handmade sculpture by Canadian designer Wei Yew.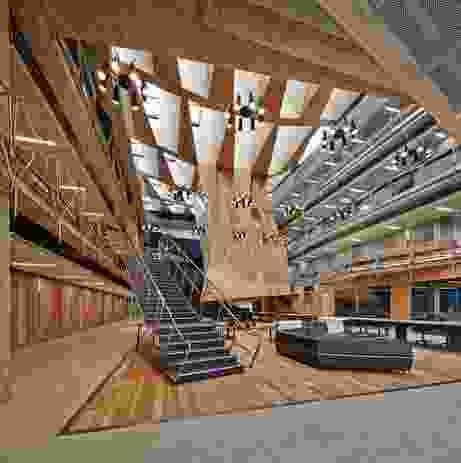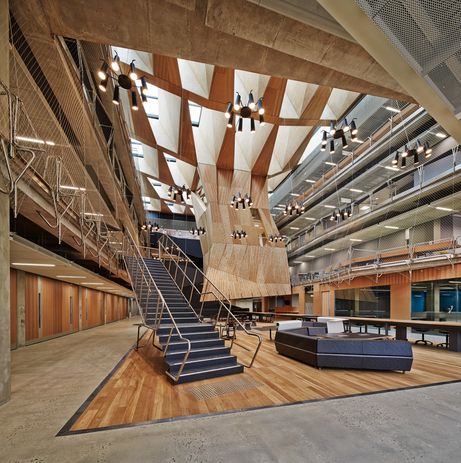 John Wardle Architects and NADAAA describe the Melbourne School of Design, completed in 2014, as a living, pedagogical building that sets new standards for education design in the Asia-Pacific region.
A light-filled atrium at the centre of the building has been specifically designed to encourage collaborative activities. Surrounded by flexible, open studios, the space is intended to stimulate the free exchange of knowledge between students, teachers and researchers.
The entire building is designed as an education tool, with its exposed structures and materials giving insight into fabrication and construction techniques.
"The spatial concept of an architecture school has become the social focus of the campus for all students," said the jury. "It is a beautifully orchestrated space, thoughtfully detailed and well crafted. It redefines the educational mission by engaging students with the entire building as a collaborative learning environment."
The other shortlisted projects are:
Image: Courtesy RAIC

8 House by Bjarke Ingels Group, completed in 2010: A mixed-use residential building in Copenhagen comprising 475 units in varying sizes for people of all stages of life, also includes offices, a kindergarten and a cafe on the ground floor. The infinity symbol- or figure eight-shaped structure allows apartments to access natural light, ventilation and external views. The project does not provide parking, instead prioritizing access to public transport and cycling paths.

The jury said, "This is a bold and beautifully integrated mix of multi-generational housing and universally accessible design. 8 House is a worthwhile experiment in the development of a new typology to create a vertical mixed-use community. The proposed socio-spatial concept offers a more durable way of densifying housing while maintaining a human scale."
Image: Courtesy RAIC

Fuji Kindergarten by Tezuka Architects, completed in 2007: A one-storey, oval-shaped kindergarten that accommodates more than 600 children. The building was designed to complement the philosophy that children flourish in open, natural environments. Its circular roof doubles as a play space for the children, who run an average six kilometres a day. The spaces are also open internally, with boxes used as furniture to define different areas and 1.8-metre-tall panels to divide the spaces.

"This is an extraordinarily positive place – a giant playhouse filled with joy and energy, scaled to a broad range of the human condition," said the jury. "This architecture in its simplicity and uniqueness embodies a pedagogical ideology of early education. The limitless structure of the space liberates the child's imagination."
Image: Courtesy RAIC

Shobac Campus by MacKay-Lyons Sweetapple Architects, completed in 1994. Formed more than 25 years ago on the coast of Canada's Nova Scotia, and established by architect Brian MacKay-Lyons, affectionately known to locals as "the village architect," the Shobac Campus was originally as a laboratory for architecture students. MacKay-Lyons uncovered 400 years of agrarian history on the forested site.

The first group of students arrived in 1994 for a two-week event aimed at re-energizing the master building tradition focusing on values of landscape, building and community. The first building was an archetypal farmhouse. Over the years, successive groups have built additional structures including a school and a studio for a local building practice. MacKay-Lyons has also built more than 40 houses for the local community.

"In this age of specialization, this contrarian initiative questions the architect's accepted role, and instead suggests a broadening rather than a narrowing of the current scope of practice. In so doing, the architect is re-established at the centre rather than at the periphery of critical decision-making," the jury said.
The winner of the 2017 Moriyama RAIC International Prize will be announced 19 September at a ceremony in Toronto.
"These projects celebrate human life and shape activity," said RAIC President Ewa Bieniecka. "They embody innovation, contribute to how we experience space and explore how spaces allow opportunities for freedom. The four shortlisted projects demonstrate how architecture is generous and gives back to the community. These works have a strong sense of place and connect to their surrounding landscape."
On the jury are: Barry Johns (jury chair and chancellor of the RAIC College of Fellows), Monica Adair (Acre Architects), Manon Asselin (Atelier TAG and University of Montreal), Bryan Avery (Avery Associates Architects), George Baird (Baird Sampson Neuert Architects and 2010 RAIC Gold Medallist), Peter Cardew (Peter Cardew Architects and 2012 RAIC Gold Medallist), and Li Xiaodong (inaugural winner of the Moriyama RAIC International Prize).
Raymond Moriyama is a highly lauded Canadian architect whose projects include the original Japanese Canadian Cultural Centre in Toronto, his first institutional project, as well as the National Museum of Saudi Arabia in Riyadh, the Canadian Embassy in Tokyo and the Canadian War Museum.
His is also a RAIC Gold Medalist, an International Fellow of the Royal Institute of British Architects and an honorary Fellow of the American Institute of Architects. In 2009, Moriyama was appointed a Companion of the Order of Canada after being made an Officer of the Order of Canada in 1986.
Related topics