Captain Kelly's Cottage by John Wardle Architects is among 20 international projects to be named winners of the Royal Institute of British Architects (RIBA) Awards for International Excellence 2018.
The awards are part of RIBA's biennial International Prize, "awarded to the most transformative building which demonstrates visionary, innovative thinking, excellence of execution, and makes a distinct contribution to its users and physical context."
The 20 projects that have won the awards were selected from the longlist for the International Prize. Five of the longlisted projects were Australian.
Captain Kelly's Cottage is located on Bruny Island in Tasmania on the same property as John Wardle Architects' earlier project the Shearer's Quarters.
The cottage was originally the home of Australian mariner and explorer Captain James Kelly in the colonial period, who was credited with being the father and founder of Tasmania's whaling industry.
It comprises an original gable-roofed cottage and a kitchen in a separate structure. John Wardle Architects removed the crude addition that joined the two structures and replaced with it a new insertion.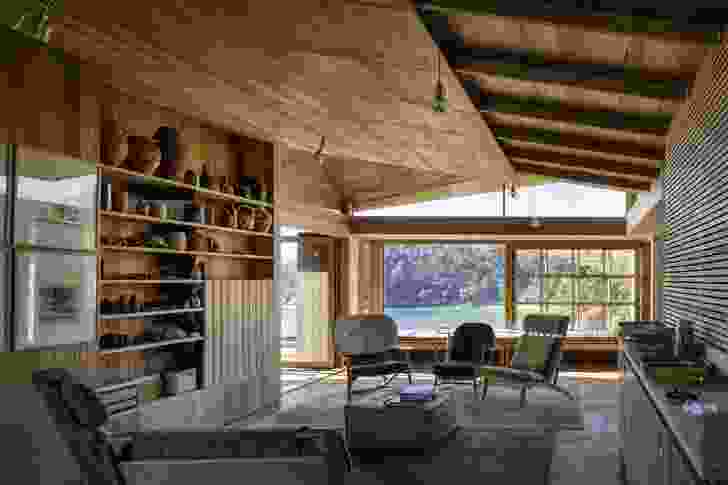 "The resulting new insertion, offers a contemporary interpretation and explanation of the original vernacular and creates an extraordinary conversation between the old and new," said the jury in its citation.
"The new spaces formed have a natural soft light set off by the timber treatment of the surfaces and carefully placed apertures in contrast to the slightly darker interiors of the original cottages where the patina of age is revealed, newspaper clippings are left exposed, as are aged timbers and their time worn brick infill.
"Captain Kelly's Cottage is a beautiful celebration of the process of construction and of making, where the present and past are constantly celebrated and is a testimony to the mutual respect clearly evident at every turn between the architect and his local craftsmen."
In a review of the project for Architecture Australia, Philip Goad described it as an "intensely personal statement […] that is also humble in its deference to what has gone before."
Along with the winners of the Awards for International Excellence, RIBA also announced the winner of the International Emerging Architect award, which went to Brazilian practice Aleph Zero for its project the Children's Village in Formoso do Araguaia, which was designed with Rosenbaum.
The winner of the RIBA International Prize will be announced in November 2018.
The grand jury comprises Elizabeth Diller (chair, Diller Scofidio and Renfro), Joshua Bolchover (Rural Urban Framework) and Wayne McGregor (choreographer and lay juror). Two more jurors are yet to be announced.
Related topics