The Eastern Precinct development is the final phase of an overall development plan for the Australian War Memorial, Canberra. The architect was faced with unique urban design challenges. Not only is the site of significant national importance, it is also included in the Commonwealth Heritage List, the National Heritage List and the Parliament House Vista Heritage Management Plan. The brief included the development of a cafe and amenities building; resolving the logistical problems of improving the movement, parking and arrival of thousands of buses and their passengers; and providing an appropriate site and surroundings for the National Service Memorial, which honours the National Servicemen who have died in active service.
The success of this project rests with the architect's elegant and discreet solution, which leaves the first-time visitor almost unaware that any major intervention has taken place. At each stage the architect has respected the broader setting, enabling the main building to remain the hero and the existing views to be completely unspoilt. The design approach has delivered an overwhelming and emotional sense of national place with appropriate yet masterful simplicity.
– Jury citation
The space responds functionally and symbolically to its diverse uses, from the dedication ceremony for over 4,000 people, to the arrival of busloads of school groups, to periods when only one person is in the space, quietly reflecting.
– Johnson Pilton Walker
For full coverage see Australian War Memorial.
For a full list of awarded projects see 2011 National Architecture Awards – the winners and for more awards discussion see Rachel Hurst and Rory Hyde's responses to the awards and the jury overview by Karl Fender.
Credits
Architect

Johnson Pilton Walker
Sydney, NSW, Australia
Project Team

Richard Johnson, Kiong Lee, Supinder Matharu, Sophie Blain, Andrew Christie, Adam Deutsh, Jorg Hartig, Mat Howard, Matthias Knauss, Adrian Pilton, Ben Rainsford, Richard Rowell
Consultants

Access consultant Eric Martin & Associates
BCA consultant Fire Safety Science
Builder PBS Building
Civil and structural engineer Taylor Thomson Whitting
Cost consultant Coffey Projects
Heritage consultant Godden Mackay Logan
Kitchen consultant Cini Little
Project management Coffey Projects
Project team Maggie Liang
Services engineer WSP Lincolne Scott
Traffic engineers WSP Parsons Brinkerhoff
Water feature specialist contractor Waterforms International

Site Details

Location Treloar Crescent, Campbell, Canberra, ACT, Australia
Site type Urban

Project Details

Status Built
Design, documentation 9 months
Construction 12 months
Website http://www.awm.gov.au/
Category Landscape / urban, Public / commercial
Type Culture / arts

Source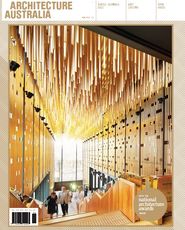 Issue
Architecture Australia, November 2011
Related topics