Australians design pop-up glamping cabin in Wales
Australian design studio Trias is among the winners of an international design competition for eight pop-up glamping cabins in Wales.
The cabins will be built in three secret locations throughout the country in 2017.
The pop-up glamping hotel project, titled Epic Retreats, is part of the Welsh government's "Year of Legends" tourism campaign. Run in partnership between Best of Wales, Cambria Tours and George and Tomos Architects, the competition called for designs from around the world inspired by Wales's history and folklore.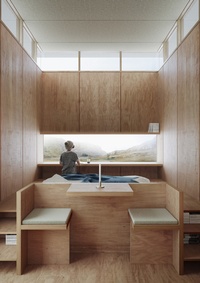 Trias's design, Slate Cabin, celebrates the local building material, slate. "Wales is built on, and of, slate. It is a country scattered with stone mountains, old quarries and slate homes," said Jennifer McMaster and Jonathon Donnelly of Trias. "This unique trait of the Welsh landscape, as well as buildings such as the Wales Millennium Centre, encouraged us to base our design approach around this local material."
The Slate Cabin will be a simple rectilinear structure made using structural insulated panels (SIPs). It will contain two rooms: a bathroom and a space with a built-in kitchenette, table and sitting area and a raised sleeping space and a desk.
The roof will be raised above a clerestory window which will provide diffused light in the space and act as a glowing beacon at night.
The external cladding of the cabin will be divided by a series of fixing battens that will allow slate tiles to be collected and stacked, "much like how hikers collect stones and build cairns as place-markers," the designers said. "We envisage our building as a kind of infrastructure for storing, collecting and cataloguing Welsh slate."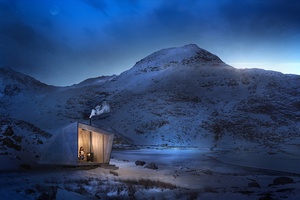 Three of the other glamping structures are inspired by Welsh mythology: Arthur's Cave by Miller Kendrick Architects takes its design cues from the legend of King Arthur and a cave where he and his knights slept while travelling; Dragon's Eye by Timber Design Wales will be a pod shaped like the eye of the dragon, designed to trick passers-by into thinking the legendary Welsh creature was hiding in the woods; and Little Dragon by Barton Willmore will be a vertical unit with three prongs that represent the dragon's foot.
Nature is also a theme among the winning designs. Sky Hut by Waind Gohil and Potter Architects is designed to provide a unique place to experience the sky, as Wales has the highest percentage of sky designated as an "International Dark Sky." Cabin in the Woods by Francis and Arnett will explore the theme of an animated forest shaping the Welsh landscape. Its design is inspired by a poem from the 14th-century Welsh manuscript Book of Taliesin.
Black Hat by Rural Office for Architecture pays homage to the Battle of Fishguard, the last attempt by the French to invade Britain in 1797. Thousands of Welsh women dressed in traditional black felt hats and red tunics turned out to witness the battle between the French and the local militia. It's believed that, at a distance, the women's traditional dress could have been mistaken for the uniforms of British soldiers.
How About Studio, the founder director of which, Nick Wood, was a 2015/16 Droga architect in residence, designed the Miner's Hut as a tribute to the Wales mining industry. The design features a small entrance tunnel, which leads to an angular corridor space where visitors will be invited to "follow the light" into the main space.
The cabins will be available for a limited number of bookings. For more information, click here.