Two Australian practices are among the five teams shortlisted to design the landmark Singapore Founders' Memorial.
First proposed in 2015, the memorial is intended to commemorate the late Lee Kuan Yew, Singapore's first Prime Minister, and Singapore's first generation of leaders who played key roles in the city-state's path to independence. The memorial will also feature and exemplify the values of Singapore's national pledge – multiracialism, boldness, adaptability, integrity and resilience.
To be located on a five-hectare site Bay East Garden, the memorial will sit across Marina Bay from the popular tourism hotspot of Gardens by the Bay Grant Associates and Wilkinson Eyre and the Marina Bay Sands hotel resort by Safdie Architects.
An international competition for the design was launched in 10 January 2019, which received 193 submissions. Five teams were selected anonymously by a jury panel to submit designs for stage two of the competition.
Australian practices Cox Architecture and Johnson Pilton Walker are among the selected finalists. Each finalist is required to have a local Singaporean firm on their team for stage two.
The shortlisted schemes are: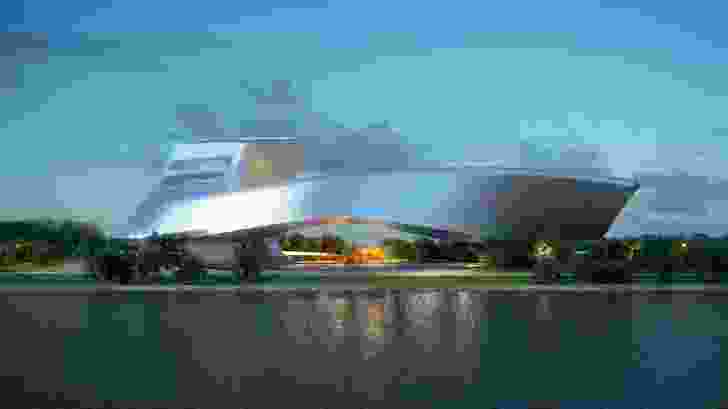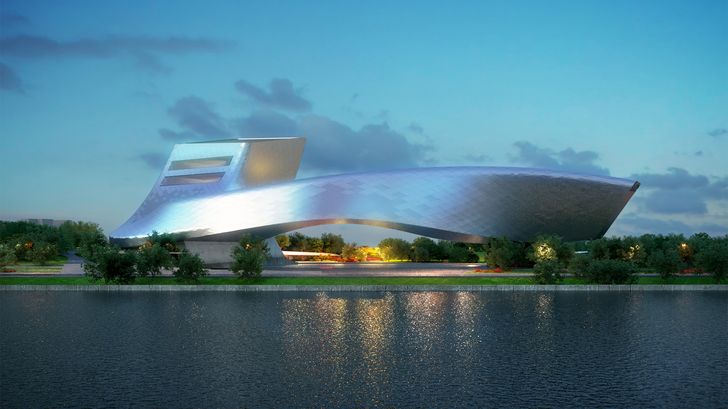 Cox Architecture and Architects 61
This proposal takes inspiration from the Singapore flag. It centres around an abstracted crescent moon with five pathways representing the ideas of each star on the flag - democracy, peace, progress, justice and equality.
"The Founders' Memorial is an abstraction symbolising Singapore bridging the past and the future over water and land within a park environment," said Philip Cox, founder of Cox Architecture. "It incorporates Singapore's history of development through a series of spaces climaxing with stunning views of Singapore today. The building is timeless in its expression, a shape that is elegant, enticing and evocative of its content."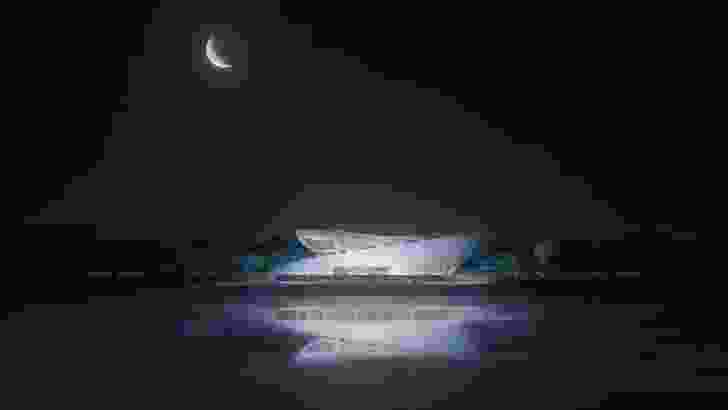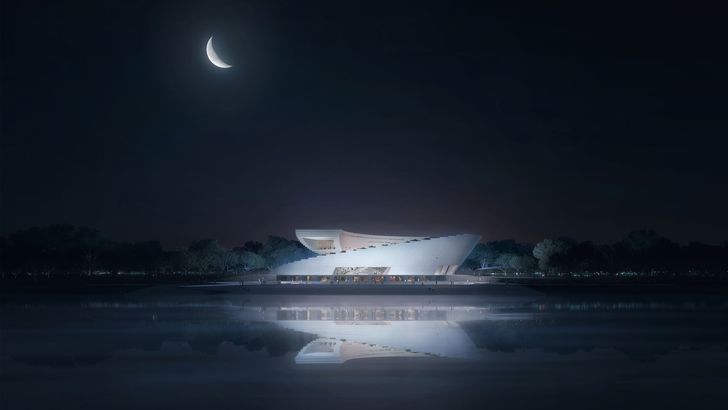 Johnson Pilton Walker and RDC Architects
JPW's proposal is also inspired by the crescent moon of the Singapore flag. The circular shape gathers people into a central plaza - "the epicentre" – which will include engravings in many languages.
"Our design has people at its heart," said Brendan Murray, senior associate of Johnson Pilton Walker. "We were inspired by the idea that people from different cultures can come together and live in harmony: Singapore has this remarkable story to tell. And so, the place we've created comes straight from the heart: the design draws people together to a central focal point, to meet each other and be reminded of the values that unite them. It's an emotional and inclusive experience, evoking a young nation rising to the future."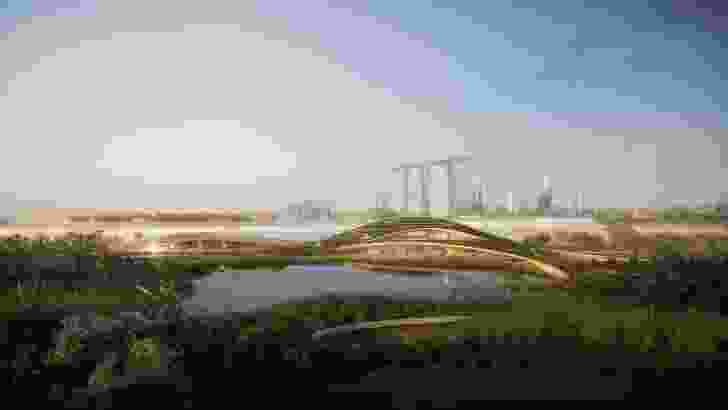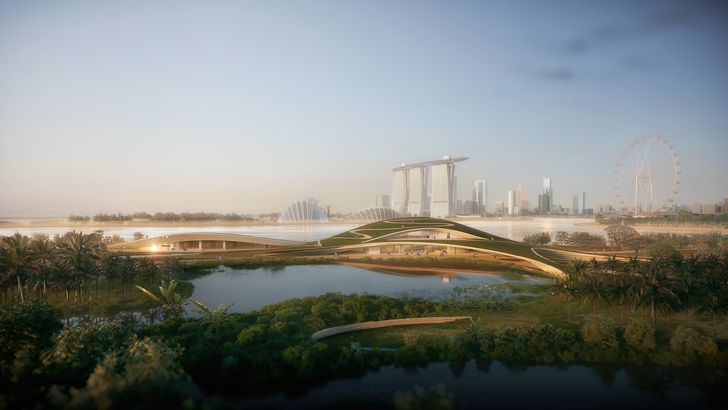 Kengo Kuma and Associates and K2LD Architects
This proposal is conceived as a "living memorial" comprising multiple garden paths and undulating slopes that invite all citizens to "take a journey of reflective learning and sharing." All paths will lead to a memorial amphitheatre.
"The Founders' Memorial [will be] a new kind of monument," said Kengo Kuma, principal at Kengo Kuma and Associates. "More than a building, we envision a garden park: a place for all people to gather close to nature. The basis of the design, The Founders' Path, is a central spine, which cuts through the garden, defining the new topography with memorial slopes emerging from the landscape to house the programme. A network of meandering paths and canopies reaches out from the garden, drawing visitors inward; offering glimpses of the memorial, and finally revealing the city skyline beyond."
Kengo Kuma Associates is collaborating with K2LD Architects, which is based in Singapore and Melbourne.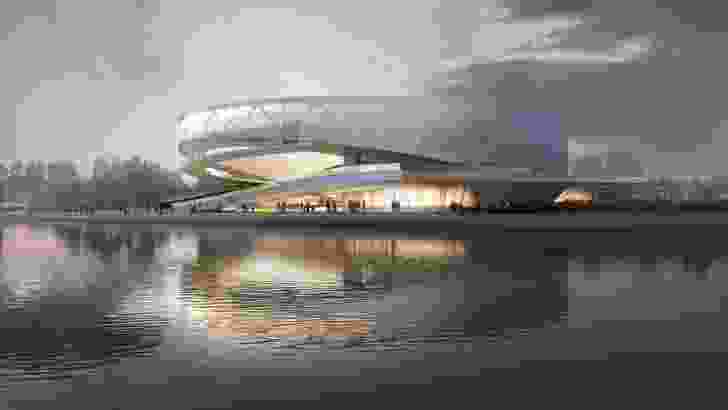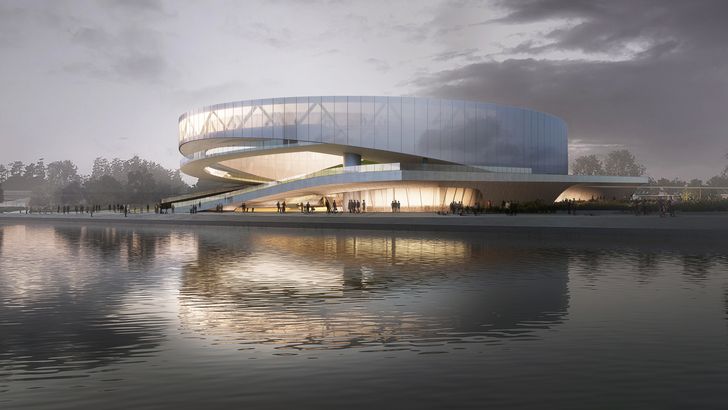 8DGE and RSP Architects
Conceived as a circle above a landscape podium, this scheme provides a common space in the centre, the "Origin," where it symbolizes a place for people to gather together to "forge a common identity as Singaporeans."
"The circle represents harmony and inclusiveness. Its neutral and non-biased shape best reflects a nation that truly believes meritocracy."
Views and the Singapore skyline and be accessed atop the circle.
Tan Ming Yin, 8DGE founder and design principal, said the design is "a journey that not only looks inwards – a contemplative space where we ponder on our beginnings – but also outwards, where we set our sights upon the future."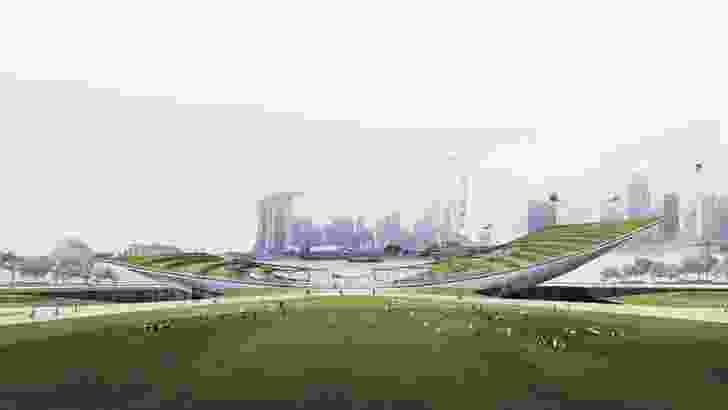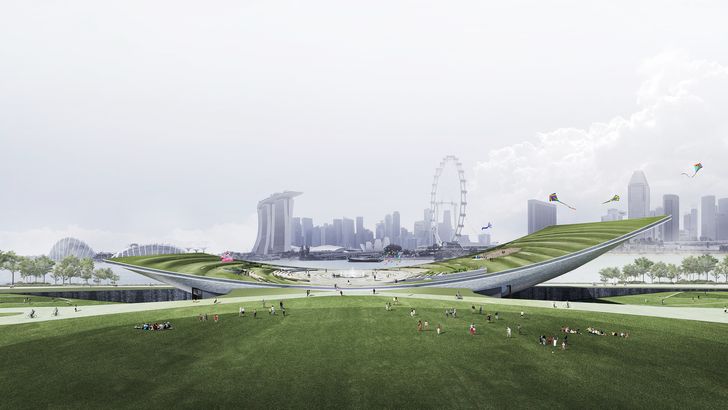 DP Architects
This proposal features a crescent shape that represent cradling hands – a gesture of giving – and the hands of Singapore's founding fathers who worked selflessly to build and nurture a young nation. From the setting of the park, the cradle will appear to cup the Singapore skyline on the opposite side of the bay.
"The human hand is a compelling symbol, universally resonating with strength, guidance, hard work and honesty – these are the hands of our founders; and formed the starting point of our design," said Angelene Chan, CEO of DP Architects. "From this, we created a Form that represents their contribution to Singapore's growth. Like a cradle of cupped hands, it presents the gift of our nation to a future generation. In this gesture of giving, our design is an expression of gratitude for how they have raised a nation."
The shortlisted designs will be exhibited around Singapore and online throughout November and December. The public are invited to vote for their favourite designs on the Singapore Founders Memorial website. The public vote will form a key component of the jury panel's evaluation.
The jury comprises Lee Tzu Yang (chairman of Founders' Memorial Committee and chairperson of the jury), Daniel Libeskind (founder and principal architect of Studio Libeskind), Jun-ichi Inada (managing director, WIN Landscape Planning and Design International). Tai Lee Siang, executive director of BuildSG, Building and Construction Authority, Singapore), Kiat W. Tan (corporate advisor of Gardens by the Bay, Singapore), Fun Siew Leng (chief urban designer, Urban Redevelopment Authority, Singapore), and Chang Hwee Nee (chief executive officer of National Heritage Board, Singapore).
Related topics