Two Australian practices have won overall accolades at the 2019 DezeenAwards, announced on 30 October in London, when three projects and six studios were honoured.
Melbourne architecture practice Edition Office was named the Emerging Architect of the Year, while Branch Studio Architects, which was previously named as the winner of the Small Workplace Interior of the Year category for Piazza Dell'Ufficio, received the Interior Design of the Year award.
The Emerging Architect of the Year judging panel, comprising Sou Fujimoto, Lyndon Neri, Kunlé Adeyemi, Sonali Rastogi and Jing Liu, praised the practice's "persistent pursuit of clarity in all projects.
"There's a dichotomy between remaining rigorous and at the same time being experimental,"
The award marks the second such prize to have been won by the studio in 2019, after Edition Office won the Emerging Architecture Practice award in the 2019 HousesAwards.
Founded in 2016 by Aaron Roberts and Kim Bridgland, Edition Office has so far completed a number of notable residential projects, including the Hawthorn House in Melbourne and Fish Creek House in Gippsland.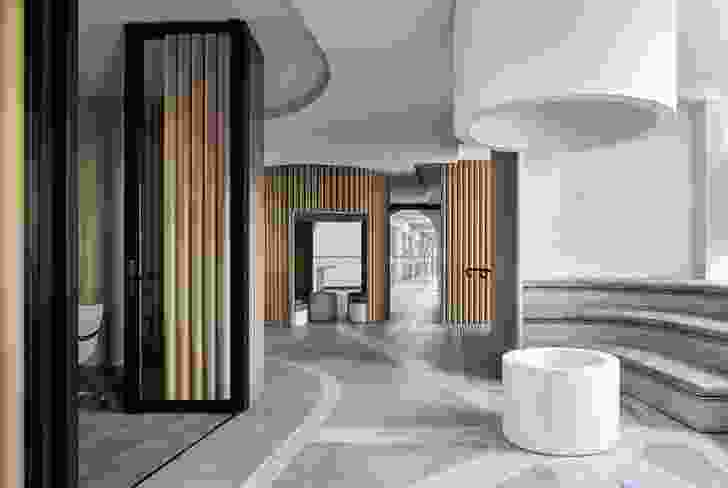 The practice also designed the National Gallery of Victoria's under-construction Architecture Commission for 2019 with artist Yhonnie Scarce, which will be an installation heavily influenced by the built structures and eel traps of Indigenous communities.
Branch Studio Architects' Piazza Dell'Ufficio, meanwhile, is the transformation of the administration offices of Melbourne's Caroline Chisholm Catholic College into a central public piazza that is used by both students and staff.
"In Piazza Dell'Ufficio, the exploration of the materiality takes the form of cardboard tubes, stretching from floor to ceiling in geometric curves," writes Peter Davies in a review for Artichoke magazine. "They appear, too, as balustrade for the stairs, their chambered edges revealing their hollow interiors."
The awards program, the second convened by the international design blog, attracted more than 4,500 submissions from 87 countries. 41 Australian projects were longlisted.
The awards were judged by a panel of 75 international judges, which included Australian architects John Denton (Denton Corker Marshall) and John Wardle (John Wardle Architects), whose Captain Kelly's Cottage was named House Interior of the Year in the 2018 Dezeen Awards.