The City of Parramatta is seeking feedback on the design of a new pedestrian and cycle bridge that will cross the Parramatta River, with bridge architecture by Archipelago and landscape architecture by Lat 27 with Bonacci Infrastructure as lead engineering design consultant.
The bridge will feature a diagonal arch – the first of its kind to be designed and built in Australia – where the span of the arch crosses diagonally over the length of the deck, allowing for the ends of the bridges to visually align with the streets at each end.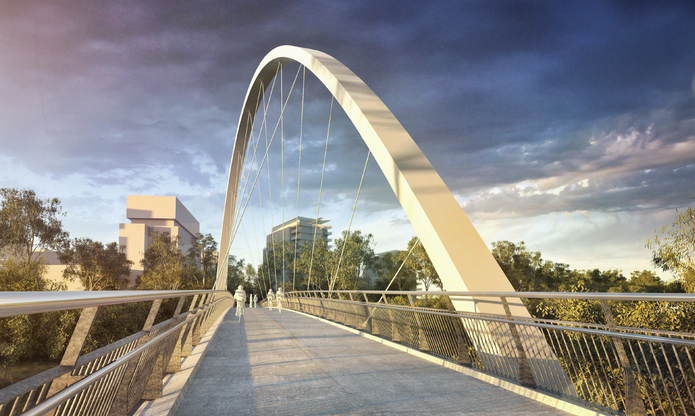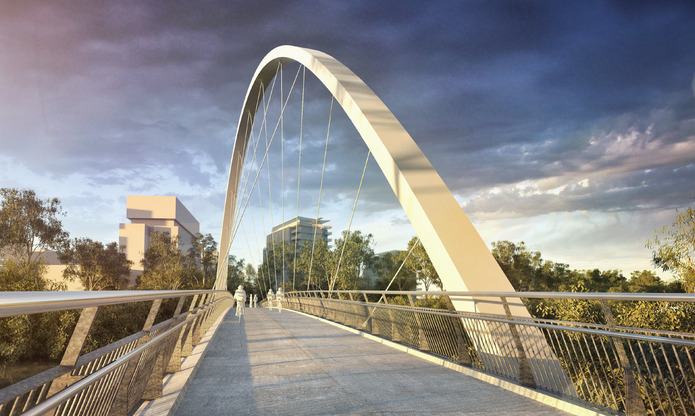 The nearly 80-metre-long bridge will span the Parramatta River from Alfred Street and meet the northern bank of the river near Rangihou Reserve.
Parramatta's lord mayor, Andrew Wilson, said that the bridge was being planned as a way of encouraging travel by foot and bicycle as Parramatta densifies and in anticipation of the proposed Parramatta Light Rail stop on Tramway Avenue. A second branch of the line, which would extend to Olympic Park, was announced on 18 October.
The width of the bridge will be 4.5 metres, which "takes into account the potential future volumes of pedestrians and cyclists" and is mindful of the future light rail stop near the southern landing.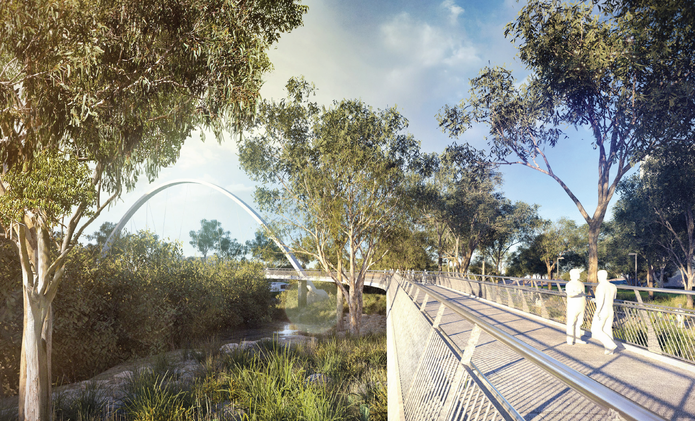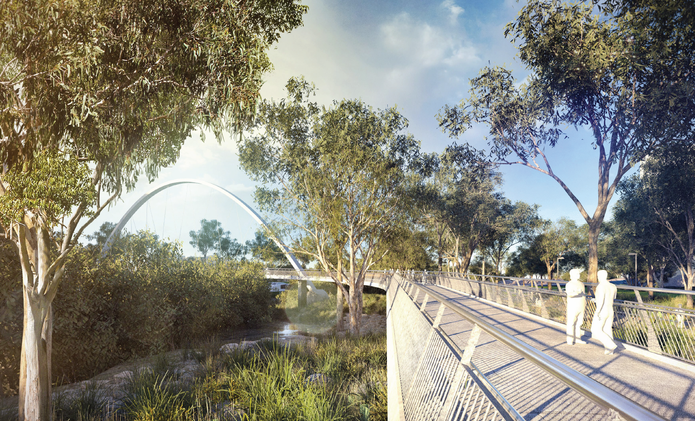 An opening under the bridge deck on the southern end will preserve an existing riverside path, which, as the designers point out, could be extended west along the river foreshore, creating a shared bike and footpath to the Parramatta CBD.
On the northern side, the deck will split in two, with a staircase aligned with the bridge, while a second deck slopes away the east, depositing cyclists and pedestrians on existing paths.
"The bridge will be both practical and stylish," said Wilson.
"It will help connect Western Sydney University's Rydalmere campus with the CBD, further enhance our city's ever-growing cycling and walking network."
"The Alfred Street bridge will be a true landmark that defines the river gateway to our city."
Correction (19/12/17): This article did not originally reflect the involvement of Bonacci Infrastructure.
Related topics