The Tasmanian Heritage Council has permanently added the Sir Roy Grounds-designed Wrest Point Hotel Casino to the Tasmanian Heritage Register.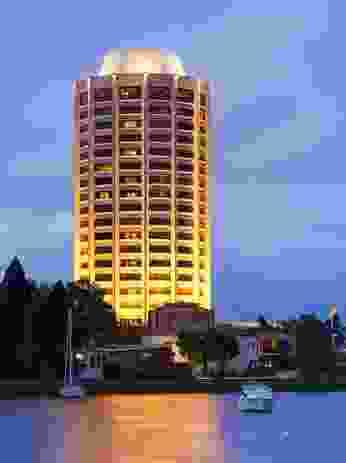 The venue is Australia's first legal casino, the result of a 1968 state referendum to introduce the country's first casino license.
The casino and hotel complex is located on the shore of the River Derwent in Sandy Bay. The site was purchased by Federal Group in 1959. In 1973, the Roy Grounds-designed 17-storey octagonal tower was completed. Standing at 64 metres, the building was, and still remains, the tallest building in Hobart, and includes a revolving restaurant at the top of the tower.
The tower is one of Tasmania's most recognizable tourism symbols.
"The inclusion of Wrest Point Hotel Casino on the Heritage Register gives important recognition to the significant role this place has played in the development of Tasmania's tourism and hospitality industry," said Brett Torossi, chair of the Tasmanian Heritage council.
"Together, the Riviera Hotel and Wrest Point help to tell the story of how tourism and hospitality have evolved in Tasmania."
In 2015, Federal Group unveiled a $70 million plan to refurbish the Wrest Point Hotel Casino, designed by Buchan Group, which will consolidate its existing three separate gaming areas into a single space. The proposed works also include an additional private VIP gaming room, an upgrade of the Birdcage Bar, new dining areas and revitalized waterfront areas with public access to the boulevard walkway.
Related topics