Australia's pavilion at the XXII Triennale di Milano has received the event's premier award – the Golden Bee – in recognition of "the precision of their interpretation of the theme and the quality and relevance of the ideas they put forth."
The 2019 triennial was curated by Paola Antonelli, a senior curator of architecture and design at The Museum of Modern Art (MoMA), New York, and is themed "Broken Nature: Design Takes on Human Survival." The works on show in Milan comprise both pavilions commissioned by national bodies and a number of directly commissioned works.
This year marks the first time that the awards have been issued. The other winners were Austria's "Urine Trap" by Viennese studio EOOS, a prototype for a simple device that separates phosphorus and nitrogen from urine for use as fertilizer, and Russia's "The Moscow River Age" exhibition, which looked at the relationship between the Russian capital and the river that runs through it.
The Australian pavilion, titled Teatro della Terra Alienata (Theatre of the Alienated Land), was curated by researchers from the University of Technology Sydney (UTS) Faculty of Design, Architecture and Building: Amaia Sanchez-Velasco, Jorge Valiente Oriol, Gonzalo Valiente and Miguel Rodriguez-Casellas.
Susanne Pini, Inés Benavente Molina and Stefano Cottini of Melbourne practice HDR provided architectural design support. The pavilion features the work of artists Cigdem Aydemir, Liam Benson, Madison Bycroft, Shoufay Derz, Janet Laurence and Patricia Reed.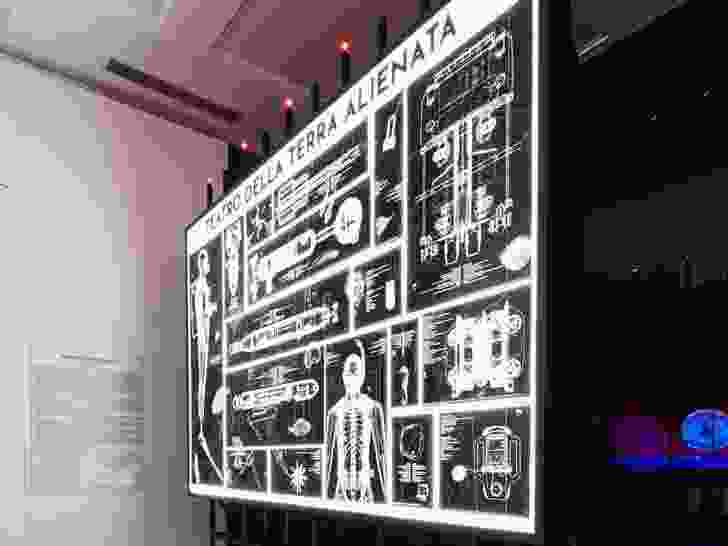 It was designed in response to mass coral bleaching events at the reef and the controversial decision by the federal government in 2018 to give $444 million in funding to the Great Barrier Reef Foundation. It is based on more than two years of research and teaching projects on the reef, and "questions the potential for restorative design to have any real impact in solving these problems."
Rodriguez-Casellas said, "Individual actions or design solutions themselves, are not enough to fight or adapt to the drastic conditions brought about by climate change. Scientists are telling us that the parade of 'solutions' have been, in fact, a parade of 'faux solutions'."
"The real question is: Can we radically redesign life around forms of joy that do not compromise life on this planet?" says Rodríguez-Casellas.

"This project focuses on innovation at the level of communication. It is about mobilizing audiences beyond the narrow realm of architecture and design, and it is our hope that it inspires conversations and organized action."
"We are so thrilled to have woken up to this news today," said HDR principal Susanne Pini.
HDR's Ines Benavente-Molina said, "The re-imagining the fate of the Great Barrier Reef installation demonstrates how architecture can go far beyond an orthodox collection of forms and typologies. It speaks volumes about the importance of our global commitment to the unbuilt environment."
The triennial runs until 1 September.