Developers Orion International Group and Gold Coast Development Managers CRA Group have submitted a development application for a pair of towers on the Gold Coast designed by Woods Bagot.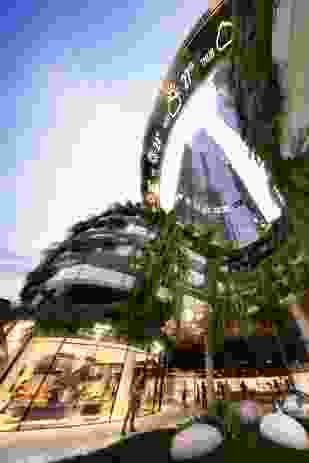 Woods Bagot won a national competition to design the dual-tower complex dubbed Orion towers, which are proposed to reach 274 metres (76 storeys) and 328 metres (103 storeys) respectively. If constructed, the building complex will be the tallest in Australia, narrowly surpassing the Gold Coast's current tallest building Q1 designed by Sunland Design Group and Innovarchi (Tower Podium), which reaches 322 metres at the top of its spire. It will also be taller than the proposed 323-metre Crown hotel and apartment tower in Melbourne designed by Wilkinson Eyre, which is yet to be approved, and the 317-metre Australia 108 by Fender Katsalidis, currently under construction.
The towers will be located on Surfers Paradise Boulevard between Markwell and Enderley avenues. The complex will house more than 1,000 apartments, a hotel, restaurants and an observation deck.
The towers will sit atop a five-storey podium. The curved shaped of the podium forms a circular "urban canyon" on the Surfers Paradise Boulevard street front, which will be surrounded with vertical planting. The circular "urban canyon" will also inform the shape of the towers, which curve around the space.
An elevated curved bridge, which will reinforce the circular shape, will extend outwards from the towers, linking the two. Large LED screens will be fixed to the underside of the bridge, allowing it to display time, weather and information on community events.
"The design aimed to create layers of experience for residents and guests alike, from the finely grained daily living places to a super-scaled 'city space' via a series of garden decks, indoor and outdoor pools, fitness, lounge and function areas," said Woods Bagot director Mark Damant.
Related topics