A medical study has found Australians are almost twice as likely to die from cold weather than the Swedes. Australian experts blame the high rate on the country's poor housing and they say over 1,000 lives could be saved if Australian housing was better constructed and better insulated.
The study, titled "Mortality risk attributable to high and low ambient temperature," was published in the medical journal The Lancet. It looked at data collected from Melbourne, Sydney and Brisbane between 1988 and 2009 and compared the Australian statistics with those collected from 384 location in 13 countries. The cold causes people's blood pressure to rise which can aggravate pre-existing conditions particularly cardiovascular and respiratory disease, resulting in premature death that could be prevented.
The study found that in Australia, where the mean temperature was 18.1 degrees Celsius, 6.5 percent of deaths were attributable to the cold, the equivalent to 1 in 15. This figure is significantly higher than countries with much lower mean temperatures. In Canada, the country with the lowest mean temperature at 6.5 degrees Celsius, the attributable mortality from the cold was only 4.46 percent. In Sweden, cold-related deaths were almost half that of Australia's at 3.69 percent. In fact, Australia's cold-related mortality rate was higher than five other countries with lower mean temperatures.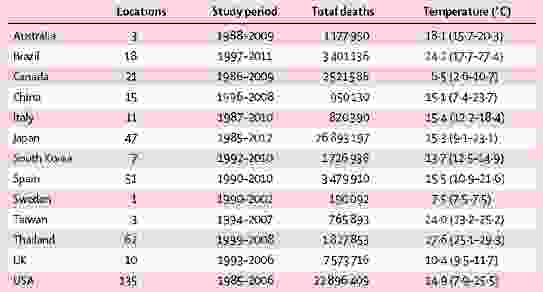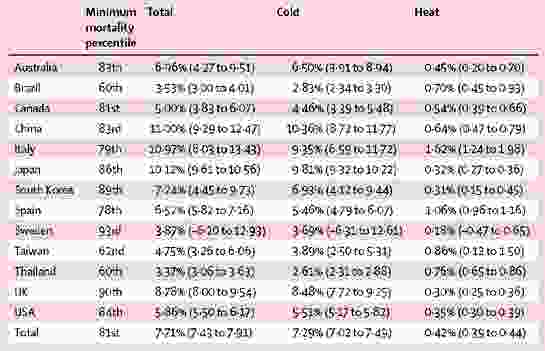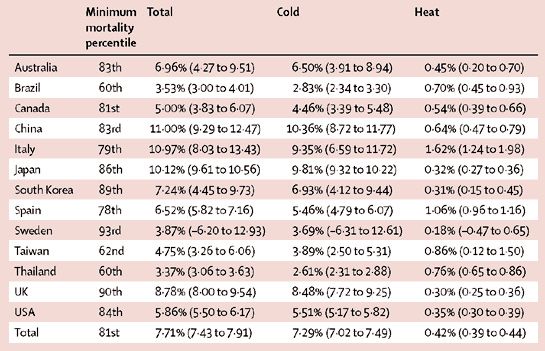 This has prompted experts to take aim at Australia's poorly constructed housing as the culprit for the cold-related deaths. Adrian Barnett, professor of public health at the Queensland University of Technology, said the deaths are "easily avoidable." He wrote in The Conversation, "Temperatures inside a flimsy wooden Queenslander in winter are often below 18 degrees Celsius where as Swedish homes will be a comfortable 23 degrees Celsius whatever the weather. Many Australian homes are just glorified tents and we expose ourselves to far colder temperatures than the Scandinavians do."
But the problem isn't just confined to Queensland. Environment Victoria's campaign director Nick Roberts characterized Victorian houses as "flimsy" and "poorly insulated." He wrote in a Fairfax comment piece, "Victoria's housing stock averages two stars or less – equivalent to keeping a window open all the time. The result is that most Victorians are using more energy and spending more money than they should just to keep their homes at a liveable temperature."
In November 2014, a government-funded report found that Australian buildings were suffering from poor levels of compliance with energy efficiency requirements in the National Construction Code. "The net result is a pervasive culture of mediocre energy performance across the Australian building industry."
Experts are calling for action to reduce these preventable deaths. "There's not been a single research dollar spent on investigating this problem and there is a huge potential to save lives using some relatively simple initiatives," Barnett said. "We have solid evidence from high quality trials that insulating and heating homes lowers blood pressure and improves self-rated health. If we could be more like the Swedes and lower our cold deaths from 6.5% to 3.9% then we'd avoid around 1,200 deaths per year."
Roberts wants the state government to ramp up its funding for energy efficiency. "Our high death rate from cold weather is a wake-up call – particularly for a relatively chilly southern state like Victoria. In the absence of federal funding, it's time for the Victorian government to step up to a leadership role and fund these successful retrofit and energy efficiency initiatives itself."