Australia's virtual architecture showcase at the Venice Biennale, Augmented Australia 1914-2014, has been unveiled. Curated by felix._Giles_Anderson+Goad,the exhibition takes visitors ona virtual journey through 23 of Australia's most intriguing unbuilt projects.
Held within a specially designed temporary pavilion, the Cloud Space, Augmented Australia makes use of a downloadable app to trigger the display of three-dimensional augmented models, animations and interviews on visitors' smart devices. The Australian exhibition then extends beyond the Giardini with real-world scale augmented models of each building geographically positioned in various locations around Venice.
"We're very excited to share Augmented Australia with the international architecture and design community," says Creative Director, Rene Van Meeuwen. "No one has ever executed an exhibition of this scale with buildings of this scale using augmented reality – in a sense the exhibition is a precursor to the future."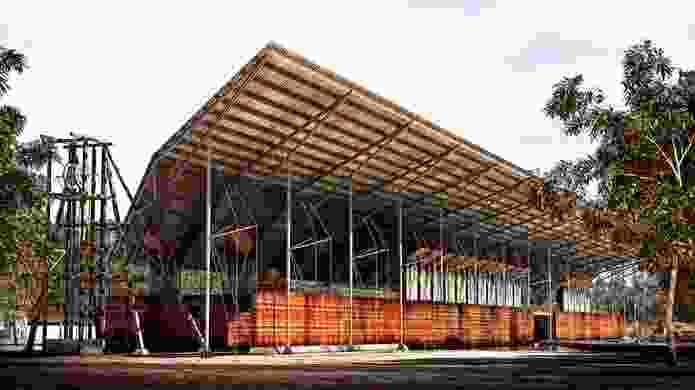 Un-built historical work on display includes The Capitol, Canberra by Walter Burley Griffin and Marion Mahony Griffin, the State Library of Victoria and Museum of Victoria refurbishment, Melbourne by Edmond and Corrigan with Clive Lucas and McConnel Smith and Johnson, and Silver City Museum, Broken Hill, New South Wales by Glenn Murcutt, along with 20 other significant projects, historical and contemporary. Visitors to the exhibition are also able to experience the design of the new Australian pavilion by Denton Corker Marshall (due for completion by May 2015), which has a 1:1 scale virtual model overlaid on its construction site.
All 23 projects can also now be explored by anybody, anywhere in the world, through the official Augmented Australia catalogue that is available for purchase online and through the app, which is downloadable through the App Store (for iPhones) and Google Play (for Android).
Augmented Australia is open to the public throughout the 14th International Architecture Exhibition in Venice from 7 June to 23 November 2014.
Related topics