What is it about infrastructure that excites architects? Well, it's huge, expensive and helps sustain jobs, careers, community engagement and construction. Many of us involved in designing and building are playing our part in infra-structure projects that need to manage risk and safety, and ensure both community and commercial viability. The acquisition models, bidding processes, delivery vehicles, financing and professional indemnity are astonishingly complex and require eye-watering levels of investment.
Modern engineering (derived from the Latin word ingenium) traverses and conjoins many offshoot disciplines and sub-disciplines including, for example, social, software, electrical, mechanical and civil engineering. Engineers in these fields work alongside architects, interior architects, landscape architects and others to create infrastructure.
Design-led architectural thinking brings passion and critique to every possibility. Architects challenge services and spatial requirements, question structural concepts and propose ideas that offer a hierarchy of solutions to improve the future. (We often think more in the future than in the present!) Architects are deep thinkers, problem solvers and human-centric in their approach. We don't claim to have a monopoly on these qualities, but our training in reflective, creative thinking draws us toward finding novel solutions.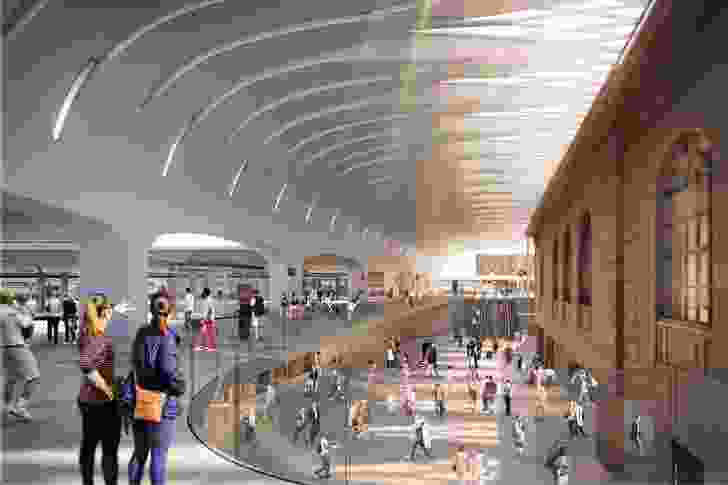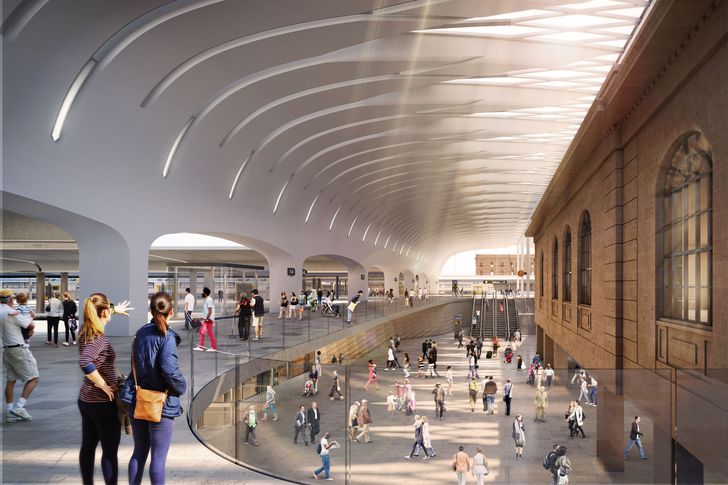 Urban infrastructure for urban space
In recent years, architects and design professionals have established a firm foothold in the multi-layered conversation that surrounds the notion of urban space. This was not the case twenty years ago, when "infrastructure" was a term strangely absent from the lexicon of the architect; infrastructure seemed best left to the engineers and their various disciplines.
This needed to change in order to reflect a discourse that is far wider than engineering in the traditional sense of the word. Today, all levels of government collaborate as they invest in urban planning, playing a game of catch-up at a time when population growth is placing heavy (some would say impossible) demands on our creaky postwar infrastructure. For the first time, the Australian Government has a Minister for Population, Cities and Urban Infrastructure and the remit is wide. The amount spent federally on infrastructure projects recently topped $100 billion over ten years and is rising by the year.
From masterplanning to completion
We achieve the best infrastructure outcomes when architects are engaged from the very beginning – at project inception and masterplanning stage. Most often, this means working closely with the heavy engineering disciplines to provide best-value advice and critical, if not radical, thinking.
Nowhere is this inclusive approach more apparent than in major rail infrastructure projects, which go far beyond new rail lines and station concourses. The over-station developments above Sydney Metro and Brisbane's Cross River Rail offer a plethora of new ways of working, eating, living, housing and shopping. They offer a more seamless life experience and the chance for urban residents to use their valuable time more efficiently. For example, the master planning work carried out on Sydney Metro Northwest at the project's inception will ensure that the developments around these stations include mixed typologies of housing, open space, retail and mixed use.
Architects the world over are joining together to deliver high-quality infrastructure projects. Australian leaders in this field, such as Cox and Hassell, are being joined by new players, including Woods Bagot, Grimshaw and Architectus as well as many others. An exemplary project is Woods Bagot's Wynyard Walk, a nine-metre-wide, three-metre-high tunnel more than 300 metres in length, which transfers more than 30,000 pedestrians each day from underground Wynyard Station to Sydney's Barangaroo waterfront. Woods Bagot rejected the cookie-cutter option to create one of the most calming thoroughfares I have visited; the design is – literally – a transport of delight. Bravo to such a beautiful, elegant imagining and designing of this enchanting transport connection. The materiality and detailing is precision rich, clean, light and unashamedly modern, as well as of its time.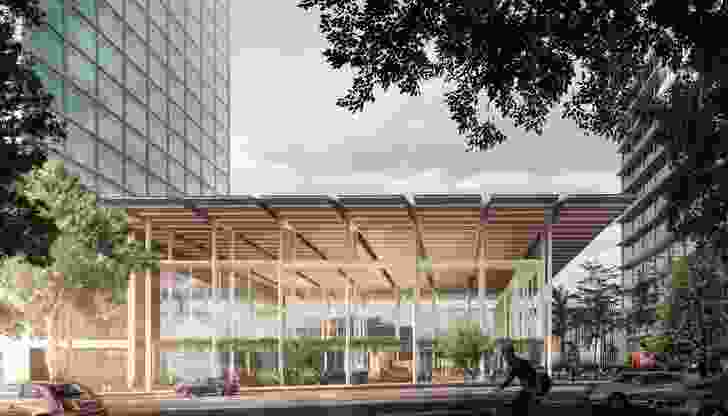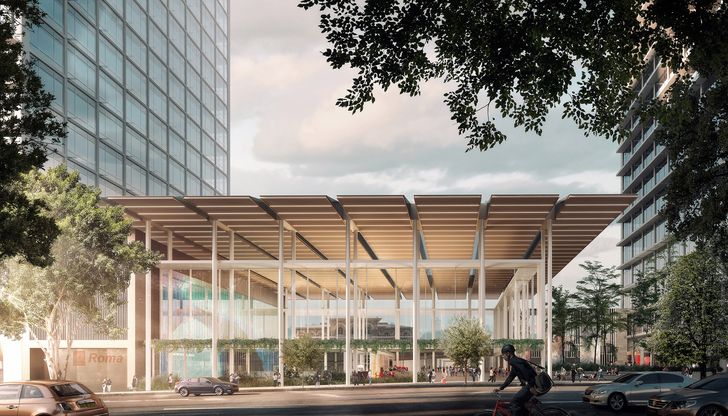 The London and Sydney firm Make with Sydney-based Architectus won the Government of New South Wales' design excellence competition with their proposal for an office tower above Wynyard Station. Their clever solution (yet to be realized) dropped the entrance from George Street under Wynyard Lane and hung the lifts access from a sky lobby, raising the bar for any future over-station developments.
To rework and renew Sydney's stately Central railway station – a jigsaw of contested space, working rail lines and throngs of hurrying commuters – we will need to dig deep into Sydney's beautiful sandstone underbelly in order to link a number of separate projects. Laing O'Rourke, who has been awarded the $955 million contract to upgrade Central station, has appointed Woods Bagot in collaboration with John McAslan and Partners to lead the multidisciplinary design team. The project includes new Sydney Metro underground platforms and Central Walk – an underground concourse from Chalmers Street connecting customers to suburban rail platforms, Sydney Metro platforms, the new light rail and buses.
An expanding role
Until now, engineering and rail professionals have been at the forefront of the processes that constitute infrastructure procurement. However, there is widespread acceptance that architecture is a key player in the country's infrastructure investment. Design review of infrastructure projects is also gaining momentum. Although station architects are highly respected as experts in the field, the flood gates are opening for other design architects to collaborate on over-station development and surrounding precincts. Design review panels champion good design, offer constructive criticism, advocate design-based solutions and, on many occasions, amplify ideas that perhaps the teams do not see.
The intensity of debate and collaboration between architects, engineers, building corporations and funding/financing teams cannot be underestimated in the bidding process, which is often undertaken within an extremely short timeframe and with very detailed design review and excellence markers. Not everyone can win a prize so it's important to be pragmatic and resilient.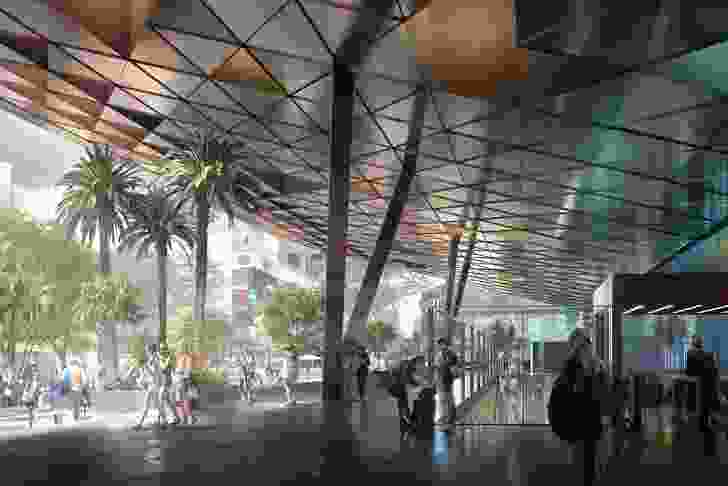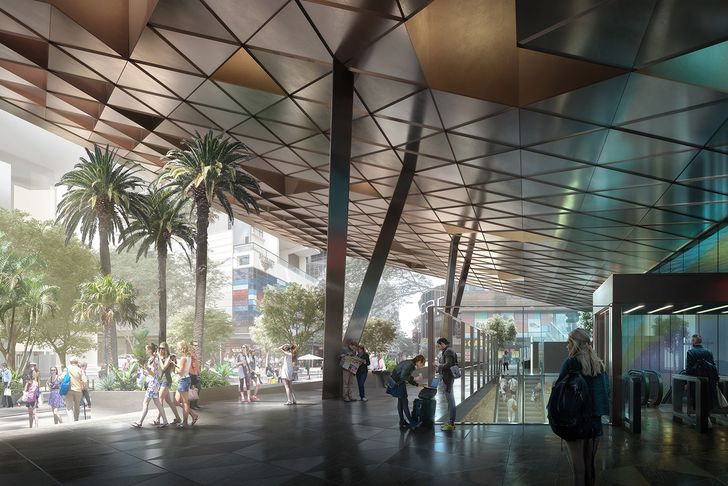 Place and purpose
Although some individuals have an issue with the inclusion of architects in infrastructure projects, claiming that we merely gold-plate projects and are just another cost layer, the majority take a different view, recognizing that the additional cost is well worth the expense. I never cease to be amazed at the level of critical thinking architects bring to a project. Their deep understanding of a site includes the palimpsest of Indigenous and European history, and the nature, morphology and geology of the region as well as, at a human scale, the way a person interacts at street level with the infrastructure and public domain. Many infrastructure projects, such as the Sydney Metro and Cross River Rail in Brisbane, are once-in-a-generation city-shaping developments.
All infrastructure must be delivered with the aim of making peoples' lives better. It is imperative that infrastructure saves time and provides a seamless experience from the transport node to the home. Architects can add great value as we increase urban density at the nexus of transport modes. While Australia's capital cities – in particular, Sydney, Melbourne and Brisbane – go through the growing pains of adding new infrastructure, architects will be at the forefront of our millennial makeover.
— Kim Crestani is a fellow and former chapter councillor of the Australian Institute of Architects. For more than thirty years she has managed her own practice, judged numerous architectural awards and advised on government and private sector design review panels. Kim is now the City Architect at Parramatta.
Source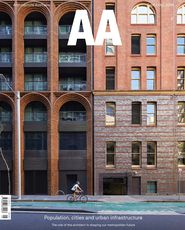 Discussion
Published online: 4 Dec 2019
Words: Kim Crestani
Images: Courtesy Hassell, Courtesy Woods Bagot and John McAslan and Partners, Trevor Mein
Issue
Architecture Australia, September 2019
Related topics