A few years ago a former national park, Te Urewera in New Zealand's north island, was legally granted the status of "personhood" – a move that ended a long dispute over its ownership and that grants it the same rights as a human citizen. New Zealand's Whanganui River was also recognized as a "person" under law in 2017. The Te Urewera settlement was hailed by Dr Pita Sharples, who was Minister of Maori Affairs at the time the law was passed, as "a profound alternative to the human presumption of sovereignty over the natural world."1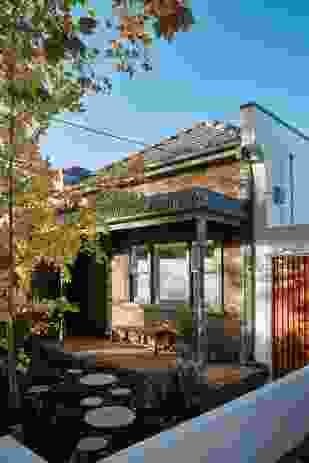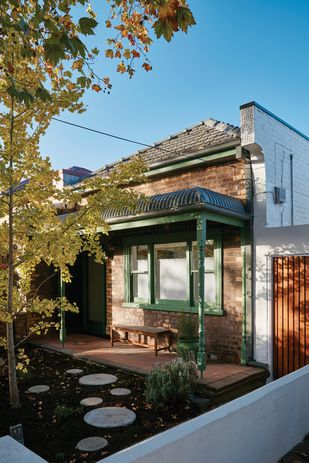 The notion of personhood within the natural world provides a radical framework within which we might reconsider the built environment. Can a building be a person? And what might constitute personhood in architecture? It is within this context that a modest project in a middle-ring northern suburb of Melbourne has emerged. Avery Green – the house person – is the result of a highly tuned transformation of a small terrace by Pia Ednie-Brown of Onomatopoeia.
Avery Green is typical of the Victorian era – a corridor-based plan with a linear sequence of rooms, high ceilings, sash windows and timber floors. Ednie-Brown lived in the house for six years and its interior was the backdrop for many milestones with her young daughter. During this time, Ednie-Brown sketched a series of ideas about its possible rejuvenation. As she recalls, "If we understand intimacy, as I do, as shared transformation, then Avery Green and I had an intimate relationship over a decade."
Ednie-Brown was also aware of her own growing recognition of the built environment as constituting our "pervasive companions" and felt she had come to understand "creative projects as [being] very much like living creatures. I felt a responsibility and yet they were never utterly within my control and had a 'life' beyond my own authorial intentions." For Avery Green, one of the first moves in grappling with these ideas came from the process of personification. "Until I named the house it was harder to feel like it was a person with its own identity. It was also never much of a question that Avery was female, partly because we were an all-female household for many years and the house was such a big part of our lives."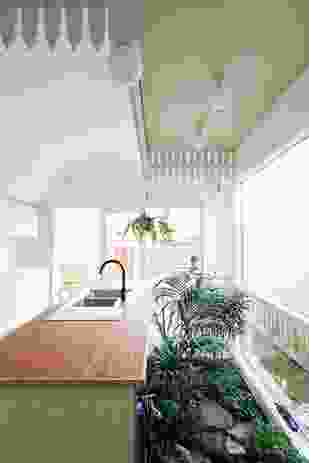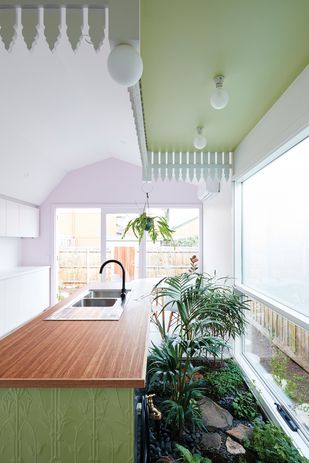 The name itself emerged, over time, through various iterations – Avery drawn from her light, airy, high-ceiling qualities that recalled an aviary and Green as a reference to the wintergardens of the Victorian era. As Ednie-Brown explains, the "process of personification was something that I was trying not to project myself onto – I was trying to escape that. I was just one part of an ecology of forces including people, materials, budget, events, situations. There was an interest in trying to erode my own authorship."
Early on, Ednie-Brown commissioned a soil report – a necessary step in order to assess Avery's foundations. The geologist's report described the land on which the house stood as being "clay of volcanic origin" and the bricks were made from local clay. This new knowledge informed a pivotal moment in Avery's transformation. Thinking about volcanic volatility and the porous nature of clay had a profound influence on the way Ednie-Brown designed the ceiling forms.
The original Victorian ceiling roses could now be seen as registering Avery's response to the geological shifts in the earth over time. The ceiling was, in itself, a volatile landscape. Ednie-Brown sought out mountain-like imagery for the design, developing a heavily cratered version to reference the volcanic origins of the clay that eventually became two new ceiling works titled Over-The-Top Terrain.
This playful process also led to the "upside down" pickets that adorn Avery like "garden clothing," upturned to form a new "skirt" around Avery's brick form. The western face is painted a vibrant pink between wall and picket, much like a waistband stitched with coloured thread. In the kitchen, the pickets cast light and shadows to form a textural landscape on the ceiling, culminating at the rear of the house with a cantilevered step bordered in pickets – what Ednie-Brown calls an "architectonic bustle." Through amplifying these relational aspects, Avery was transforming herself: the ceiling was becoming a landscape, the garden was growing inside and she was becoming young and fresh despite her age.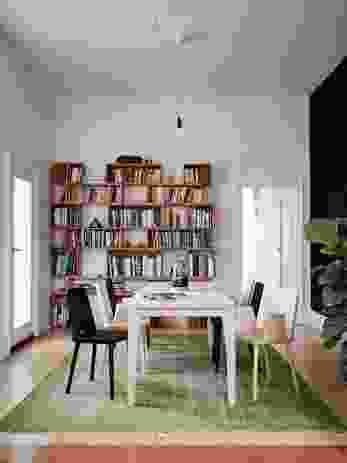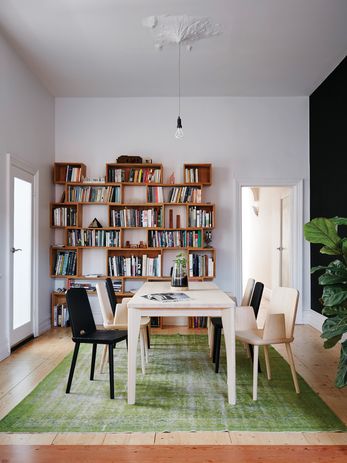 In itself, the idea of character in architecture is not new. The strategy resonates with Archigram projects such as Walking City proposed by Ron Herron (1964) and later the Graz Art Museum by Peter Cook and Colin Fournier (2003). Cook describes the central escalator of the building, coined the Friendly Alien, as "a long, rolling tongue" and its skylights as nose-like "naughty nozzles." We might also draw a parallel with projects such as UK-based artist Grayson Perry's A House for Essex, completed in collaboration with Charles Holland of the former collective FAT (2015). Designed as a shrine to a fictional character – Julie Cope – for Perry the project "goes back to the doodles I did twenty years ago with my daughter; we'd imagine a person, and then that person's family, and then the house they live in."2 A more recent connection can be made with Studiobird's Theodore Treehouse, which imagines a fictional life through a rich, purpose- designed scenography.
Yet while these projects clearly engage the imagination, Ednie-Brown's Avery Green explicitly aims to question authorship and to dislodge the human as the ultimate reference point of concern. Is there, however, a danger that anthropomorphizing simply projects human values and consolidates a human-centric point of view? Ednie-Brown acknowledges that there is tension. "If you move into the relational too completely you lose any boundaries or definition. However, if you take the individualist notion too far, then it's all about the object and the supreme author. The act of personification provides a way of moving outside of the object and looking at it within a set of relations, yet – at the same time – keeping it in place."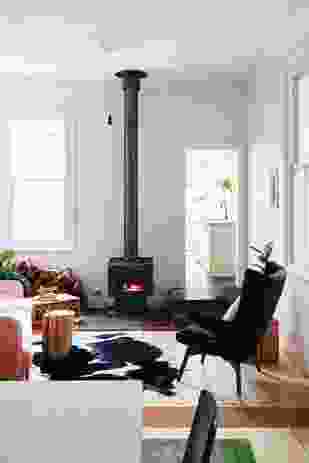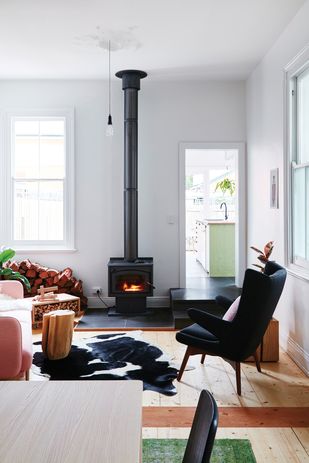 She references American theorist Jane Bennett's suggestion that "maybe it's worth running the risks associated with anthropomorphizing … because it, oddly enough, works against anthropocentrism … [instead] a chord is struck between person and thing …"3 Ednie-Brown's explorations into Bennett's research – along with investigations into the work of primatologist Jane Goodall and urban theorist Jane Jacobs – are converging to further inform Ednie-Brown's development of what she has coined "the Jane Approach." As she explains, "All these women – by chance with the name of Jane – were championing new ways of viewing the world. Goodall was famously criticized for naming the chimpanzees she was studying and yet her work was groundbreaking. Similarly, in her seminal text The Death and Life of Great American Cities, Jacobs anthropomorphizes the city within the book's title as a living, breathing entity."
Most importantly for Ednie-Brown, the process of anthropomorphizing provides what she calls a "vital materialism," in which a series of relational forces – human and non-human – come together to drive the process of design and support her pursuit of a non-anthropomorphic approach to architecture. As she explains, "Through these characters, the role of imagination is to open up other ways of thinking that you may not have had access to before." As a result, a project like Avery Green – built on a tiny site of thirty-three metres by seven metres in the suburbs of Melbourne – becomes a vehicle for thinking about much broader issues and how we might approach the world differently.
1. "Tuhoe-Crown settlement – Te Urewera Act 2014," Maori Law Review website, October 2014, maorilawreview.co.nz/2014/10/tuhoe-crown-settlement-te-urewera-act-2014 (accessed 30 March 2017).
2. Rowan Moore, "Grayson Perry's A House for Essex: a stonking shrine to a fictional woman," The Guardian website, 10 May 2015, theguardian.com/ artanddesign/2015/may/10/grayson-perry-a-house-for- essex-stonking-shrine (assessed 30 March 2017).
3. Jane Bennett, Vibrant Matter: a political ecology of things (Durham and London: Duke University Press, 2010).
Credits
Designer

Pia Ednie-Brown, Onomatopoeia
Designer
Project Team

Hilari Logan, Mark Logan
Consultants

Engineer Co-Struct

Site Details

Site type Suburban

Project Details

Status Built
Category Residential
Type Alts and adds, New houses, Refurbishment

Source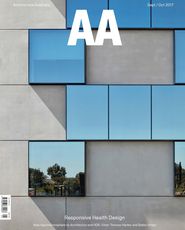 Project
Published online: 31 Jan 2018
Words: Fleur Watson
Images: Lucas Allen
Issue
Architecture Australia, September 2017
Related topics