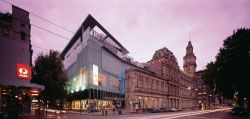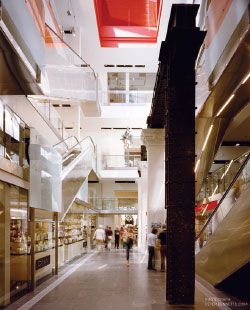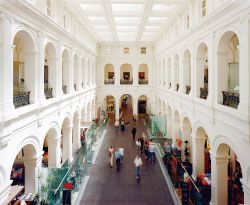 The conversion of a heritage-listed Melbourne architectural icon into a new retail and commercial facility has ensured the future of one of Australia's most prominent buildings.
The design of the public realm focuses on the Postal Hall, and the grandeur of this beautiful interior, lit by a refurbished skylight, is never overshadowed. This has been achieved through the sensitive treatment of the retail areas, the clever alignment of circulation in this hall with areas beyond, and through grasping the opportunities to enhance circulation both internally and externally. In addition, individual retail areas are controlled in terms of design, making this a very distinctive place to shop.
Escalators to the upper levels are well positioned and do not detract from the overall theme, while also ensuring that as much as possible of the existing fabric is maintained.
This sensitively handled commercial project is enhanced by the careful intervention of new construction as well as the application of environmentally sensitive measures, which include using building mass, natural lighting, ventilation and the upgrading of services to increase energy efficiency.
Melbourne GPO also contributes to its adjacent urban context. It strengthens the retail precinct by completing the retail edge of Bourke Street Mall, it redefines the corner of Elizabeth Street and Little Bourke Street through the addition of the new building and, by creating its own lane at the rear of the building, it adds to Melbourne's network of pedestrian laneways, thereby strengthening the pedestrian grid.
MELBOURNE GPO
Architect Williams Boag Architects. Project architect Holger Frese. Design architect Peter Williams. Project manager Baracon Group: Brett Rogers. Other project team members Tim Lang, Peter Wolf, Andrew Croxon, Erik Moisa, Chris Stephens, Jeff Gabriel, Richard Cox, Mason Arkell, Laura Cronin, Costa Gabriel. Developer Melbourne GPO. Structural consultant Arups. Electrical, mechanical and hydraulic consultant Norman Disney and Young. Interior designer Williams Boag. Lighting consultant Barry Webb and Associates. Acoustic consultant Arups. Quantity consultant Slattery Australia. Builder St Hillers. Heritage advisor Allom Lovell and Associates. Photographer Tony Miller.