JURY CITATION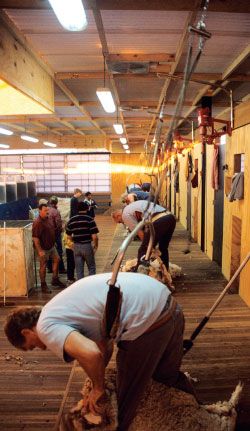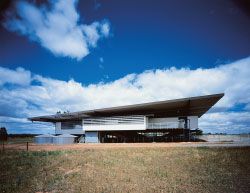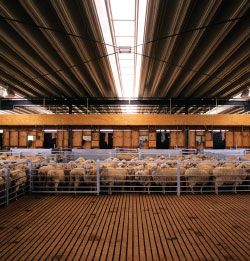 This project makes a significant contribution to the quality of the workplace in an industry that is an integral part of Australia's history. When working conditions are compared to those in the shed it has replaced, the contrast is dramatic indeed. Every aspect of each process associated with shearing sheds and sheep handling appears to have been analyzed and refined by the client and architect – from the master planning and siting of the shed and yards, through to the finest detail of the customchamfered slatted flooring.
The shed is an exercise in innovation, particularly in terms of the climatic extremes the workers are subjected to. For example, in the winter months the heat from the sheep is collected and redirected onto the shearers. In summer, recycled rainwater is sprinkled onto the roof and drains across a robust interpretation of the Coolgardie safe to create an evaporative cooling system and to settle dust.
In each case the environmental initiatives and the processing refinements are, suitably, DIY technology, consistent with the nature of enduring rural architecture.
The Deepwater Woolshed has already made a significant contribution to the local community and clearly has wider implications for the future of Australia's shearing industry.
DEEPWATER WOOLSHED
Architect Stutchbury & Pape. Project architect Sacha Zehnder, Peter Stutchbury. Design architect Peter Stutchbury. Structural consultant Structural Mechanics and Dynamics: Professor Max Irvine. Builder Atlex Stockyards: Ian Crafter. Station manager The Bulls Run: Andrew King. Photographer Patrick Bingham Hall, Peter Stutchbury.