JURY CITATION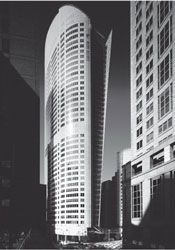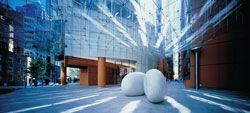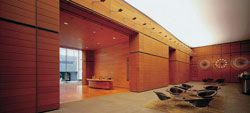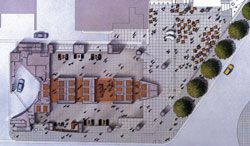 The Aurora Place office building, on the corner of Phillip and Bent Streets, Sydney, makes a significant contribution to the city on many levels.
In particular, the building challenges the traditional planning proposition of an office tower sitting on a podium. The smaller footprint at its base helps create an excellent piazza between it and the residential tower.
This is covered by an expansive web-like glass canopy, providing shelter from the elements for people using the cafes and alfresco dining areas.
From this space the building grows into a more flamboyant glass fin that encompasses an ever-increasing floor plate area. The fins and sails are an extension of the facade beyond the enclosure of the building and help mitigate wind effects on the facade and on the ground plane. They also serve as protective screens to the north and to the south-facing wintergardens. Orientated towards the rising and setting sun, the exposure of these facades to lower-angled solar radiation has lead to them being conceived as technically advanced protective "shell-like" skins. Smooth and white, these skins curve gently and continue from the street level to the top of the sail and to the extremities of the fins. The reflectivity of the glass and the colourless "low E" coating achieves high levels of thermal performance and comfort for the building's occupants.
The north and south office facades are a fixed double-glazed curtain wall system. Like the east and west, there is provision for internal, manually controlled, electrically driven roller blinds to control glare.
The wintergardens provide direct contact with the external environment on each floor.
These naturally ventilated spaces reduce the heating and cooling loads during the milder months of the year.
This project has lifted the bar for commercial office buildings. It is a credit to its design architect and to the local collaborative team, as well as the developer's vision and selection process to create a significant and memorable place in the city of Sydney.
Project Credits
AURORA PLACE, 88 PHILLIP STREET, SYDNEY (AMRO TOWER)
Architect Renzo Piano Building Workshop in association with Lend Lease Design—design team RPBW: Renzo Piano, Shunji Ishida, Mark Carroll, Olaf de Nooyer. Lend Lease Design: Ross Bonthorne, John Moran, Graham Jones, Robert Gonano.
Documentation Renzo Piano Building Workshop (locally represented by Innovarchi) in association with Lend Lease Design, Group GSA. Developer Lend Lease Development, East Asia Property Group. Electrical consultant Lend Lease Design.
Structural consultant Lend Lease Design, Arup.
Mechanical consultant Arup, Environ. Civil consultant Jeff Moulsdale & Associates.
Hydraulic consultant Lend Lease Design, The LHO Group Hydraulic & Fire. Lighting consultant Lend Lease Design, Lighting Design Partnership.
Acoustic consultant RFA Acoustic Design. Landscape consultant Belt Collins Australia. Quantity consultant Rider Hunt, WT Partnership Australia. Project manager, programming consultant and builder Bovis Lend Lease.
Wind analysis Emeritus Professor William. Facade consultant Arup Facade Engineering. Lift consultant Ron Lane. Artists Caio Fonseca, George Rickey, Tim Prentice. Authorities – building regulations consultant Trevor R. Howse and Associates. Statement of architectural significance Professor Laurence Nield.
Statutory planning consultant BBC Consulting Planners.
Traffic consultant Masson Wilson & Twinney. Heritage planning consultant and retail interiors Conybeare Morrison and Partners. Commercial interiors EGO Design, HBO + EMTB Australia, Woods Bagot.
Signage consultant Minale Tattersfield Bryce & Partners.
Photographers John Gollings, Martin van der Wal.