Jury Citation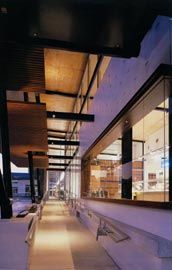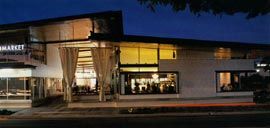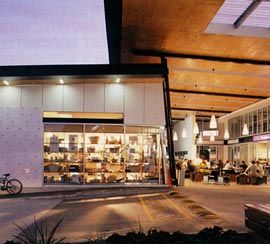 The James Street Market is a robust, economical and viable solution to neighbourhood food retailing. Anchored by a fruit and vegetable market, the design cleverly incorporates existing driveways, loading docks, rights of way and pedestrian access routes into a casual ensemble of traffic, parking and pedestrian only areas.
This important building type is normally plagued by blank precast or tilt-up boxes, which often sterilize the surrounding streets and internalize the shopping experience.
James Street Market reflects the opposite approach – a roofed environ, which illustrates that permeable connectivity, transparent urban form, industrial materials and street activation work socially and commercially.
As a result, the project meshes and reinforces the existing street pattern, providing additional restaurant usage along James Street. The low-pitched roof form was sufficiently high to enable the inclusion of a first-floor cooking school, which overlooks the centre spine.
All in all, this is a vital and inclusive solution with excellent urban fit and commercial viability.
Related topics