SYDNEY HILTON
JOHNSON PILTON WALKER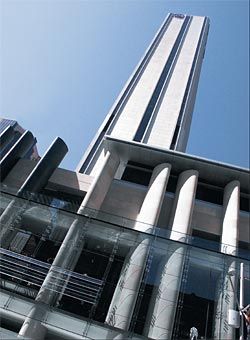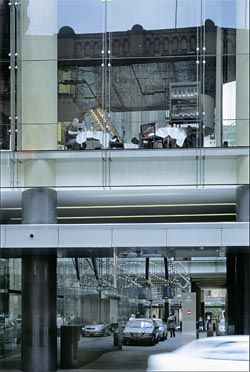 JURY CITATIONThis major new refurbishment of the flagship hotel of an international chain offers a model of urban responsiveness, powerfully enhancing the commercial viability of the development.
A dramatic new urban space has been introduced between Pitt and George Streets, enabling a relocated front door for the hotel, a throughway for pedestrians and cars and, importantly, an opening to the sky that allows the hotel's public areas to be flooded with light and its new spatial complexity to be appreciated and made legible. The previously internalized spaces have been turned inside out and offered back to the city while, at the same time, they embrace their surroundings. The views to the facade of the Queen Victoria Building from the elevated restaurant and bar of the hotel create an exhilarating urban backdrop. Glimpses of the city from the different levels of the foyer provide a further reminder of the hotel's location and allow for clearer orientation within the spaces.
Extensive conference facilities have been skilfully added to the eastern end of the hotel, together with new commercial office space, which is accessed from Pitt Street by ceremonial shallow steps. The hotel tower has been refurbished and the rooms updated to current standards. The public spaces of the hotel assume an opulent grandeur reminiscent of the age of the great hotels but designed in a contemporary manner that responds successfully to the Sydney setting. Its strategic location and provision of mixed uses combined with its major spatial strategies create a crossing place, a forum for commercial activity.
››
For further coverage see
Architecture Australia
vol 95 no 1, January/February 2006.
SYDNEY HILTONArchitect
Johnson Pilton Walker—
project architect
Paul van Ratingen, Peter Blome;
design architect
Richard Johnson;
project team
Torsten Fiedler, Anya Isarotaikul, Simon Lea, Kenny Tan, Joseph Park, David Springford, Wayne Dickerson, Nickolai Metherell, Dean Earl, Alexandra Bond, Andrew Cheng, Kim Murray, Andrew Kim, Lay-Mon Thaung, Alan Miller, Scott Stewart, Jian Li, Yuwan Zhang, Ivan Lee, Jamie Giffard-Taylor.
Structural consultant
Connell Mott MacDonald.
Mechanical consultant
Bassett Consulting.
Hydraulic consultant
LHO Group.
Landscape consultant
Johnson Pilton Walker—Adrian Pilton.
Interior designer
Tony Chi and Associates, Brewster Hjorth Architects, Chhada Siembieda Australia.
Lighting consultant
WEBB Australia Group.
Acoustic consultant
Acoustic Logic.
Services consultant
Norman Disney Young.
Quality consultant
Page Kirkland Group.
Photographer
Macdonald Maxwell Hamilton, top; Richard Glover, bottom.