JURY CITATION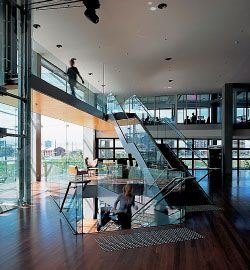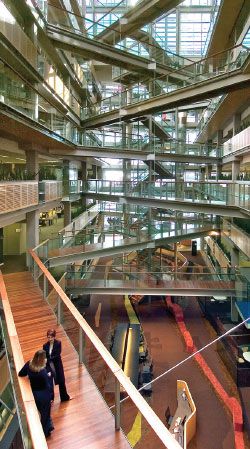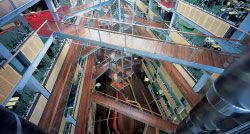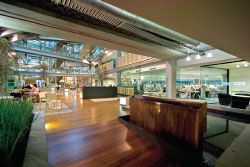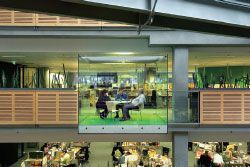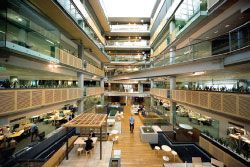 This working environment for over 3,000 people is a strong development in contemporary workplace design.
The phrase "good design means good business" aptly applies to the interior architecture of this project.
A W-shaped plan generates two spectacular atria, both with multi-crossing bridges, which link flexible open-plan creative work environments that are enhanced by dedicated and specific work functions together with spontaneous and interactive work areas.
A clear logical grouping of common areas, meeting rooms, quiet rooms, cafes and winter gardens all articulate the architecture within a vibrant and dynamic network of spatial experiences.
The atria bind the corporate idea through architectural intervention, and there is no doubt that the inhabitants of the building belong to the corporate family and enjoy a stimulating work environment.
Images: Anthony Browell, John Gollings.
Credits
Architect

BVN Architecture
Melbourne, Vic, 3000, Australia
Project Team

James Grose, Warwick Simmonds, Jane Williams, Leonardo Arias, Milena Beames, Matthew Blair, Craig Burns, Ann Burton, Brendan Cadden, Georgina Camp, Walter Carniato, Emma Cecchin, Peter Clarke, Geoff Cooke, Caroline Diesner, Bill Dowzer, Catherine Edwards, Sharon Francis, Abbie Galvin, Christian Greve, Michael Harvey, Neil Hill, Bernard Hogan, Billy Horgan, Daniel Horsley, Michelle Hosking, Kim Humphreys, Greg Knight, Nikki Launder, Leny Lembo, Carolyn Meddick, Devina Metzlar, Damien Mulvihill, Nesha Naidoo, Michael Persch, Thannop Poomcharoenwattana, Brooke Radtke, Domino Risch, Nicholas Searle, Eleanor Sparrow, John Van Gemert, Barbara Vourakis, Rob Weiss, Surinder Yadav
Technical inspection

Bovis Lend Lease TSG / Lend Lease Design

Consultants

Access consultant Morris Disability Consulting
Acoustic consultant Watson Moss Growcott
Audiovisual Roberts Weaver Group
BCA consultant McKenzie Group
Building science Arup Building Science / Bassett Applied Science
Communications consultant Connell Mott MacDonald
Data & security APP
Developer Lend Lease Development
Electrical consultant Connell Mott MacDonald
Ergonomic advice Mark Dohrmann and Partners
Fire engineer Arup Melbourne
Graphic design Red Mustard
Hydraulic consultant Norman Disney Young
Kitchen consultant Sangster Design Group
Landscape consultant Edaw
Lighting consultant Connell Mott MacDonald
Mechanical consultant Bassett Consulting Engineers
Project manager Lend Lease
Public domain Lend Lease Design
Quantity surveyor Rawlinsons
Specialist lighting Lend Lease Design, The Design Coalition
Strategic briefing DEGW
Structural consultant Robert Bird & Partners
Structural engineer James Taylor and Associates
Swimming pool consultant AGL Mechanical Services
Traffic consultant Turnbull Fenner Pty Ltd
Vertical transportation Norman Disney Young
Wind consultant MEL Consultants
Workplace advisor Department of Human Ecology, Cornell University
Workplace strategy Lend Lease Corporate Solutions

Site Details

Location Docklands, Melbourne, Vic, Australia

Project Details

Status Built
Category Public / commercial
Type Workplace

Related topics