JURY CITATION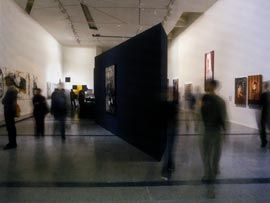 The Ian Potter Centre: NGV at Federation Square is a major Australian cultural asset and is the primary cultural anchor point for Federation Square. The collection contains some of the most important examples of Australian art, including paintings, drawings, prints, photography, fashion and textiles, together with a stunning collection of Aboriginal and Torres Strait Islander works.
The interior design is a major achievement in international gallery design and has been holistic in both conception and execution. It seamlessly integrates with the biology of Federation Square, drawing visitors through an ingenious threading of galleries, links, breakout spaces, interstitial spaces and reference points.
There is a sense of unfolding interest and comprehensive resolution in the spatial design, the servicing provisions and the details and colour schemes, which extends traditional art presentation into a richer and more sophisticated context. Despite the strong experiential nature of the interior, there is subtle enhancement rather than "competition" between the interior design and the works on display.
The architects have demonstrated their capacity to engage with the gallery at every level, from primary construction through to wall, plinth, cabinet and display ideas, including the hanging and lighting of works during the initial exhibitions. An excellent relationship between gallery management, design and architecture has resulted, making the Ian Potter Centre: NGV Federation Square one of the most accomplished interiors in Australia.
Credits
Architect

Lab Architecture Studio
Melbourne, Vic, Australia
Project Team

Peter Davidson, Donald Bates, James Murray, Mat Foley, Tony Allen, Richard Brenchley, Greg Bray, Mardi Doherty, Olda Kurdiovsky, Casamir Zdanius, Stephen Javens, Fulvio Facci, Jenny Yim, Dylan Ingleton, Tim Hill
Architect

Bates Smart Melbourne
Melbourne, Vic, Australia
Consultants

Acoustic consultant Marshall Day Acoustics
Developer Victorian State Government, Melbourne City Council
Environmental consultant Atelier Ten
Fire engineer Arup Melbourne
Hydraulic, mechanical and electrical consultant Waterman AHW Consulting Engineers (Vic)
Interior designer Lab architecture studio in association with Bates Smart, Melbourne
Lighting consultant Lighting Design Partnership
Multimedia CDP Media, Rutledge Engineering
Project manager Office of Major Projects, CCS, Lateral Projects and Development, Bonacci Winward
Quantity surveyor WT Partnership, Lateral Projects and Development
Services consultant Waterman AHW Consulting Engineers (Vic)
Signage and graphics Tomato, Emery Studio
Structural consultant Bonacci Winward

Site Details

Location Melbourne, Vic, Australia

Project Details

Status Built
Category Public / commercial

Related topics