DEUTSCHE BANK
BLIGH VOLLER NIELD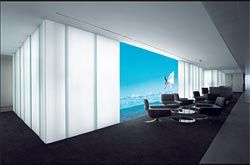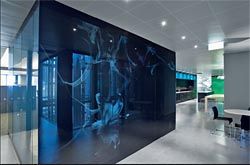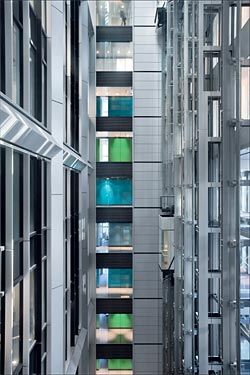 JURY CITATIONThis sophisticated interior aligns seamlessly with the corporate culture of Deutsche Bank.
It combines a tangible efficiency with a smart and contemporary design edge that skilfully profiles and distinguishes the client image while remaining sympathetic to the design of the base building. The scheme successfully "borrows" the building atrium as its front address, deriving maximum value for public conference and arrival places from the city landscape beyond.
An investment bank environment is necessarily complex, with secure areas segregated from public spaces, and with multiple meeting areas and workshop arrangements. This is made legible and inviting here through the innovative and discrete organization of working and visitor spaces and the commendable manipulation of volume and light.
Two glass stairs are deployed as transparent and vibrant connecters over the nine floors, achieving an almost invisible demarcation between the public and secure areas. The demanding technology requirements of the bank are fully integrated with the fitout and become evident only as contributing to the progressive image of the client.
The architecture of the interior is elegantly executed throughout in a cool and carefully detailed base palette of materials and fixtures.
These are offset and made dynamic with hot colours and commissioned artworks at strategic circulation and meeting places.
Deutsche Bank is refreshingly free from style or fashion. It has a quiet yet vital interior that is at once practical and surgically beautiful.
DEUTSCHE BANK
Architect Bligh Voller Nield.
Project manager, structural and lighting consultant and builder
Bovis Lend Lease.
Electrical and mechanical consultant
Norman Disney and Young.
Hydraulic consultant
LHO Group.
Acoustic consultant Hyder. Fire services Warren Smith and Partners. Graphic design Emery Frost. Photographers John Gollings; Anthony Browell, bottom right, this page.
For further coverage see
Artichoke
no 17, December 2006.