Stadium Mass Rapid Transit Station by WOHA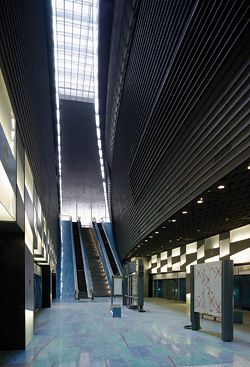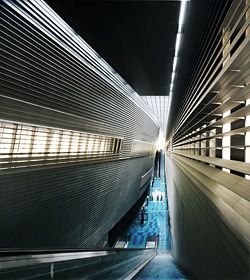 Jury Citation
The Stadium MRT Station in Singapore is a major new underground urban transport facility, servicing an adjoining indoor sports stadium and surrounding entertainment, leisure and residential precincts. WOHA won the commission through an international design competition and the result is an outstanding contribution to international architecture.
Conceived as a massive underground sculpture, the station is like a geological fissure or fault line that has opened up to reveal a secret underworld. The station works as a major dramatic space that offers the public a moment of spatial grandeur in their daily commute, much in the manner of the great stations of Europe.
The form of the station is generated by the flow of crowds down to the platforms below, as well as a tectonic play on two contrasting geometric shapes – a linear element against a curved one. A continuous central skylight creates a dramatic day-lit interior, while openings in the above ground forms allow views down to the platform level from the arrival plaza.
Journeying into the station is like descending into a giant shimmering grotto that draws crowds to its interior. This is an inspired piece of urban architecture that adds delight to the world of the underground train station.
Newton Suites, Singapore by WOHA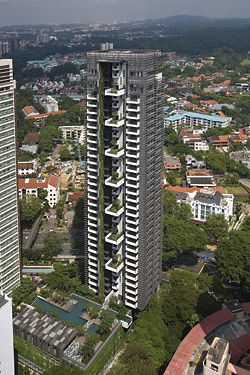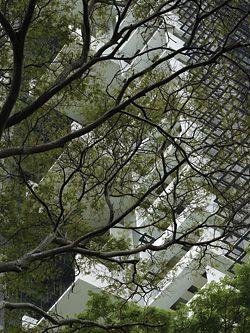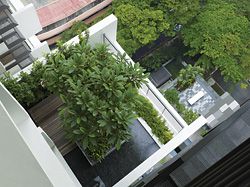 Jury Citation
Newton Suites is an exemplary model of a tropical high-rise residential building in an established urban setting. Sustainability initiatives are integrated into the building's design and contribute to its engaging appearance. The exterior of the thirty-six-storey tower uses sunshading elements, patterned planes, perforated screens, protruding balconies and a living vertical landscape as part of the building's language. The extensive use of landscape material adds great drama and textural effect through sky gardens, green walls and rooftop planting. This also contributes to building comfort and visual delight, with the extensive use of greenery bringing the indoor/outdoor potential of the tropics to life. While these devices are not new, WOHA has produced an inspired and disciplined building that advances the idea of sustainable high-rise living.
The residential tower sits on a four-storey base building which houses car parking and resident amenities. The above-ground car park is wrapped in creepers and topped with a roof garden and swimming pool. The integration of tower and base is particularly well handled, as are the overall urban manners of the complex.
Extensive environmental elements, liveable apartments and generous communal areas combine to create a unique tropical building. It achieves both Singapore's national vision for a green city and an improved living environment for the residents.
Credits
Architect

WOHA
Singapore
Project Team

Wong Mun Summ, Richard Hassell, Chan Ee Mun, Alen Low, Andrew MacLennan, Ang Chow Hwee, Chan Ee Mun, Eow Wan Lin, Goh Soon Kim, Johan Hermijanto, Pham Sing Yeong, Sabrina Foong, Janita Han, Melinda Song, Tang Chia Ling
Consultants

Builder Kajima Overseas Asia
Civil and structural consultant LBW Consultants
Cost consultant KPK Quantity Surveyors
Developer UOL Group Limited.
Landscape Cicada
Mechanical and electrical consultant Lincolne Scott Ng

Site Details

Location Singapore, Singapore

Project Details

Status Built
Category Residential

Credits
Architect

WOHA
Singapore
Project Team

Wong Mun Summ, Richard Hassell, Dharmaraj Subramaniam, Pearl Chee, Esther Soh, Jose Nixon Sicat, Gerry Richardson
Consultants

Acoustics Acviron Acoustics Consultants
Landscape consultant Cicada Private Limited
Main contractor Nishimatsu Construction/Lum Chang J. V.
Mechanical and electrical consultant Nishimatsu Construction/Lum Chang J. V.
Project manager Land Transport Authority.
Quantity surveyor Land Transport Authority.
Structural consultant Maunsell Consultants (Singapore)

Site Details
Project Details

Status Built
Category Public / commercial
Type Public / civic

Related topics