JURY CITATION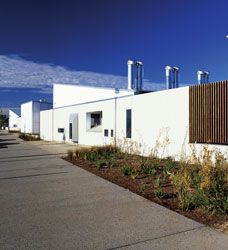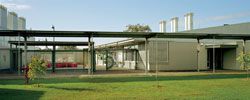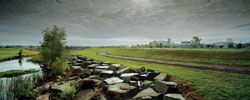 Mawson Lakes School is a high achiever on many levels. The jury was initially impressed by the sensitive resolution of the school within its urban context, its comfortable fit between street and creek, and its modest and thoughtful materiality and detail. However, this small collection of primary school buildings also ranks high in environmentally sensitive design.
The planning strategy has created a series of subtly different spaces and aspects to be enjoyed from classrooms that are arranged in four north-facing fingers. Each finger can open to the north and south, linking spaces in a variety of ways to suit programme and seasons. Each finger also has a unique relationship with the street, connecting the students with the community.
Environmental initiatives are clearly demonstrated so that the mechanics can be understood by the youngest of students. Solar and thermal ventilation chimneys, operable louvres and walls, natural daylighting, large roof overhangs, sun shaded windows, solar water heating and water recycling are just some of the devices with which the students have become familiar. A computer-controlled building management system can be demonstrated on classroom laptops through wireless technology.
The wall construction of masonry, plantation timbers and insulation is revealed through small viewing windows to enable the students to understand the building make-up, and to spark discussion on environmental design.
Principles of water conservation have been embraced through a landscape design that requires minimal water and through the allowance for future integration into community systems of water management and reuse. A greenhouse for plant propagation and planting beds in classroom courtyards create holistic learning environments.
Most importantly, the jury acknowledges that the long-term social impact of communicating environmental sensitivities through projects such as Mawson Lakes School is essential to a sustainable future.
Project Credits
MAWSON LAKES SCHOOL
Architect Russell & Yelland Architects, MGT Canberra Architects—project team Russell & Yelland: John Held, Helen Vaughan, Meredith Harrison, Jon Mau, John Anesbury. MGT Canberra: Hal Guida, Pamille Berg, Justine Cox, Stephen Schrapel, Wayne Henkel, Andrew McKenna, Pero Dimcev. Structural, civil, electrical, mechanical and hydraulic consultant Kellogg Brown & Root. Landscape consultant James Hayter & Associates. Quantity consultant Lees Cadman.
Builder Cox Constructions.
CFD analysis Vipac Engineers and Scientists. Photographers Steve Rendoulis, John Gollings.