JURY CITATION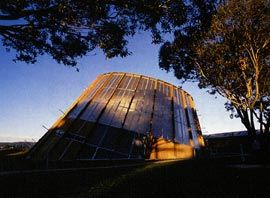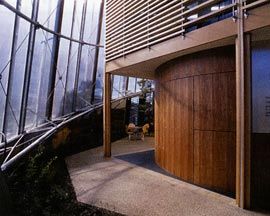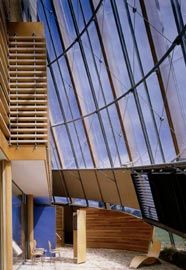 This award recognises significant contributions to the research, development and implementation of sustainable building practices.
Robert Morris-Nunn has persistently explored passive and low-energy designs, and has now applied his experience and skill to this hybrid building for Forestry Tasmania.
The project condenses a number of design aspirations: the practical use of pinus radiata and sustainable softwood products; a desire to create a landmark with positive values for Forestry Tasmania (which faces a difficult political climate in the state); and the further application of sustainable passive building concepts.
As a result, Morris-Nunn has cocooned an orthogonal three-storey structure – containing offices on the upper two levels and visitors centre on the ground floor – within an inclined cone, creating a tempered internal microclimate.
Perhaps suggestive of Future Systems' "offices in a bubble", the experimental approach to ventilation, day lighting and air movement defines the iconic architectural character of the project.
In presenting this award, the jury acknowledges the body of work designed by Morris-Nunn and Associates, as exemplified by the experimental nature of the Forest EcoCentre. The project has enabled ideas to be tested and developed in everyday circumstances, and for forestry products to be utilized in an exemplary fashion.
Related topics