Jury Verdict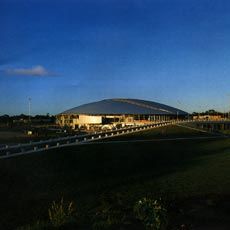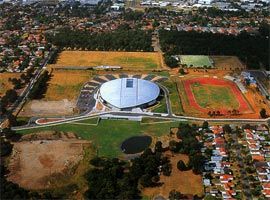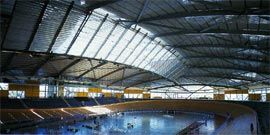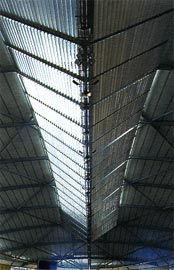 This award recognises buildings that acknowledge all opportunities to harvest, use, re-use or recycle on-site resources during their life. The award also honours buildings that demonstrate the importance of the natural and built environments to site planning, that show that operational energy use can be reduced across all of the seasons, and that demonstrate that the selection of materials is crucial to improved outcomes.
The Velodrome is a substantial structure set in a park in the western suburbs of Sydney. The building's evocative but simple form recalls a cyclist's helmet, and the architect has used this taurean geometry to benefit the requirement for a passively ventilated space. A suite of natural ventilation and lighting concepts has been successfully integrated into the architecture of the building with considerable skill. The Velodrome's environmental efficiency is further demonstrated through the vast internal space enclosed by a light, latticed steel structure of inventive economy. The building has a wonderful healthy feel.
The Jury was impressed with the success of the architect's original vision in the making of a huge naturally ventilated and lit entertainment and sporting centre.
Project Credits
Velodrome, Sydney
Project Architect, Design Architect Paul Ryder.
Project Manager APP Projects. Developer Olympic Coordination Authority. Structural Consultant, Civil Consultant, Hydraulic Consultant, Acoustic Consultant Ove Arup + Partners.
Electrical Consultant, Mechanical Consultant, Lighting Consultant Lincolne Scott. Landscape Architect Context Landscape. Environmental Consultant Advanced Environment. Builder Walter Constructions. Photographer Peter Hyatt.