JURY CITATION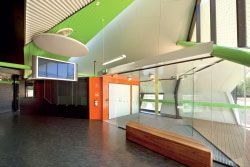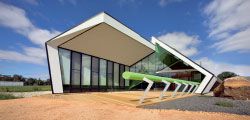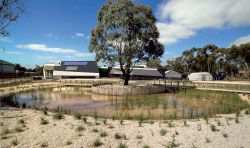 Ecolinc is a demonstration project. Established as a collaborative venture, the facility teaches diverse environmental topics to schoolchildren across a range of age groups. The building makes an active and exciting contribution to this teaching program. Its passive environmental systems are all operated manually and monitored, so that the children can understand how the building works at a detailed level. The surrounding new wetlands also play an important role in the teaching.
This is a joyful building – its forms, internal spaces, articulation and use of colour all add to the excitement of being in and around the building – and the jury imagines that children will love coming here. This project shows that a building with a playful architectural aesthetic can also have serious environmental credentials.
Through the hands-on experience of the immediate impact of passive environmental systems, this building is teaching future generations to expect more of their built environment, in both architectural and environmental terms.
SCIENCE TECHNOLOGY INNOVATIONS CENTRE, BACCHUS MARSH
Project and design architect Lyons. Project manager Bovis Lend Lease: Michael Lindstrom. Structural and civil consultant Taylor Thomson Whitting. Electrical and mechanical consultant Bassetts. Hydraulic consultant Grogan Richards. Landscape consultant Rush/Wright Associates. Interior designer Lyons. Services consultant Bassetts. Environmental consultant Bassett Applied Research. Quantity consultant Wilde and Woollard: Mike Bennett. Builder Buildcorp Commercial: Robert Isaac. Photographer John Gollings.