The second instalment of state awards in the lead-up to the RAIA National Awards, to be held at the Millennium Library, Brisbane, on 26 October.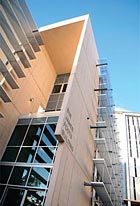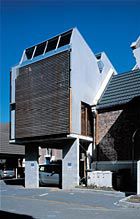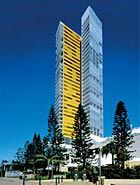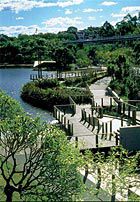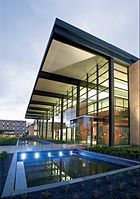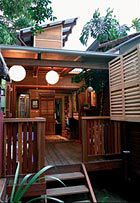 QUEENSLAND
Institutional FDG Stanley Award —James & Mary Emelia Mayne Centre by Wilson Architects 01. Awards (2)—Sir James Foots Building by Wilson Architects 02; James & Mary Emelia Mayne Centre by Wilson Architects 03.
Commendation—St Stephen's Cathedral Northern Development by Conrad Gargett Architecture. ResidentialRobin Dods Award— Brookes Street House by James Russell Architect 04. Awards – Individual (3)—Ballandean House by Arkhefield 05; Brookes Street House by James Russell Architect 06; Gully House by Bligh Voller Nield in association with Daniel R.
Fox 07. Commendation—M.T. House by Shane Denman Designs. Awards – Multiple (2)—Air by Ian Moore Architects 08; Viridian Residences by John Mainwaring and Associates 09.
Commendations (2)—Q1 by Sunland Design Group and Innovarchi (tower podium); Warry Street Residences by Cox Rayner Architects.
Awards – Alterations and Additions (2)—Violet Street House by James Russell Architect 10; Machans Beach House by Deborah Fisher Architect 11. Commendation—Shroud House by Phorm A + D and Carroll Go-Sam.
CommercialBeatrice Hutton Awards (2)—Byron at Byron Resort and Spa by Haysom Architects 12; 61 Brookes Street by Phillips Smith Conwell Architects 13. Commendation—Deka Showroom by Cottee Parker Architects. Interior ArchitectureAward—UQ Chemistry Building Lab Fitout Levels 5 and 6 West – 7 and 10 West by m3architecture 14. Commendation—Boe Lawyers by Richard Kirk Architect. Urban DesignAward—Roma Street Parkland by Malcolm Middleton Architects on behalf of PARC Consultants (DEM Design/Gillespies Australia/Landplan/Civitas) 15. Conservation Award—James & Mary Emelia Mayne Centre by Wilson Architects 16. Sustainable ArchitectureHarry Marks Award—Nanna's Verandah by Jeremy Salmon Architect 17. Art and Architecture Award—Government Office Building – 33 Charlotte Street: Art Built-in by Project Services (Queensland Government) 18.
Colorbond Steel Award—Lavarack Barracks Redevelopment Stage 3 (precinct planning and office accommodation) by Bligh Voller Nield 19.
25 Year Award—James Cook University Library, Douglas Campus, Townsville, by James Birrell 20.
Jury
Paul Fairweather, Wayne Petrie, Peter Skinner, Tim Ditchfield, Amanda Horswill, Rosemary Kennedy, Antony Moulis, Philip Bacon, Peter Harvey, Ian Charton, Bill Conrad