The founders of Coda Studio, Emma Williamson and Kieran Wong, are altruistic architects. They work on both private and public projects, and recent projects include several buildings that address homelessness issues. The practice consults to government to ensure good design outcomes on large-scale projects, and Kieran and Emma serve as volunteers on boards, committees and juries, regularly crossing the country from their base in Perth to contribute to the advancement of the architectural profession.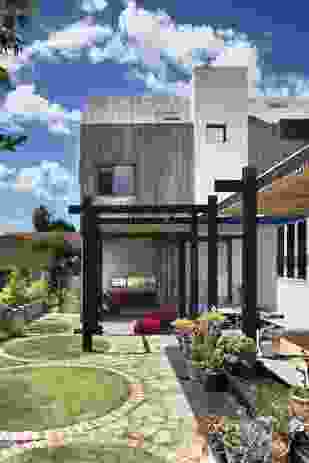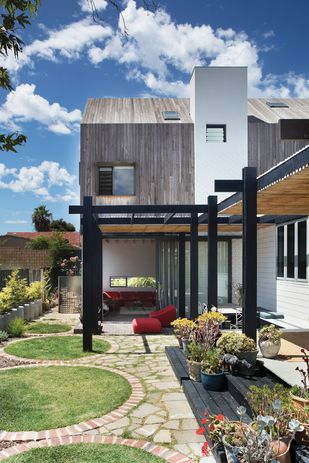 Their home in South Fremantle, an area that has been slowly gentrifying since Australia won the America's Cup yacht race in 1983, is a testament to their socially progressive ideals: the house is compact at 165 square metres, is inherently sustainable and sits quietly among its neighbours.
It may seem like luck or good fortune that led the couple to purchase one of the few 1,200-square-metre blocks in the area, but Kieran had lived in this street as a child, in his grandmother's house across the road. When the couple bought their new home – a modest 1930s cottage – and met their neighbours, some remembered Kieran as a toddler. "My whole family lived here in South Fremantle [but] they all moved out into new houses in the 1970s and 80s," he recalls.
The only way the architects could afford to return to this newly desirable suburb was by putting their architectural skills to work: they bought and lived in the small cottage with their three children – now aged fourteen, twelve and nine – for five years, while they saved money and devised plans to build at the rear of the site. Although they are happy in their newly built house, they both harbour a desire to eventually move back into the original home, "where you can engage much more easily with the life on the street," Kieran explains.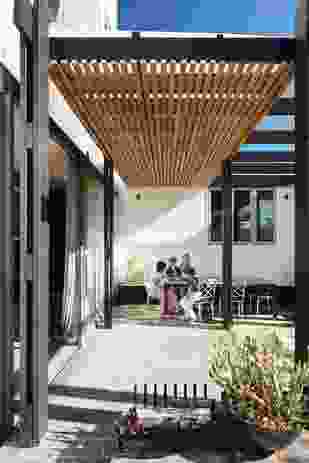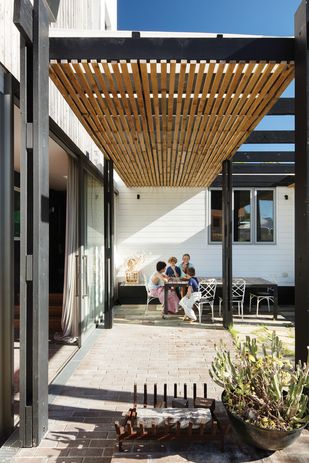 For now, though, they occupy the slightly elevated rear house, which was designed to fit into its varied streetscape, partly thanks to recycled materials, including a recycled donga and the bricks in the living room floor and courtyard, which were acquired free via Gumtree. They also chose materials that would age and weather naturally, such as the cypress pine timber that clads the upper level and roof, to give the house a timeless appearance. The same patina can be found inside, where walls made of brick, oriented strand board and plasterboard provide varied colours and textures throughout.
"This project poses a lot of questions about materiality and warmth, and whether it's possible to build a house that doesn't feel new," Emma says. The design began with the donga – which now forms one side of a protected outdoor courtyard, with internal divisions inserted in that structure to create discrete laundry, kitchen and dining spaces. "It was like Mr Squiggle in that we had a predetermined starting point."
The remainder of the ground floor comprises a small entry hall, a sunken living room and a U-shaped staircase. The children's bedrooms resemble a lookout tower on the south-east corner, accommodating the older two children at ground and first-floor levels and the youngest in the attic. Accessed via a ladder, this bedroom offers views across the Indian Ocean. A small main suite with a mezzanine sitting area occupies the north-east corner of the first floor. The adults' and children's zones are divided by the core, which comprises the family bathroom, staircase and solar chimney. The chimney works in concert with windows at the lower levels to capture prevailing breezes (especially the "Fremantle Doctor" that rolls in most afternoons) for passive cooling, thereby negating the need for mechanical ventilation.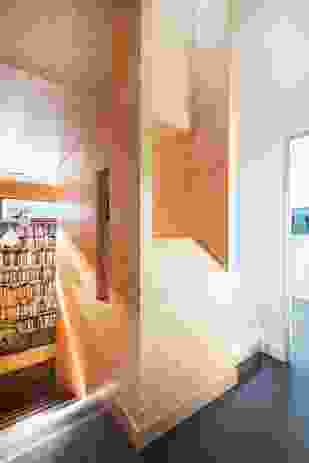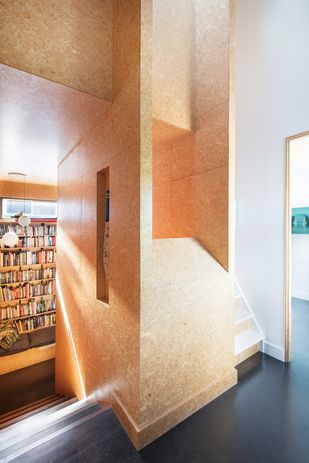 In contrast to the first house that Emma and Kieran designed for their own family – a steel-framed and open-plan dwelling – this one is heavy at its base and solidly anchored, and it has discretely defined rooms. These encourage the family to deliberately congregate – in the dining room for meals or in the living room, where musical instruments are practised and played – but the plan also provides many opportunities to retreat, with desks and quiet nooks strategically located throughout.
"We were looking at ways of making connections – visually, across the courtyard, and aurally, from room to room – but now that there are five of us, and the children are growing up, we wanted to provide places for each of us to escape to, for when we would rather be alone," Kieran says. "Doing a house for yourself as an architect allows you the opportunity to take risks that you wouldn't take with a client."
Another difference between this project and the firm's work for clients is that clients often want materials that won't age and are low maintenance. "This has been an investigation into how to create warm and intimate spaces that might work well in an institutional setting, that will enable people to develop closer relationships," Emma says. "The material exploration we undertook in this house is part of that conversation."
This house is all about connections: the design represents the constant dialogue between Kieran and Emma's private and professional lives, and it promotes strong relationships within their own family unit. The project also continues the Wong family's long history in this neighbourhood: the couple's children are the fourth generation to reside in the street. Like all of Coda Studio's work, Emma and Kieran's own home promotes inclusiveness and community across many levels.
[Editor's note: In July 2017, Coda Studio announced it has merged with Cox Architecture.]
Products and materials
Roofing

Frencham Cypress cypress pine
External walls

Frencham Cypress cypress pine; Carter Holt Harvey Shadowclad plywood panels; Midland Brick Coda bricks
Internal walls

Oriented strand board; plasterboard
Windows

Custom aluminium hoods
Flooring

Hebel PowerFloor flooring; Comcork flooring; salvaged bricks
Kitchen

Laminex formply; Smeg oven and rangehood; Astra Walker sink mixer in 'Black'
Bathroom

Rogerseller sink and taps; Original Ceramics floor and wall tiles
External elements

Recycled bricks and pavers; concrete liners used as planters
Other

Grant Featherston Numero Uno sofa
Credits
Architect

CODA Studio
Fremantle, Perth, WA, Australia
Project Team
Consultants

Engineering Structerre
Landscaping Emma Williamson, Kieran Wong

Site Details

Site type Suburban
Site area 1200 m2
Building area 165 m2
Budget $620,000

Project Details

Status Built
Completion date 2015
Design, documentation 4 months
Construction 10 months
Website coda-studio.com
Category Residential
Type New houses

Source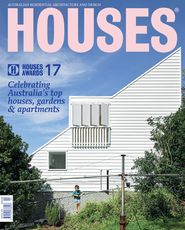 Issue
Houses, August 2017
Related topics