Backyards really are wondrous places. They're the scenes of our earliest childhood memories, where we retreat for some quiet time or the perfect location for a Sunday barbecue. Most of us have taken part in a game of backyard cricket and everyone knows someone who loves to tinker in their shed. For M3 Architecture this quintessentially Australian setting plays host to one of its most unusual projects to date – a tiny music studio at the rear of a home in suburban Newcastle.
Architects are seldom asked to celebrate the backyard, but M3 Architecture has reinvented it as a refreshingly new site for formal pedagogy. In designing the freestanding studio – a private space that can be used publicly – the Brisbane-based practice was respectful of the context, elegantly responding to existing conditions by creating a comfortable learning environment for young violin and viola students.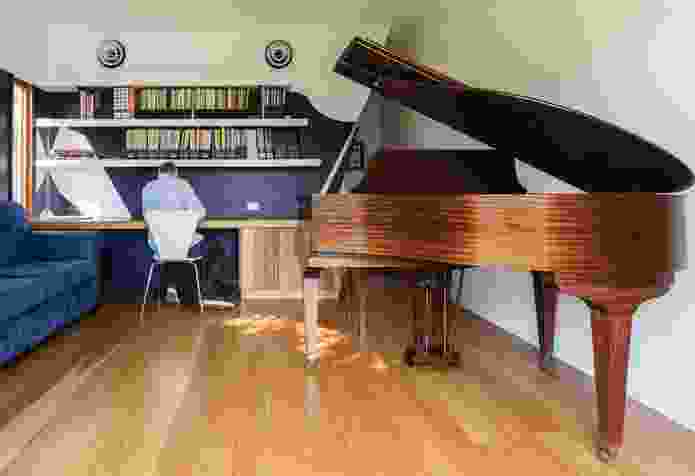 The studio is set back from the house, adjacent an existing olive tree and rectilinear on the side closest to the boundary fence. The studio's scale is modest, with a flat roof and a gable-shaped front verandah that tops a wide doorway, making it all the more domestic in appearance. Yet despite its humble proportions, the studio's overall scheme is grounded in a decidedly grand concept. "We took inspiration from a method of teaching that originated in Finland," says Michael Banney, one of the four M3 Architecture directors. "And when considering Finland and music, we couldn't help thinking of Alvar Aalto's Finlandia Hall in Helsinki."
The reverence paid to this iconic building is evident in the small studio's stark white exterior, as well as the interior's dark blue and white colour palette. A piece of Finlandia Hall's original marble facade – retrieved from a bin during the hall's recent recladding – even sits in a corner of the studio. However, the crispness of its angles and lines undeniably references M3 Architecture's previous design for Brisbane Girls Grammar School Creative Learning Centre, albeit in a condensed version.
A timber doorframe and flooring add warmth to the interior, while the raised timber deck extends the inside out and also doubles as a stage. Performing students are perfectly framed by the studio's wide doorway and there's plenty of room in the backyard for an audience. This recent M3 Architecture project endears as much for its aspirational concept as it does for its homely charm and aesthetic. Students have responded to it positively and the wider community has embraced it as a cultural asset, imbued with equal parts whimsy and functionality.
Source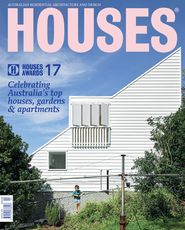 Issue
Houses, August 2017