Moving to the outer suburbs when you're ready to start a family is a thing of the past – or, at least, there is a visible shift in the way the current generation of young families is choosing to live. Meredith Cole and her family are an example of this shift. Originally from Perth, Meredith's family has chosen to settle in Melbourne's Fitzroy North – for the lifestyle, the ease of commuting to and from work and the close proximity to their friends. With eight-year-old twin boys, the family needed space, but rather than moving out of the inner city to a bigger home, they decided to engage Matt Rawlins of Figureground Architecture to help them make the most of their block of land. As Meredith says, "good architecture makes your life easier."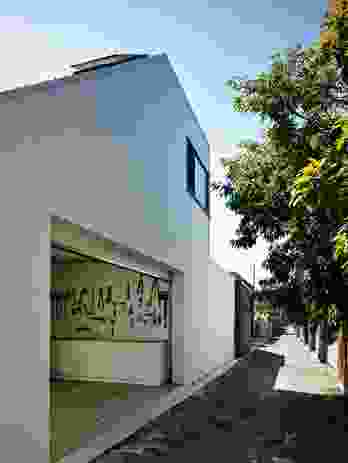 Backyard Studio is the result of the architect making the most of every opportunity in a relatively simple brief. Keen to replace a rundown, poorly sited backyard shed, the family asked for a place for Meredith's husband, Nick, to play music, a garage, a laundry, a guestroom and more storage space. The decision to create a new standalone building was twofold: firstly, the rear section of the main house had already been renovated relatively recently; secondly, the music room was to be separated from the main house to enable noise isolation. This detachment from the main house has a number of subsequent advantages, such as the creation of a north-facing room in a south-facing backyard and the bookending of the site to create a contained outdoor space. In addition, the separate guest pavilion allows visitors to remain independent from the hustle and bustle of the family home. The family has a steady stream of interstate visitors and rather than worrying about rearranging the house and family schedule each time they stay, Meredith can simply say to her guests, "Here are the keys."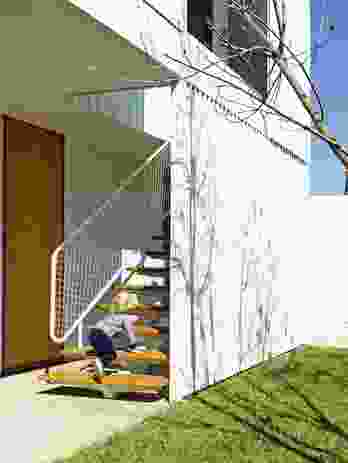 The guestroom is located on the upper level of the studio. The simple north-facing space could be used in a number of ways – a place to practise yoga, for the boys to play, guests to stay, nephews to study and the list goes on. Below this is a soundproof music room that opens onto the backyard, a storeroom and a garage space. Far from the dark and utilitarian room that you'd expect to constitute a garage, this space is one you would want to spend time in. Lit from above via translucent roof cladding supported by an exposed truss structure, the multifunctional garage opens to the backyard via a bifold door. On the other side, the space opens out onto the adjacent laneway, borrowing space and views from this underused passageway. It's easy to imagine the many different activities this space will accommodate as the boys grow up, from tinkering with some tools to teenage birthday celebrations.
The studio itself creates a visually appealing backdrop to the garden – the arrangement of different materials is made consistent by their colour, white. The battened portion of the facade peels away from the main structure to allow for an open stair that encourages the use of the upper level and connects it directly with the outdoor space below. The folding of the roof form not only works from the exterior, but has also contributed to the quality of the garage below by giving it extra height.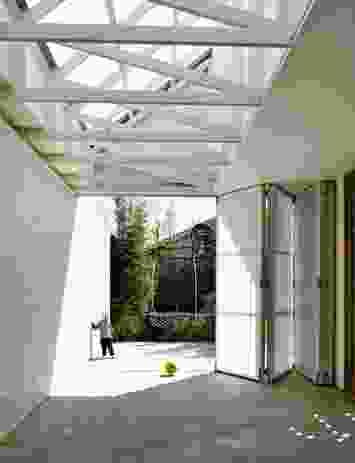 The real achievement of this project lies in the connection between the new studio and the backyard and in the way they work together. It is perhaps relevant that Matt studied landscape architecture before architecture and has always been interested in the connection between the built form and the surrounding context. In this case, Mud Office cleverly designed the landscape using the bones of Matt's original masterplan for the site. In a very small footprint, it accommodates space for kicking a ball, a trampoline, a basketball hoop and a four square court, and connects back to a sunken entertaining deck that is attached to the main house. It also houses a selection of deciduous fruit trees and an existing pistachio nut tree, which the dwelling folds back to make room for. The two buildings work together to bookend the site and create a contained, functional courtyard garden. Meredith's friends often remark, "The yard looks bigger!" – but it's all about efficiency of space.
The so-called "granny flat" has recently made a comeback in Australia, but in a new form that permits more flexible social arrangements as opposed to just housing elderly parents (which, in fact, Backyard Studio isn't intended for at all). Make Architecture's Little Brick Studio in Melbourne ( Houses 94), Fearns Studio's Bondi House in Sydney ( Houses 93) and Atelier Chen Hung's Keperra House in Brisbane ( Houses 91) are all contemporary examples of this type of detached and multifunctional secondary living space that caters to a variety of living needs. Although Figureground Architecture's Backyard Studio and its adjacent backyard are carefully planned, there is an informality about the project that suits family life. Adapting compact urban housing in this way is a sustainable model and as demographics continue to change, there will be an increasing need for clever thinking like this.
Products and materials
Roofing

Lysaght Klip-Lok in Colorbond 'Surfmist'; Ampelite Wonderglas Cool-lite in 'Opal'.
External walls

Recycled bricks in Dulux 'Surfmist'; compressed fibre cement sheet, timber battens and timber cladding board in Dulux Weathershield Low Sheen in 'Surfmist'.
Internal walls

Echopanel acoustic lining.
Windows

Victorian ash hardwood window frames in Sikkens Cetol 'Silver Grey'.
Doors

Victorian ash hardwood door frames in Sikkens 'Silver Grey'; Designer Doorware hardware; custom bifold doors made from timber battens, acrylic and Brio tracks.
Flooring

Concrete with satin epoxy; tallowwood timber floorboards; SuperTuftEscape Twist carpet in 'Vamoose'.
Bathroom

Reece tapware and fittings.
Heating and cooling

Airfusion Climate II ceiling fan.
External elements

High pressure-washed concrete.
Other

Custom cyclone mesh and steel pipe stair.
Credits
Architect

Figureground Architecture
Melbourne, Vic, Australia
Project Team

Matt Rawlins, Stef Richards
Consultants

Builder Mark Parry
Building surveyor Wilsmore Nelson
Engineer Acor Kersulting
Landscaping Mud Office

Site details

Location Melbourne, Vic, Australia
Site type Suburban
Site area 540 m2
Building area 95 m2
Category Residential buildings
Type Adaptive re-use, Residential

Project Details

Status Built
Completion date 2014
Design, documentation 6 months
Construction 9 months

Source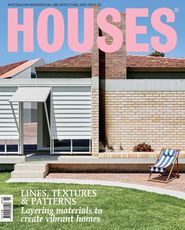 Related topics