For so many of us, an experience with cancer – either through our own diagnosis, or that of a loved one – is a sombre reality. The emotional ups and downs that come with cancer diagnosis are compounded by the unforgiving treatment, which often involves lengthy periods of time in hospital. How architecture might ameliorate this experience is the challenge that faced Billard Leece Partnership in its task of designing the Ballarat Regional Integrated Cancer Centre (BRICC). The project's location at the Ballarat Base Hospital in Ballarat, one of Victoria's major regional centres, also raises questions about what a new civic architecture might be and how it might embrace a culturally rich history.
BRICC is the first in a series of buildings Billard Leece Partnership is designing for the hospital site, the largest hospital in the Grampians area and the principal referral hospital for the region. The centre offers the latest technology for cancer treatment, encompassing a radiotherapy facility, a medical oncology unit, a "one-stop shop" multidisciplinary consultation suite for patients and their families, education and administration spaces and a Wellness Centre. Billard Leece came to the project with plenty of expertise, having worked on many private and public hospitals – most notably the Royal Children's Hospital in Melbourne in partnership with Bates Smart, with a remarkable design that puts the patient experience first, a sentiment carried through at BRICC.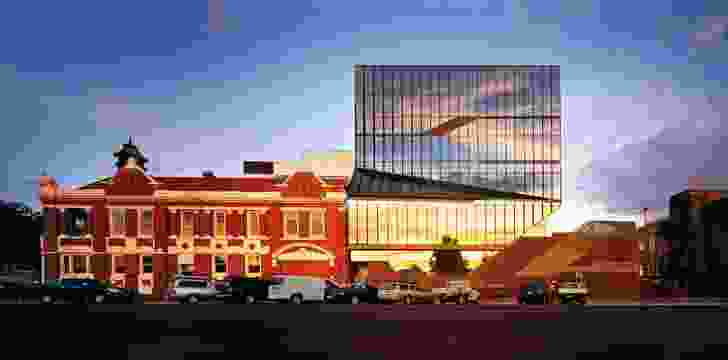 Centrally located along Sturt, Drummond and Webster Streets, the Ballarat Base Hospital site is made up of an eclectic assortment of brick buildings that have been added as the hospital's services have been extended over the years. These include the charming little Moderne style Eildon House in cream brick, designed by Stephenson and Meldrum (1935) and currently scheduled for demolition, and the referential postmodernist Henry Bolte Building designed by Bates Smart (1994). Billard Leece's new development revamps a red brick Free Classical style building on the corner of Sturt and Drummond Streets and introduces a new five-storey glazed tower that is a bold contrast to its neighbours. At the heart of this new addition is a generous atrium space, around which the centre's services are located.
I visited the facilities on a Saturday afternoon with Billard Leece director Mark Mitchell and his young son Harry, and Kim Munroe from Ballarat Health Services. In true Ballarat form it was a bleak afternoon with gusty winds. While the new glazed building faces onto Drummond Street, the entry is via Sturt Street where a new circulation spine will connect all the facilities together. Mitchell suggested giving me a tour from the patient's perspective, and it was clear from the outset that this way of thinking had been integral to the design approach.
We started in the atrium space, into which patients and visitors arrive. This is undoubtedly the most successful aspect of the new development: an urban heart that connects doctors with patients and serves as a junction between the different programs. The atrium is edged by new facilities to the north and east and by the rear of the existing red brick building, which Billard Leece has reworked and which now houses the new Wellness Centre. Designed like an urban town square but protected from the harsh Ballarat climate, the atrium draws on a streetscape language with its bluestone flooring, street-style lighting and low walls for seating and public art. Acoustically absorbent natural timbers line the walls and ceilings of the new addition, lending the atrium a warm, ambient feeling. It is an impressive space that successfully avoids any sense of being hospital-like.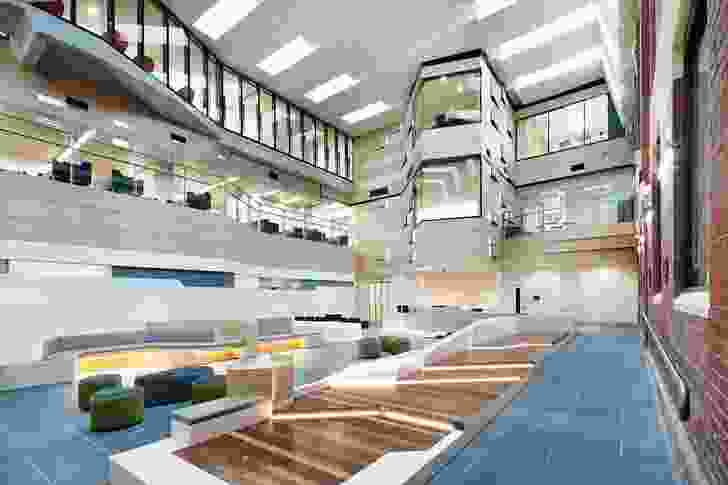 The tour continued north to the radiotherapy rooms. To counter the imposing presence of the radiotherapy machines, Billard Leece has taken care to "de-medicalize" this space as much as possible. A handsome striped wall conceals the medical files, while a floral ceiling pattern that can be lit up in different ways serves to calm the patient during treatment.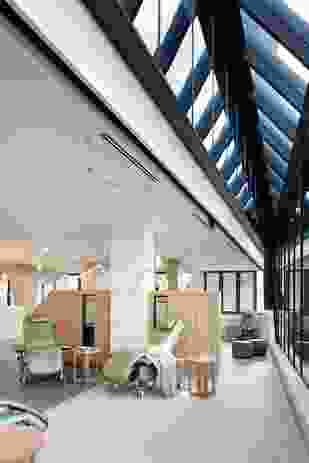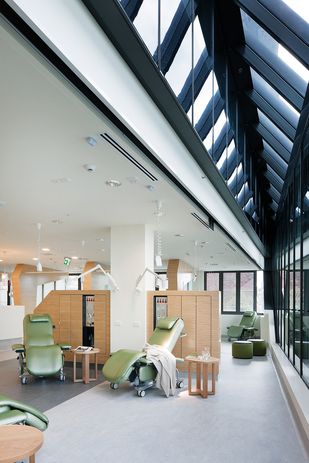 This patient-centred design approach continues throughout the facilities. A sculptured roof and ceiling form draws natural light into many of the spaces, creating a calm and humanized space. Particular attention has been paid to the design of the day treatment area, where patients often spend lengthy amounts of time in a chair receiving treatment. Here patients can receive treatment in privacy with views to a rooftop garden, while a communal treatment area for patients seeking company has also been provided. Joinery neatly conceals as much hospital equipment as possible and there is ample natural light throughout. This is certainly a great new asset for both Ballarat Base Hospital and the greater community, and Munroe confirmed the facilities have been functioning well for staff and patients.
Externally, the patterned finned facade and diagonal geometries make a bold statement but perhaps the building misses an opportunity to provide a new type of civic architecture for the city. Like many regional centres around Australia, Ballarat is enjoying a growth in new civic buildings. In a town such as Ballarat, the rich red brick architecture of which is the result of the Victorian gold rush era, how can contemporary architecture provide a new civic presence that also taps into local history and heritage? The new addition makes all the right contextual manoeuvres: it contrasts with the existing building and folds back from the street where it meets its neighbour's roofline. Its ground-level facade of locally manufactured brown brick is also a nice contemporary take on Ballarat's well-known red brick architecture. It is its large expanse of reflective glazing, however, that renders the building corporate and lacks the urban cleverness of its interior. Yes, it shimmers and changes with the light, which is lovely, but there is little on offer in terms of a new type of "Ballarat-ness," an admittedly difficult challenge for all new civic architecture located within history-rich regional areas.
Credits
Site Details
Project Details
Source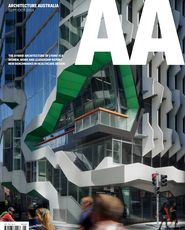 Issue
Architecture Australia, September 2014