It is rumoured that the average life of a bathroom in Sydney's eastern suburbs is three years. While Balmain – a quaint hilly village on the inner harbour just west of Sydney city – has a reputation for more careful interventions (to a generally more historic building fabric), it is clear that working to a small scale on alterations to old houses can be a thankless task for an architect. Small budgets and to-and-froing frustrate intentions, and a lot of effort can be invested and produce a muddled result. More often than not, that result is then reworked by others within a decade.
The complex issues of working at a small scale are what make this discreet project by Innovarchi (Stephanie Smith, Ken McBryde and team) so remarkable. For such a physically small extension, it embodies a very big idea. In addition, the quality of the build means that this project will undoubtedly be an enduring piece of architecture, cared for and protected from alterations, hopefully for many decades (possibly centuries) to come.
From the sloping street, the house seems as originally built – late Federation – though it is painted an unusual ox blood red. The front rooms are original in shape and detailing, though again are characterized by vivid colours (suggested to the client by the now Queensland Government Architect Philip Follent). The cosy sitting room offers glimpses east to an inviting rear garden. Once formal public rooms, these are now the private rooms – two bedrooms and a quiet reading room.
Beyond a main bathroom one can see a small dining room in a rear wing. This room has been adjusted to make it a little larger, with a lofty ceiling signifying the start of the new rear addition. The ceiling is playfully faceted, each edge picked out in dimmable LED strips that can be switched in a range of circuit options.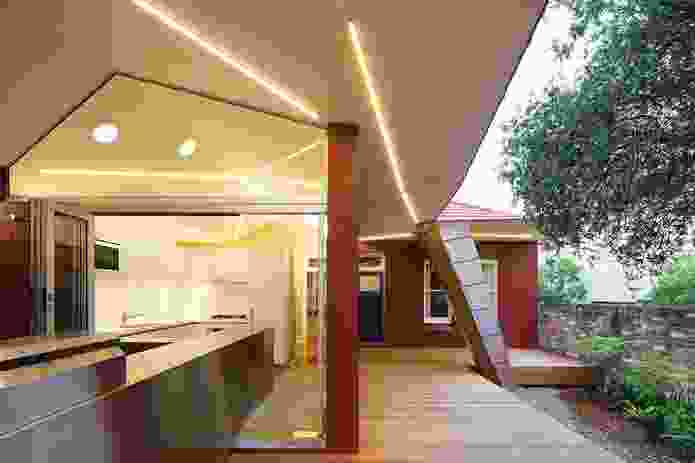 The rear wing is entirely clad in exuberant folds of exquisitely detailed copper. In total it provides the eating space, a kitchen, laundry, study and storage shed. The extension replaces a series of more ad hoc structures that had similar uses (the study/guest room is an extra space provided). But where before these additions were remote, messy afterthoughts, eating into the garden, they now seamlessly merge to form a folding, twisting southern edge "wall" and canopy of a generous north- and east-facing deck.
The garden of this property visually extends beyond the boundary fences of this tight block. The backs and sides of four other properties abut this one, and mostly the mute stone, brick or weatherboard walls of these adjacent houses create the real enclosure. But the southern uphill neighbour, with two storeys towering over this lower house, had a cruelling presence over the site, with overlooking possible from numerous windows.
The new rear wing now conceals this house entirely, except when one treks out to the furthest corner of the garden to look back. By using and inverting the pattern of rear lean-to additions, Innovarchi's series of rooms forms a fence or screen. The scale of this snaking object decreases as it extends from the house, until the last low room, a bike store, seems almost an enclosure in the landscape right near the back gate.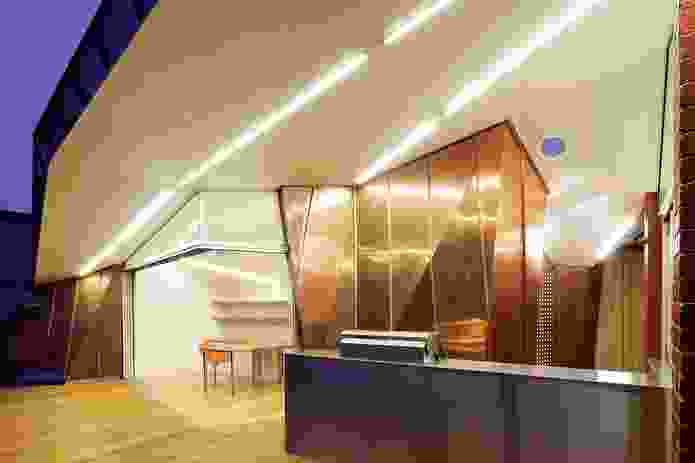 As the roof and walls are clad in copper, the twist of the roof, as it dives toward the garden, is completely captivating. Surprise spaces appear under the canopy in spaces that are technically outside but feel delightfully enclosed. The area behind the downpipe "fin" connection to underground tanks has become one of the client's favourite nooks, where they can look out on the garden without being seen. The barbecue area outside the kitchen feels equally rich; a stage set for grand meals. The garden is visible from each of five different rooms, but the perspective from each space is quite unique.
One could argue that such an involved design process and complex build does not in fact deliver much more physical space than the previous arrangement of "sheds" provided, so why bother? But it is easier to add more rooms than fewer, so part of the artfulness of Innovarchi's response (and an approach supported by a wise client) was that the rear garden should be as important a space as the rooms of the house. The restraint shown in the modesty of scale is the treat that makes this project so generous in spirit.
By building such a clever, finely detailed, appropriately scaled rear wing/wall, the architects, builders and clients have guaranteed the life of this house for decades to come. As with a church, the value of this small addition so luxuriously wrapped in copper comes through its undoubted longevity, as the spaces can be used for different functions at different times over the different lives the house will have. The project steps back from the trend for vast rear rooms and multiple bathrooms, and instead delivers something beautiful, something clever, something enduring, a clear idea. This is the most one can hope for in thirty square metres of work. This project reminds architects who work at a modest scale that the smaller the project, the bigger the idea must be.
Products and materials
Roofing

Craft Metals copper with natural finish installed by Architectural Roofing and Wall Cladding.
External walls

Craft Metals copper with natural finish installed by Architectural Roofing and Wall Cladding and brick, painted.
Internal walls

Gyprock and plaster, painted.
Windows

Breezway anodized glass louvres.
Doors

Micos doors; Craft Metals copper with natural finish, perforated.
Flooring

Grater Construction Group timber, timber decking and concrete, sealed.
Lighting

E-Lux Lighting Design and Consultancy E-Led strip lights and Lucitalia Zero lights.
Kitchen

Liebherr fridge; Franke sinks and barbecue; Miele oven, cooker hood, gas burner hob, washing machine and tumble dryer.
Credits
Architect

Innovarchi
The Rocks, Sydney, NSW, Australia
Project Team

Stephanie Smith, Ken McBryde, George Bilmon, Thomas Haltenhof, Rana Abboud
Consultants

Builder Grater Construction Group
Engineer Taylor Thomson Whitting
Lighting E-Lux

Site details

Location Balmain, Sydney, Vic, Australia
Site type Suburban
Site area 359 m2
Building area 83 m2
Category Residential buildings
Type Houses, Residential

Project Details

Status Built
Design, documentation 36 months
Construction 14 months

Source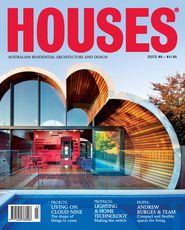 Related topics