In some ways this project is similar to our Randwick Townhouse, where the focus was on achieving generous living spaces on a small footprint, by having interiors and exteriors borrow space from each other. The other similarity is that the upper level is also manipulated to follow the sun's trajectory throughout the day so that some part of the living area is always in the sun during the day. The house is for my wife and kids, so there were not the constraints of a client to deal with, but there were other considerations that took considerable working around, principally the site and our response to it.
The house sits on an elevated rock platform facing northeast in the old inner-Sydney suburb of Balmain. Being a leftover triangle of land from a larger subdivision, the site's boundaries are irregular, which caused significant challenges as the project potentially impacted twenty-two neighbouring properties. This required a particularly sensitive handling of height, volumes and overshadowing.
Our key challenge was fitting the house comfortably among its many surrounding properties without compromising design, privacy, light or views – theirs or ours. Our approach would be to create a building volume that could be "pushed and pulled" to address the various opportunities and constraints.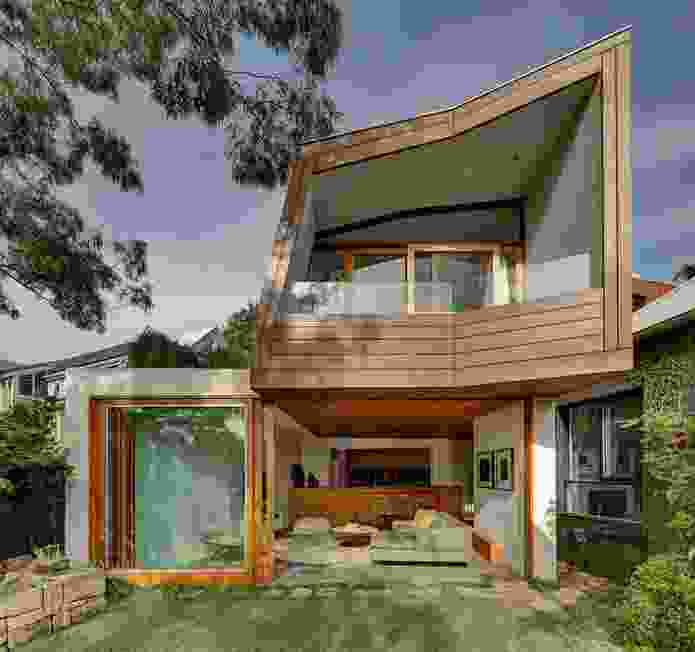 We built a wall around the entire site and worked within that envelope. Our idea was to wrap the existing workers' cottage with a continuous series of new indoor spaces and courtyards creating a dialogue between inside and out, and pulling light deep into the interior. Every metre of the site is used to maximum advantage, with each downstairs area – indoors and out – borrowing space and light from the other. The original cottage is repaired and repackaged (painted black) to form the sleeping wing. Floating above the ground plane is a faceted timber volume with the main bedroom and its en suite, and a library/gallery and study.
The new upstairs volume works hard to preserve neighbouring views and solar access, while opening the house itself to sunlight, natural ventilation and connections to the garden. There are also snippets of harbour and Anzac Bridge views. The outline of this volume is mirrored in the timber ceiling of the main living spaces. Here the upstairs volume has been cranked up to create a view corridor, the volume below is split with a large triangular skylight go bring natural lighting into the depth of the open-plan living spaces.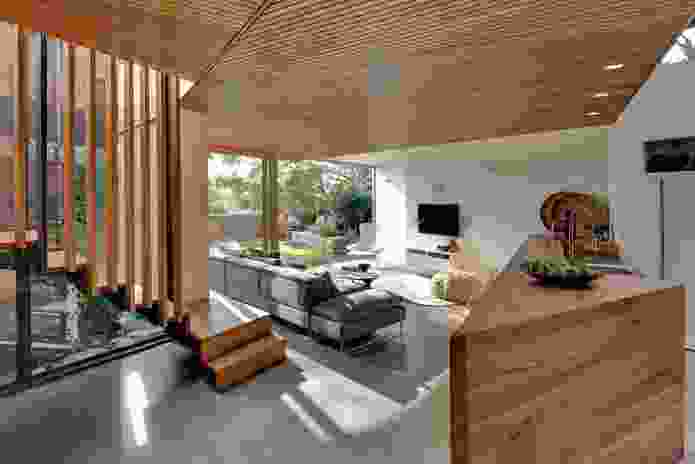 The material palette is simple, natural and textural. The existing house is painted black and the new house around it is white concrete with a timber volume clad in recycled Australian hardwood externally and American white oak internally. The woodworkers/carpenters who were able to put together the suspended timber volume, and deal with the complicated geometry and angles inherent in this project played a key role in producing the desired effects.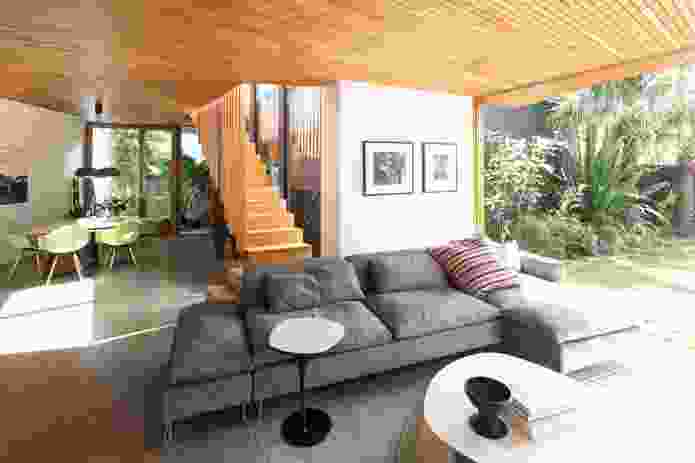 Environmental design is inherent in the house with a few key elements such as the large sashless windows to the central void allowing hot air to be quickly expelled on summer evenings, and the temperature-controlled extractor fan that assists, along with low-level sashless windows, drawing cooler make-up air in from shady parts of the garden. But more than engineered solutions, environment is at the heart of this design through the interior's relationship to the garden.
Daniel Baffsky of 360 Degrees Landscape Architects did the courtyards. These are pivotal to the logic of the house and how it will age over time. With a new wall enclosing the site, the whole house is conceived as a walled garden against the backdrop of the various planted pockets and and the porous downstairs living areas. The original cottage is densely planted around – so that it will quickly become overgrown and feel almost like a ruin.
Balmain House received a Timber Design Award (Interior Fitout – Residential) at the 2013 Australian Timber Design Awards; Residential Architecture Award – Houses (Alterations & Additions) at the 2013 NSW Architecture Awards, and is shortlisted in 2013 National Architecture Awards (Residential Architecture – Houses).
Products and materials
Roofing

Klip-lok roof decking in Colorbond 'Surfmist' on new section, Custom Orb roof sheeting in Colorbond 'Surfmist'; Bradford R4.0 ceiling batts.
Internal and external walls

Recycled brick common bricks, upper level on the new section is recycled mixed hardwood rainscreen cladding with Intergrain Natural Stain 'light oak' finish over Gunnerson Shadowclad. R 4.0 Tontine wall insulation.
Windows and doors

Custom-made Victorian ash timber windows with Intergrain Natural Stain 'light Oak' finish by Windoor, with Viridian glazing; Centor door hardware. Large 6/1.2m Aneeta Sashless window façade fitting with custom steel louvres.
Flooring

Polished concrete floor; American white oak timber floorboards with Whittle Wax Treatex Traditional finish.
Lighting

Artemide Surf uplights; LA Lounge downlights and wall lights; Toss B sphere 7 lights from Hub Furniture.
Kitchen

Gaggenau oven; Miele dishwasher and cooktop; Qasair rangehood; Electrolux fridges; Stainless Steel and American white oak benchtops; Blum joinery with 2-pac polyurethane and timber veneers. Kichen joinery from Constantain Kitchens.
Bathroom

Rogerseller undermount sink, taps and shower rose; Pietra grey wall and floor tiles, honed, and Bisazza mosaics, white, from Sareen Stone; custom-made American white oak joinery by Constantain Kitchens.
Heating and cooling

Edmonds Ecopower fan; Urban Energy hydronic heating and surface mounted radiators.
External elements

Salvaged sanstone paving and recycled blackbutt decking, Sanstone walls, stone salvaged from excavation and demolished buildings.
Furniture

Couch - Shanghai Tip - designer Patricia Urquiola, from Hub Furniture; Dining Table - Y series Pebble table from Koskela; Lounge room chair - Bertoia lounge chair from Walter Knoll; Dining chairs - Dowel Chair from Charles and Ray Eames - from Spence and Lyda; Coffee table Phoenix table by Patricia Urquiola, from Hub Furniture; Bed - Jacqui bed, from Poltrona Frau; Bench stools - Tio Bar stools from Spence and Lyda; Dining room and bathroom lighting - Toss B, sphere 7 and sphere 1 from Hub Furniture; Rug - Tappetti Rugs. Artwork
Artwork

Dining room artwork - Daniel Aksill - "We have decided not to die"; Hanging artwork near Bertoia chair - Ben Barretto "nothing" 2012; Other artwork and etchings by Graham Foster - http://www.grahamfoster.de.
Credits
Architect

Fox Johnston
Surry Hills, Sydney, NSW, Australia
Consultants

Builder Fox Johnston, Grid Projects
Building surveyor Dunlop Thorpe & Co
Carpentry Grid Construction
Carpentry and specialist timberwork Tadg O'Mahony & Andy Campbell. SBC specialist carpentry
Concrete SBC
Electrical and lighting consultant LA Lounge
Flooring Precision Flooring
Furniture Hub Furniture
Geotechnical engineer JK Group
Glazing GJ Aluminium & Glass
Heritage architect Stephen Davies, Urbis
Interior designer Fox Johnston
Joinery Constantain Kitchens
Landscape architect Daniel Baffsky, 360 Degrees Landscape Architects
Paving/tiling Sareen Stone
Plumbing SBC
Project manager Fox Johnston
Staircase Tadg O'Mahony & Andy Campbell, Metrowelding
Stonework Sareen Stone
Structural engineer Partridge
Structural steel Metrowelding
Sustainability Urban Energy
Window furnishings Simple Studio
Windows and doors Windoor

Site details

Location Balmain, Sydney, NSW, Australia
Category Residential
Type New house, Residential

Project Details

Status Built

Related topics