Sydney's Balmoral is an exceptionally beautiful place from which to view the beache s and bay waters, and to feel enclosed by the bush-covered headlands that shape the entry to Middle Harbour. Across the water from Balmoral, in the distance and marking the southern tip of a portion of Sydney Harbour National Park, is the Grotto Point Lighthouse. In a place where views are highly sought after and valued, houses are typically orientated to capture the view for themselves, presenting to the street only a closed wall, garage door and landscaping. But Balmoral House by architects Clinton Murray and Polly Harbison is different. In a gesture that is contrary to the norm, the home's main living spaces span over an outdoor garden and sculpture courtyard in the middle of the site. This provides a view right through the site so that passers-by are able to see the lighthouse and feel connected to the harbour below.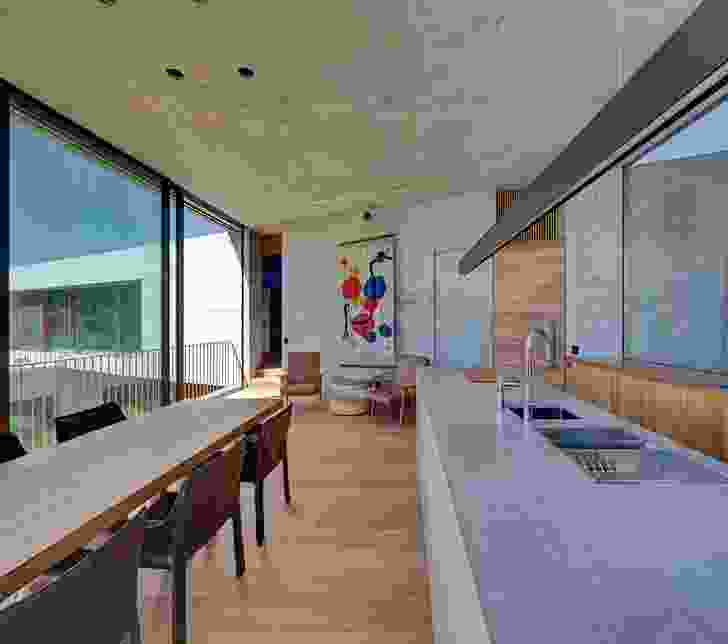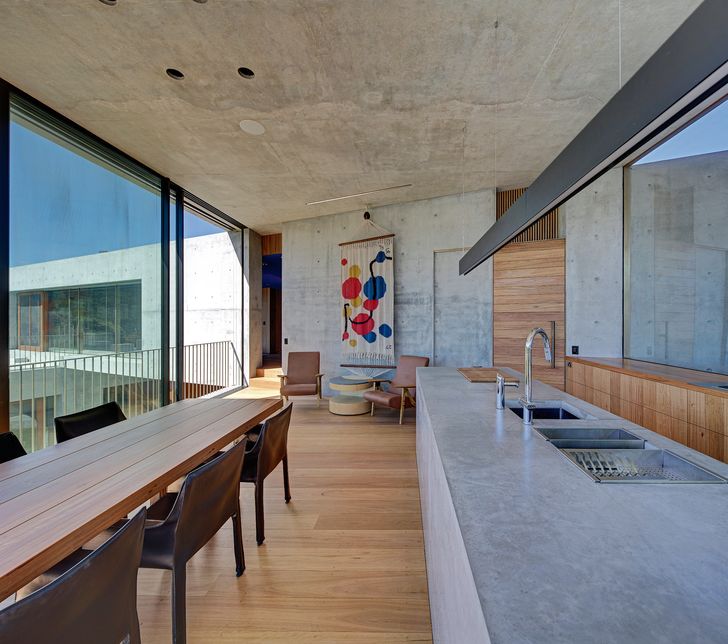 This is the first sign that the house is greater than simply a home for the owners; it is also a place that connects generously beyond its own realm. Throughout this exceptionally well-composed and finely detailed building there is evidence of a desire to contain and protect the occupants, but simultaneously, and through a carefully designed procession of spaces, to invite in guests and even the neighbours. The house does this by strategically conceding a little of its environment. There is no front wall but there is a modest setback and an open fence so that the front door is almost at arm's length and there is a full view of the civic-like outdoor space and its sculptures. A second entry from the street leads through this courtyard to an undercroft that forms the outdoor foyer of a hall where concerts are held for friends – the music can be heard from the street. Similarly, the garden edges at the back of the site are given back to the bushland reserve that surrounds this group of houses, as if to say, "We have enough space – here is some territory that we can share."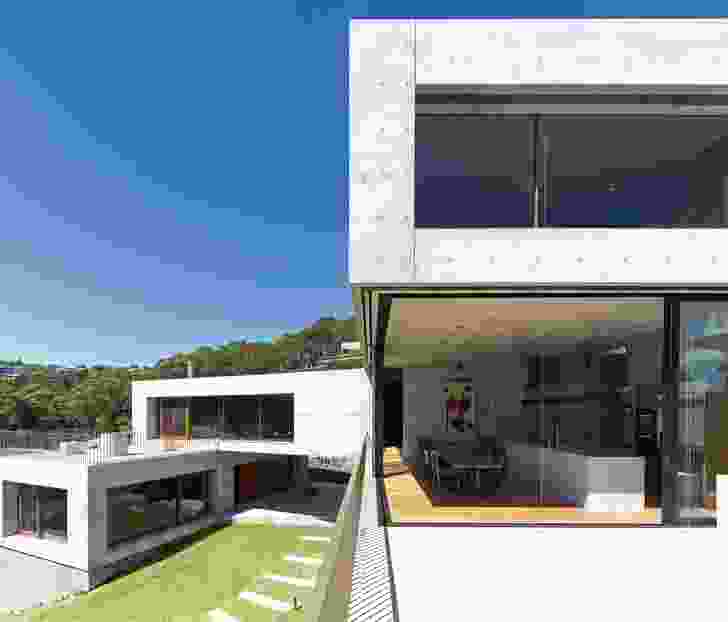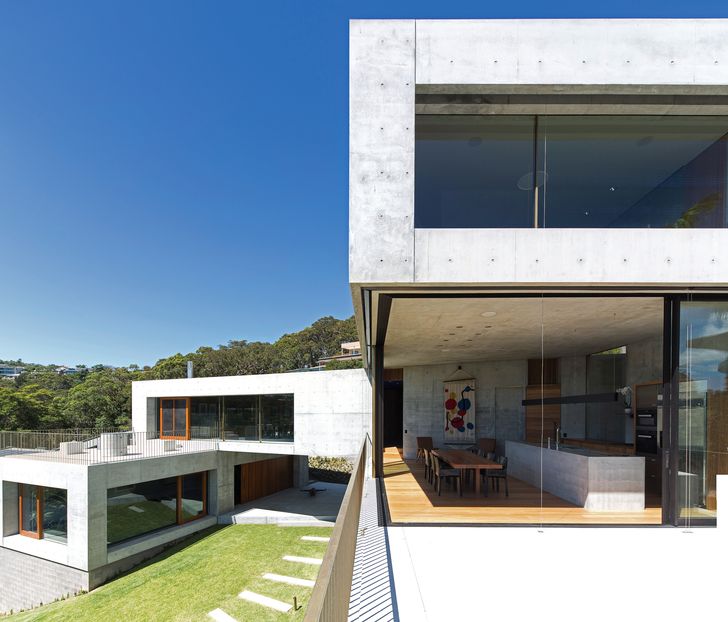 Art is an integral part of the design of Balmoral House. Within the undercroft lies a prone figure with arms outstretched, a piece by Antony Gormley chosen for the space to engage and inspire curiosity. Polly and Clinton share a passion for art with the owners and were inspired by the artist Isamu Noguchi. Noguchi believed the sculptor's task was to shape space so that the art "disappears," or becomes one with its surroundings. The architects did not intend this building to be a gallery but the building form, setting, landscape and art are all designed as one fluid and interrelated system. Polly explains that art is the third occupant and the owners' lifetime collection is carefully placed throughout the house. Art is hung at the entry to challenge the view of the water and the central stairwell is designed as a platform for selected pieces. Natural light plays on the interiors, highlighting spaces at different times of the day. Noguchi's influence is seen in the interior and exterior spaces that result from the placement of box-like sculptural forms made from precisely cast concrete. These range from the human scale and more intimate proportions of the living room and library/study, to the contrasting soaring height of the kitchen or the flowing circulation around the main bedroom.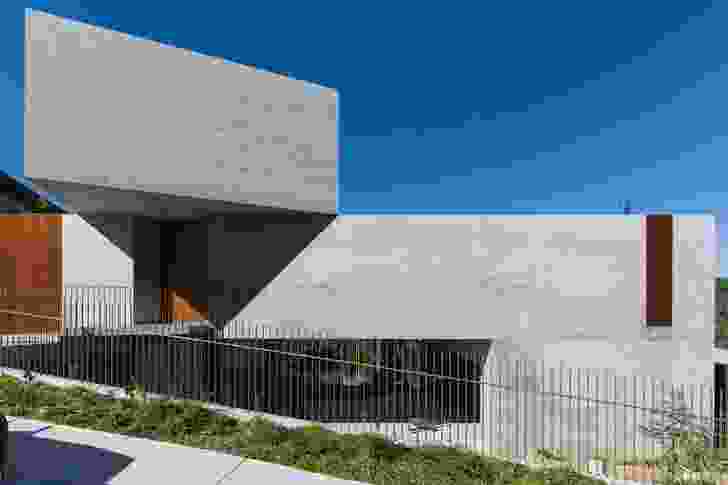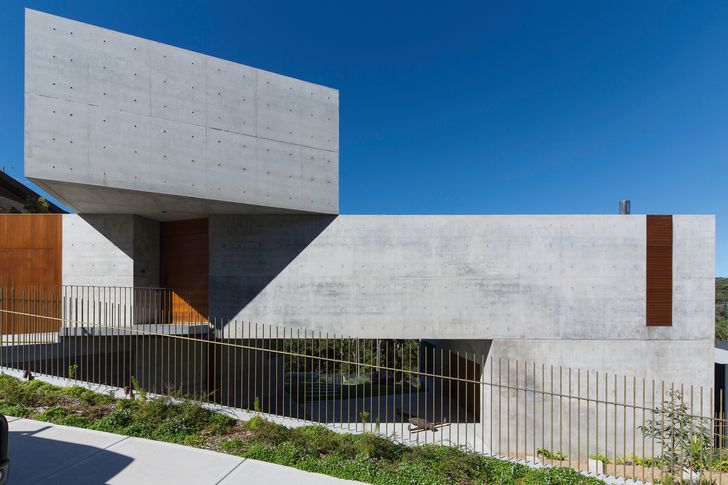 The final treat in this house is the powder room. It is round in plan, coloured dusty red, filled with round fittings and furniture and stretched to an out-of-scale high ceiling that creates a delightfully playful Alice in Wonderland moment.
When you visit a house, you're offered insight into the owners' view of the world. This house reveals and celebrates an inquisitive and open view of things. It is a mature work by architects who have collaborated with the owner to create a personal retreat, a space for shared enjoyment and a play on expectations. Through thoughtful and skilled design the architects have let their art "disappear" to draw on the richness of light, ideas, place and community.
Products and materials
Roofing

2barrows off-form concrete pavers; Hardware and General concrete pavers.
External walls

Off-form concrete in class 1 finish.
Internal walls

Off-form concrete in class 1 finish; off- form concrete with oregon formwork random pattern; Harper Timber New England blackbutt in Liberon oil finish; Briggs Veneer blackbutt veneer in matt lacquer; plasterboard in Resene SpaceCote.
Windows

Fairview sliding doors from Award Aluminium in bronzed anodized finish; Bruce Baker & Company blackbutt windows and doors in Sikkens Filtre 7 stain in 'Light Oak'.
Doors

Bruce Baker and Company solid blackbutt doors in Sikkens Filter stain in 'light oak'; Square Peg Woodworks doors in Briggs blackbutt veneer.
Flooring

Karte carpet in 'Beach Life'; Crucial Trading sisal floorcovering in black; Harper Timber blackbutt boards; 2barrows concrete pavers.
Lighting

Andre Tammes lighting design.
Kitchen

Miele ovens and cooktop; GE fridge; Abey sink mixer and sink; Zip Hydroboil system; custom-made Fine Earth Joinery solid blackbutt joinery in Liberon oil finish; Bellevarde Construction off-form concrete island.
Bathroom

Apaiser bath; 2barrows precast concrete basins; Corian basin in 'Glacier White'; Reece Scala tapware; Duravit toilet; Harper Timber blackbutt boards.
Heating and cooling

Archer Air airconditioning; retractable external louvre blinds from Homelife Furnishings; Jetmaster fireplace.
Other

Cassina Cab chairs; Zanotta Gilda armchair; Ogis Engineering brass fence; swimming pool renovation by Contemporary Pools; landscape installation by Michael Bates; Active Metal stair and balustrades.
Source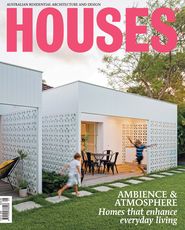 Issue
Houses, October 2015
Related topics