One case for sustainability in architecture is to make buildings that last. We have observed in Brisbane that a vast number of the original timber and tin houses have been irreversibly modified, demolished or carried down the street on the back of a semi. The lightweight construction of these buildings might explain why they don't last in our "modernizing" town but a greater influence in their demise may be observed in a study of cultural behaviour and occupation.
Since establishing our practice eight years ago, the predominant field of our work has been the Brisbane timber-built suburbs. We have been commissioned to design intervention projects to over 150 Brisbane houses. This has involved extensive empirical data collection by way of field measuring, site surveying, photographic recording, careful observation and familiarization of building nuances.
Our clients are encouraged to approach their project as an act of conservation, not because there might be a requirement under the planning scheme, but because we believe it is the appropriate charge for custodians of the built environment. This practice culture can yield two outcomes of public interest: the preservation and awareness of our towns' historic built fabric and settings, and a sustainable approach to renovating our suburbs by recycling buildings and gardens and avoiding sending them to the tip.
Timothy Hill from Donovan Hill recently remarked on the "resilient plan" of the quintessential Brisbane "Queenslander" house. Timothy was referring to an open-endedness found in the plan, composed of four roughly equal-sized rooms encircled by a verandah that provides an external promenade connecting each of the rooms. (Parallels have been made with the arrangement of multi-tasked rooms in a Palladian Villa plan.) These early Brisbane houses remind us that we were once a culture of people capable of occupying undesignated rooms that provided little cues as to how they should or could be occupied. We appear to have lost that knowledge and skill and now rely on building extra tailored space for domestic comfort and pleasure.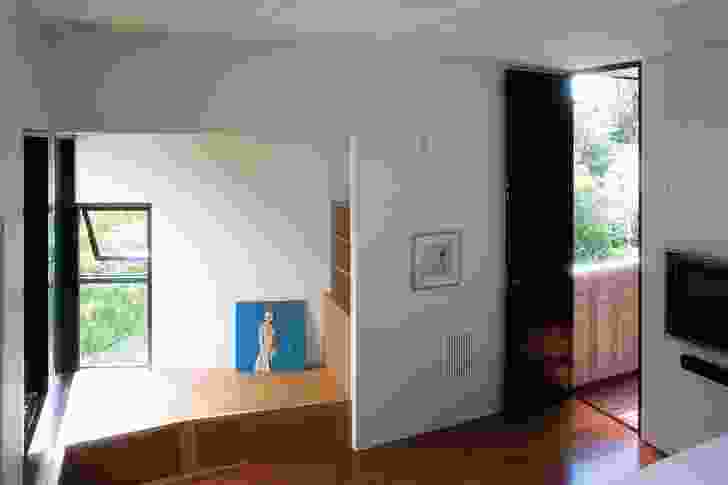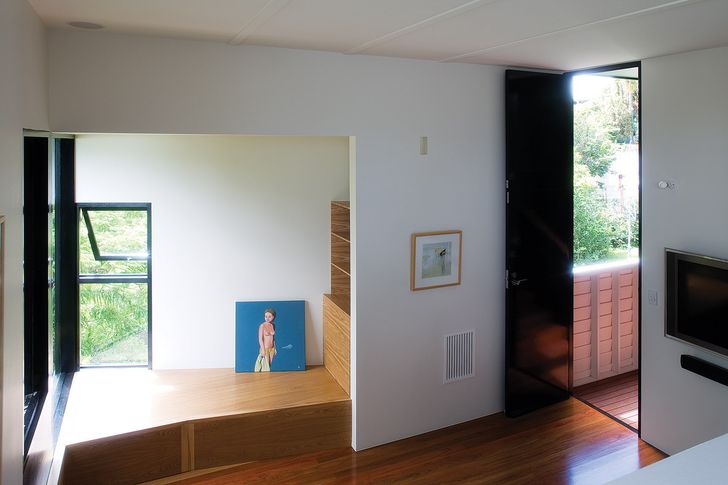 Whilst designing the alteration plans for the Balmoral House we attempted to do three things:
1. Observe and admire the plan diagram and mode of occupation of the original building to ensure that the cultural significance and integrity of the building were not inadvertently erased by careless demolition.
2. Reoccupy the existing building with the narrative of our client's brief in a way that respected the original diagram. In order to achieve this we looked for (preferred) patterns in the existing plan: the peninsula -– found in the bedroom bay window and replicated at a larger scale in the family room window/seat perched in the tree canopy; the alcove – a found miniature room now occupied as a music alcove and winter reading room; and the sleep-out – re-created on the street elevation to provide a companion outdoor social space to the relocated kitchen.
3. Make appropriate interventions and extensions to the existing building in order to accommodate the program demands and reconcile the disengagement with the backyard garden setting.
The new work preserves and extends the enfilade of public rooms which span the northern orientation. These may remain open-ended and be occupied differently by each subsequent owner of the house.
A new outdoor stair room operating as a "vertical verandah" engages the occupant with their setting – one is forced outside, but protected, when promenading between rooms in the new extensions and garden.
Greg Bamford's discussions about shared space and building scale reminds us of the spirit of the Burra Charter, which advocates a cautious approach to change: do as much as necessary, but as little as possible. Further, we might also adopt Elizabeth Meyer's landscape strategy described in her essay "Sustaining Beauty: The Performance of Appearance," which presents a case for aesthetics in the sustainability agenda. Applied to buildings, Meyer's strategy may engender a culture of admiration for architecture, an awareness of the experience and occupation of built environment settings and a custodianship of the collective asset found in a building, a street and a suburb.
Products and materials
Roofing

Lysaght Trimdek, Zincalume finish; Bradford R2.0 glasswool Anticon insulation.
External walls

Reinforced concrete blockwork; existing and new weatherboard, painted Dulux 'Whisper White'.
Internal walls

James Hardie Hardiflex fibre cement cladding, painted Dulux 'Black,' 'Whisper White' and 'Delta Waters'.
Flooring

Grey ironbark polished floorboards; concrete.
Lighting

Maison downlights; Kreon Diapason wall light; Norm69 large pendant.
Kitchen

Quarella reconstituted quartz slab kitchen benchtop; Abey Belfast sink; Zucchetti Elisse sink mixer; Miele cooktop; Gaggenau oven; Qasair rangehood; Jenn-Air fridge.
Bathroom

Rogerseller vanity; Kaldewei Corpstar bath; Parisi Envy toilet; Zucchetti appliances.
Heating/cooling

Solarhart roof mounted solar hot water system.
Credits
Architect
Project Team

Stuart Vokes, Aaron Peters, Paul Owen
Consultants

Builder AJ Ryan Constructions
Engineer Neil McKenzie and Associates

Site details

Location Balmoral, Brisbane, Qld, Australia
Site type Suburban
Site area 592 m2
Building area 300 m2
Category Interiors
Type New houses, Residential

Project Details

Status Built
Design, documentation 12 months
Construction 8 months

Source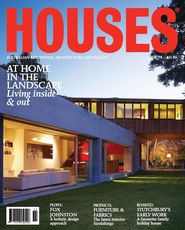 Related topics