My first glimpse of Myanmar was from across the Thai border, in the mountainous area of Sangkhlaburi. The distant hills of rainforest looked impenetrable and ominous. The presence of so many refugees in the region, from various ethnicities I'd never heard of, added to a feeling of foreboding and also intrigue.
The intrigue endured and, four years ago, I co-founded Pounamu, a bamboo design and construction company in Myanmar, with Soe Win Zaw, a Burmese structural engineer. Zaw spent five years working in Singapore before deciding the time was right to return to Myanmar. He wanted to call the company Green Stone but this name was already taken on the Myanmar companies register. We settled on Pounamu for the New Zealand connection but, also, because it's an ancient word in the Burmese language that sounds very beautiful when spoken.
Before Myanmar, I had no knowledge of bamboo construction. When I was asked to design a new school in Shan State, the largest state in the country and home of the Shan people, the largest ethnic minority in Myanmar, my bamboo education began. Following Rudolf Steiner principles, the school's founder wanted the structure to feature natural building techniques and had shown me a video of the bamboo buildings at the Green School in Bali. Around the same time, I learned that Myanmar was home to the third-largest area of bamboo forest in the world (after China and India).
It was a no-brainer moment. Myanmar is a country with an abundant supply of an extraordinary, sustainable building material while also being in urgent need of buildings – particularly schools, decent housing and clinics. Some 60 years of neglect by the military government has resulted in a short supply of all types of good-quality buildings – all, except army barracks.
It was surprising to find that the skill level associated with bamboo construction in Myanmar is very low. Bamboo has long been eclipsed by timber and concrete masonry as a permanent building material. Locals know how to make temporary bamboo structures, such as roadside mango stalls, but these structures can be relied on for only two or three years' service. After that time, bamboo exposed to sun and rain will have weathered to the point of collapse or been attacked by bamboo's two main parasites: the powder-post beetle and the termite, which eat the sugar-rich internal walls of the bamboo pole. Hence, bamboo is generally considered a temporary construction material or 'the poor man's timber'.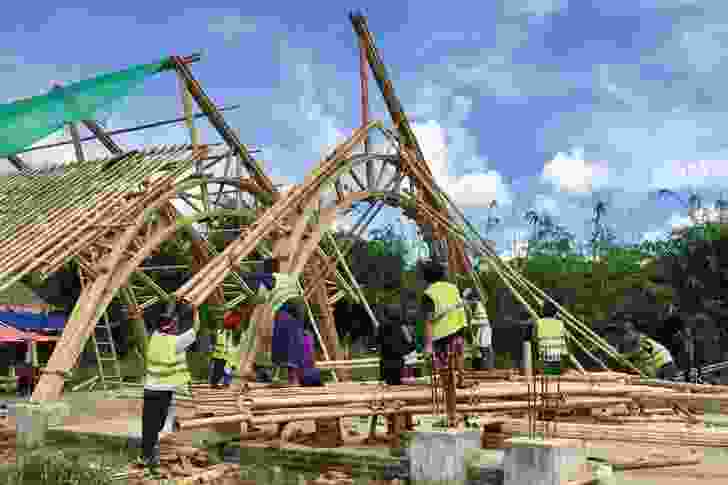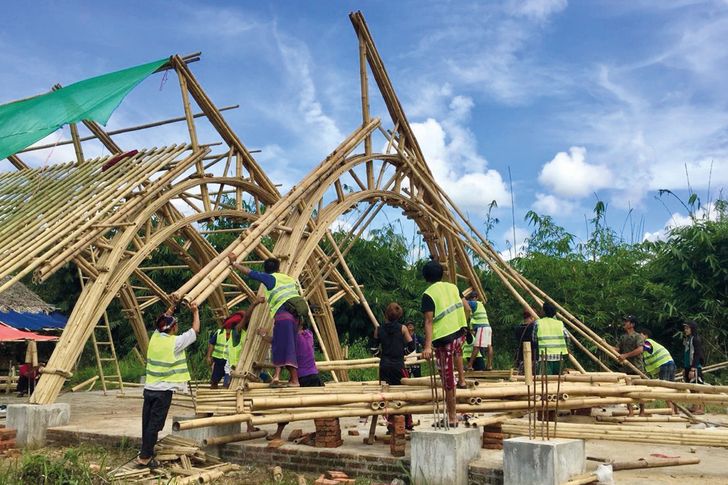 Initial steps: Green School, Bali, and Jorg Stamm
Soon after my initial visit to Myanmar, I travelled to the Green School in Bali to take part in a two-week introductory bamboo training course. There, I learnt about the unique perennial growing characteristics of the bamboo plant that set it apart as a renewable building material, producing useable timber year-in, year-out over the 50 to 100-year life cycle of the bamboo plant. I learned, also, about the cellular structure that makes bamboo so strong – compared with timber, steel and concrete, only steel has a greater strength-to-weight ratio. But bamboo is stiffer than all three.
The key learning, however, was about a non-toxic preservative treatment process that uses a solution of natural borax salt to extend the life of harvested bamboo from a couple of years to 30 or 40 years, or even longer. Developed in the 1980s in Bali, borax treatment is now widely used by bamboo builders around the world. Bamboo treated with borax is rendered inedible to the powder-post beetle and the termite but it is still vulnerable to rain and UV. As borax treatment was developed only 40 years ago, we don't yet know the maximum lifespan this process affords bamboo.
I learned, also, about construction techniques that combine the use of a traditional craftsman's knife with some common-sense, modern, technical innovations to produce Green School's spectacular four-, five- and six-storeyed buildings. These structures are built using teamwork and do not require heavy machinery, making this type of construction ideally suited to the remote areas in Myanmar where Pounamu operates.
Following this visit to Bali, I made initial contact with Jorg Stamm, one of the original builders of the Green School. Jorg travelled with me to Myanmar to assess the bamboo species available there. In Myanmar's only botanic gardens, we looked through an extensive collection of native bamboos and identified several indigenous species of giant clumping bamboos related to those used for construction in Indonesia. I also travelled with Jorg to Sumatra to visit one of his projects under construction. Here, he had set up a community-based bamboo treatment facility to provide building material for the project. This facility became the model for the community bamboo treatment plants that Pounamu has since helped to set up in Myanmar.
Amway Hlu prayer hall
When Pounamu started, we knew next to nothing about bamboo construction. Our solution was to bring small teams of expert bamboo builders from Indonesia to Myanmar to construct a bamboo building and pass on their skills to local workers.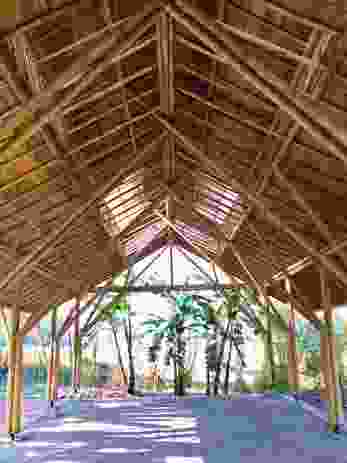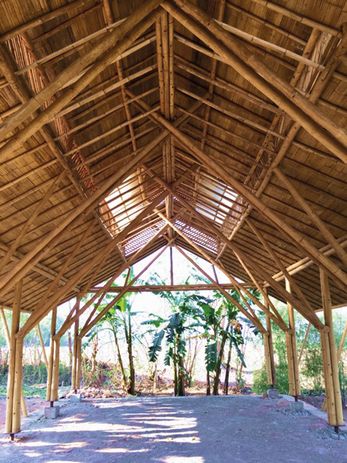 Pounamu's initial projects were deliberately simple. Our focus was to develop sound basics in bamboo treatment and bamboo carpentry. We also needed to dispel the locals' perception of bamboo as the poor man's timber. Amway Hlu, a prayer hall for a small Buddhist monastery near Zaw's home village in Shan State, was one of Pounamu's first projects which adopted this simple approach.
A common feature of the design and construction method involves the use of a physical scale model, constructed from bamboo splits in the office and brought to site for the duration of the build. The reason for the model is less to do with our workers' reluctance to follow drawings than that it allows them to select appropriately sized and shaped poles as the construction proceeds.
Community Training Centre, near Dawei
Like many Pounamu projects, a key aspect of a World Wildlife Fund (WWF)-funded project in the village of Kyiek Pe Lan, in the Tanintharyi region, was its significant amount of community engagement and teaching. The 25m x 8m training building is open-sided and provides a sheltered space for workshops related to sustainable agriculture, community health and general vocational training.
As well as borax treatment training (which leaves the village with its own fully functioning bamboo treatment facility) and construction training, Pounamu also teaches sustainable bamboo forestry (SBF). In its first year, a new bamboo shoot will grow to the full height and diameter of the mature culms in the clump. For a typical construction bamboo, this could be 30 metres in height with a base diameter of 20 centimetres. The bamboo culm (the bamboo pole before harvest) reaches its maximum strength between its third and fifth year.
The essence of SBF is managing the bamboo forest so that only three-to-five-year-old culms are harvested; this, in turn, greatly improves the yield and the quality of the bamboo. Culms older than this are eradicated, while younger culms are at their reproductive peak, sending out new shoots from the base of the clump every year. This year-in, year-out harvesting cycle easily surpasses conventional timber in terms of the production of building material and also generates more-consistent, year-round local jobs than does conventional timber plantation forestry.
In this way, Pounamu's projects help to set in motion a circular connection between sustainable management of local bamboo resources and livelihood generation. In Kyiek Pe Lan, the local bamboo is prone to splitting but is excellent for making roofing shingles. Pounamu has contracted the village's first order of roofing shingles for a commercial project presently under construction.
Bodhi Hill prefabricated classrooms
The design for the Steiner School in Shan State ran into unusual site difficulties – a combination of an insurgent military group in the area and an unconventional Buddhist group setting up a temple adjacent to the land. The owner decided to opt for a suburban site in nearby Pyin Oo Lwin, a picturesque former British hill station town.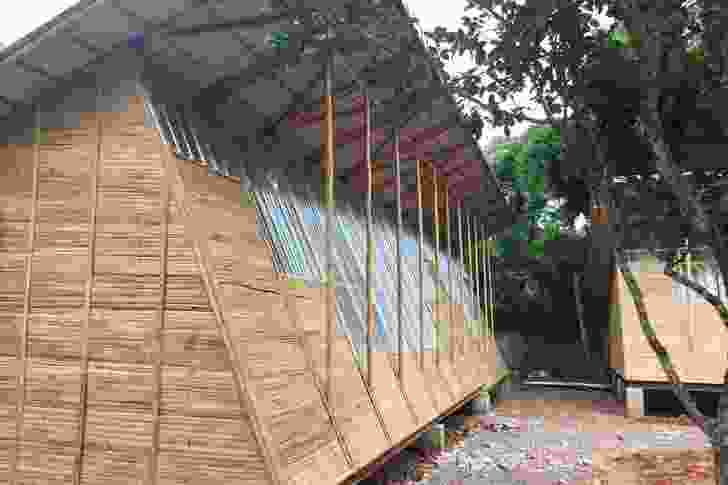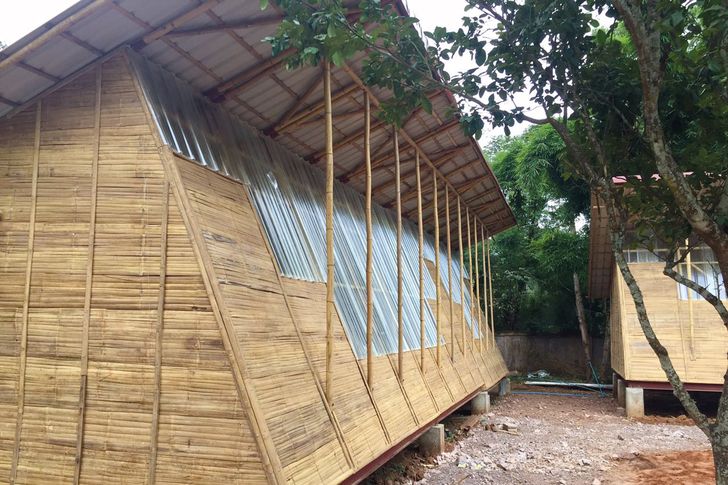 The main challenge in delivering this project was the weather. The Indian monsoon makes it virtually impossible to build anything in Myanmar between April and October. The school, comprising four classrooms for kindergarten and new-entrant children, had to be open by 1 August so the solution was prefabricated classrooms, which could be flat-packed and transported to site from our factory 300 kilometres away. Once the components arrived on site, the four classrooms were erected and ready for use in just under four weeks. The cost of each classroom, delivered to site and erected, was US$10,000.
Multi-function hall, Boulder Bay Eco-Resort
After four years, Pounamu's workers have developed sufficient bamboo know-how that they can now teach community workshops themselves, without support from our Indonesian friends. And the growing skill level of its workers has also allowed Pounamu to take on its first commercial projects in 2019. Boulder Island is a pristine island on the outer edge of the Mergui Archipelago. It takes five leisurely hours to reach by boat and the development on the island is capped at just 20 bungalows.
Pounamu recently completed a multi-purpose hall for the resort, which will be used for yoga retreats, weddings and corporate training. Our local workers are very proud of the level of finish achieved on this project. Of note was the use of bamboo nails (long pegs, about 1cm in diameter) rather than galvanised bolt fixings. Not only is this aesthetically preferable but it will also benefit the structure in its corrosive marine environment.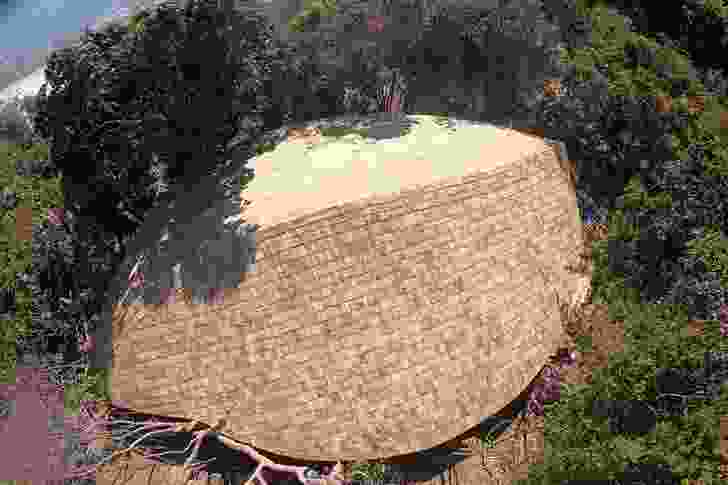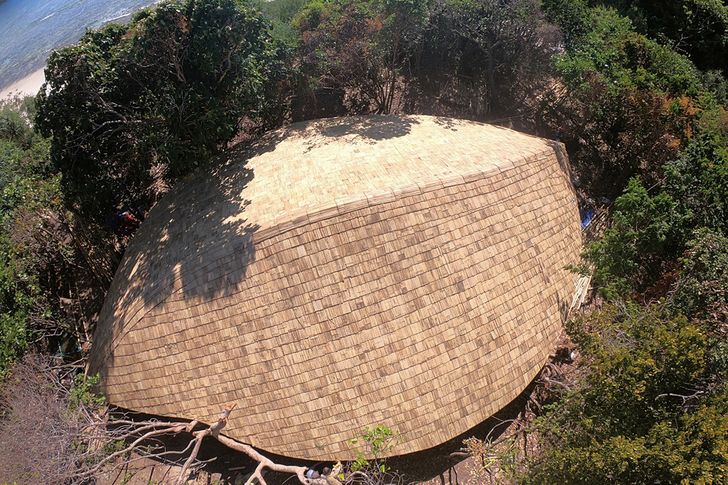 Habitat for Humanity's low-cost, single-family house
In 2017, Habitat for Humanity was given permission to commence its operations in Myanmar, providing decent, affordable homes for families in need. Habitat was already a bamboo convert, with a significant number of bamboo homes being rolled out in their projects in Nepal, Cambodia and Bangladesh.
Last year, Pounamu started collaborating with Habitat on the design of a prototype for a low-cost, single-family dwelling based on a traditional Burmese rural house. It comprises two bedrooms, a family room with Buddha alcove, a generous front verandah and a kitchen to the rear. The total construction cost, including foundations, came to US$4000. The home was donated to a family of four in the village adjacent to our factory.
To build the prototype, Pounamu hosted a construction workshop at its factory. Participants included Habitat construction staff and architectural students from Yangon Technological University. The project was important for Pounamu in terms of the objective of changing perceptions about bamboo construction and demonstrating the ways in which bamboo can be used as a substitute for conventional materials in everyday functional buildings.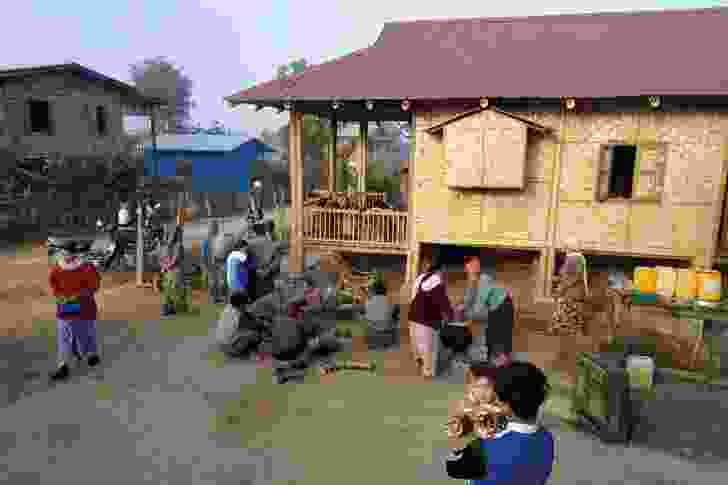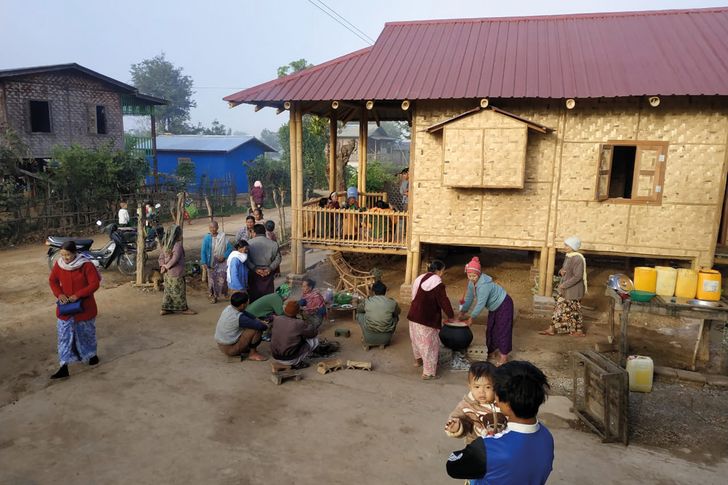 Looking to the long-term, Pounamu is of the view that concrete and steel will eventually become prohibitively expensive as the true carbon costs of these materials are passed on to the consumer. Timber supply may come under pressure, not just from drought and more-frequent forest fires but, also, from increased demand for packaging products, especially as single-use plastic heads towards prohibition. So, what is left? Expanding the bamboo industry, which is based on sustainably managed plantations and simple, high-quality structures, has the potential to generate sustainable livelihoods in a country that has switched, almost overnight, from a state-controlled to a market-driven economy.
Bamboo also brings a raft of environmental benefits. These include its ability to restore degraded, deforested landscapes rapidly, to recover falling water tables, to provide a safe haven in earthquakes and cyclones, and to sequester very high amounts of carbon in its prodigious initial five years of growth. When the misperceptions are cleared away, bamboo stacks up as a practical, sustainable, high-performance substitute for conventional construction materials.
The well-publicised events in Myanmar over the past two years, particularly in Rakhine State, have made it a challenging environment in which to work on a number of levels. As an expat, I prefer to keep my opinions to myself and focus on our work in rural communities, where 70 per cent of the country's population resides.
Villagers in Myanmar continue to teach me lessons about being happy and content while they lead very difficult lives. In return, Pounamu can assist them to prepare for the future. Skills training, economic independence and climate resilience are the imperatives for architecture in this context: impacts that reach further than the construction of a single building.
Richard Morris graduated from the University of Auckland with a B.Arch (hons) in 1995. He has since practised in Ireland, Poland, Russia, Australia and Thailand. Presently, he is on a mission with Médecins Sans Frontières, building a maternity hospital in eastern Afghanistan. For more information, see www.pounamu.com.mm
This article first appeared in Architecture New Zealand magazine.